AMERICAN JEWISH COMMITTEE PUSHES LETTER PROMOTING ISLAMIC TERROR STATE
by Daniel Greenfield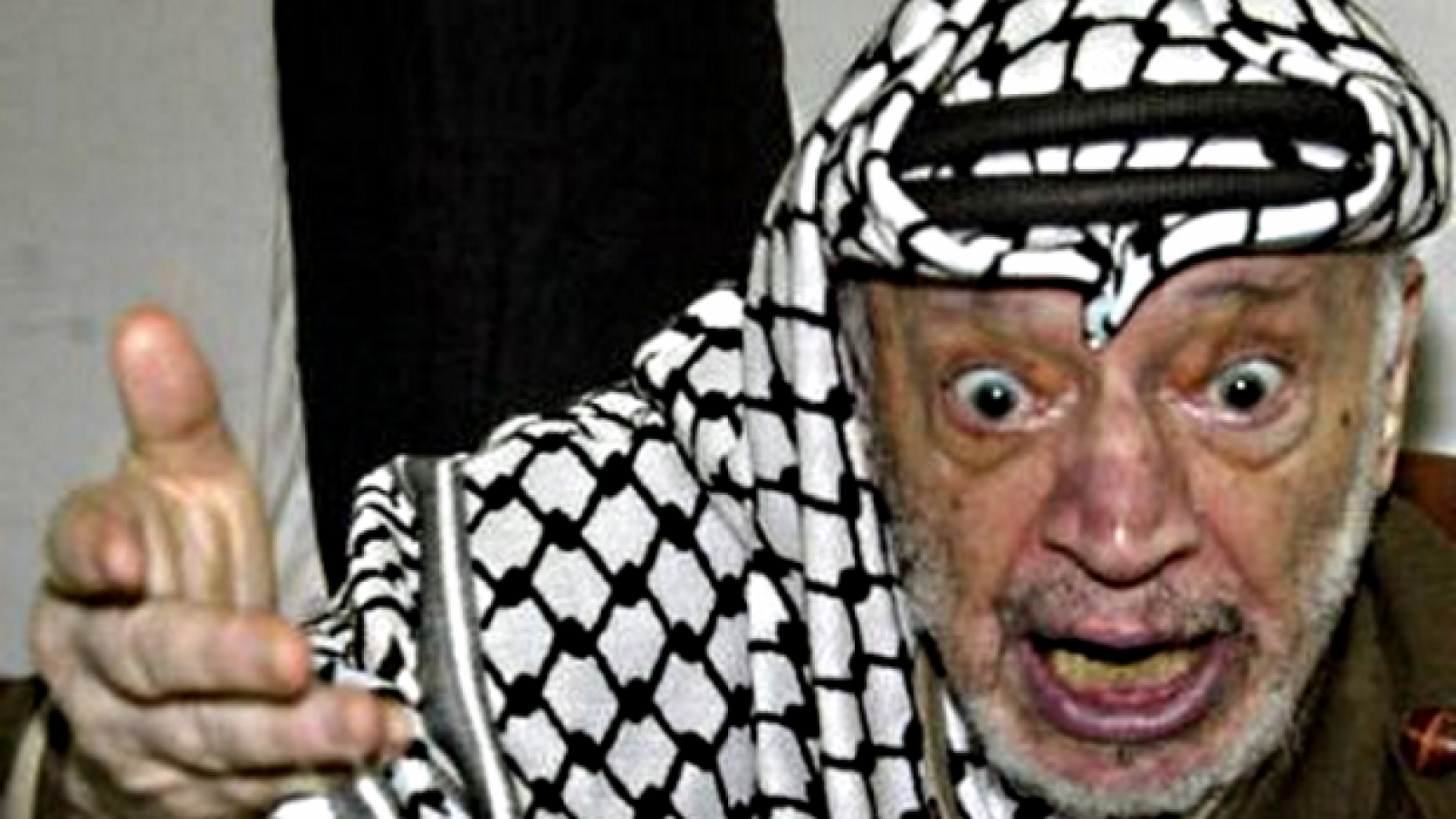 Yasser Arafat
THE AMERICAN JEWISH COMMITTEE HAS GONE OFF THE RAILS. FIRST THEY PARTNERED WITH THE ANTI-SEMITIC ISLAMISTS OF ISNA.[1]
The Islamic Society of North America was named by the Justice Department as an unindicted co-conspirator in funding Hamas. It was linked to two Hamas funding fronts, the Holy Land Foundation and KindHearts. ISNA's checks were made payable to the "Palestinian Mujahadeen" or "Holy Warriors" which was a name used by Hamas.
ISNA's co-founder Sami Al-Arian was the local head of Palestinian Islamic Jihad and Mousa Abu Marzook, a top Hamas official listed by the Treasury Department as a Specially Designated Terrorist, received tens of thousands of dollars from ISNA.
This should have come as no surprise as both ISNA and Hamas are arms of the Muslim Brotherhood.
But the American Jewish Committee has decided to team up with the financiers of the murder of Jews to oppose Trump. The left wing Jewish group and an Islamist organization that wrote out checks to Islamic terrorists enabling them to kill Jews have formed the "Muslim-Jewish Advisory Council".
NOW THE AJC IS PUSHING A CONGRESSIONAL LETTER DEMANDING THAT AN ISLAMIC TERROR STATE BE CREATED INSIDE ISRAEL.[2]
On Wednesday, the AJC sent a letter to members of the U.S. House of Representatives asking them to sign on and support the letter authored by Reps. Gerry Connolly, D-Va., and David Price, D-N.C., and other measures that preserve peacemaking options even though "current conditions do not provide grounds for optimism."
Connolly and Price have accumulated more than 175 signatures, mostly Democrats... At last count, there were just two Republicans signed on.
JTA very predictably misrepresents the contents of the letter. It vocally endorses a terror state inside Israel and contains a call to "oppose unilateral actions by either of the two parties that would push the prospects of peace further out of reach." The latter is a euphemism for an apartheid regime banning Jews from building homes in '67 Israel, including Jerusalem.
CONNOLLY AND PRICE HAVE EXACTLY THE POLITICS YOU WOULD EXPECT.[3]
U.S. Rep. Gerry Connolly, D- Va., defended U.S. funding of the Palestinian Authority, despite the fact that the authority includes members of Hamas, a group the U.S. says is a terror organization.
Connolly's remarks, at a Sept. 28 Arab American Candidates Night forum, emphasized his determination to fight House of Representatives colleagues who might block the funding.
"When there are voices calling for the defunding of the Palestinian Authority, I oppose them, publicly," Connolly said. "In fact I signed a letter signed by Congressman David Price of North Carolina, also signed by Jim (Moran D-Va.), that said we are not going to defund the Palestinian Authority. That would guarantee an explosion in an already volatile situation. When there was a motion to close the Palestinian Authority office here in Washington or let it just be in New York, I opposed it and said it would be a terrible blow to diplomacy and not in U.S. interest let alone Palestine's interest."
AND YES, THE ISLAMISTS ARE ON THE GROUND.[4]
A Muslim Brotherhood-affiliated activist whose organization recently came under fire for holding an anti-Semitic rally in support of ousted Egyptian President Mohammed Morsi will head a fundraiser for Democratic Rep. Gerry Connolly (Va.).
U.S.-based Muslim Brotherhood allies Akram Elzend and Sameh Elhennawy will co-host a fundraiser for Connolly later this month at the Fairfax residence of Mohamed Mohamed, according to a copy of the invitation obtained by the Washington Free Beacon.
Attendees of the March 22 fundraiser are asked to donate between $150 and $400 in order to attend the event, where supporters will have a chance to "express appreciation and have direct conversation with" Connolly, according to the invitation.
A form attached to the invitation asks donors to include their personal information and contains a message that the materials were "paid for and authorized by Connolly for Congress."
The event has attracted the attention of some U.S.-based analysts who track the Muslim Brotherhood, particularly due to a pro-Morsi rally several weeks ago in New York City that featured anti-Semitic displays and was organized by a group Elzend cofounded.
Demonstrators at the rally were caught accusing the Saudis of trying to "sell Egypt to the Jews" and of being "dirtier than Jews," according to video of the event published by the Investigative Project on Terrorism (IPT).
This is the sewer that the American Jewish Committee is now wallowing in its determination to make common cause with anti-Semites and terrorist supporters.
Footnotes
[1] http://www.frontpagemag.com/fpm/264844/jewish-leftists-choose-hamas-over-trump-daniel-greenfield
[2] http://www.jta.org/2017/03/16/news-opinion/politics/in-latest-jewish-establishment-salvo-defending-two-states-ajc-urges-congress-to-back-letter-to-trump
[3] http://maroonedinmarin.blogspot.com/2014/10/why-ive-called-him-jihad-gerry-connolly.html
[4] https://www.jihadwatch.org/2014/03/muslim-brotherhood-tied-activist-to-host-fundraiser-for-rep-gerry-connolly

---
Daniel Greenfield, a Shillman Journalism Fellow at the Freedom Center, is a New York writer focusing on radical Islam. This article was published March 17, 2017 on Front Page Magazine and is archived at http://www.frontpagemag.com/point/266139/american-jewish-committee-pushes-letter-promoting-daniel-greenfield. Thanks are due Yoram Fisher for sending this article to Think-Israel.