March-April 2013
THE MARATHON TERRORISTS IN CONTEXT OF MUSLIM JIHAD AND A COMPLICIT AMERICAN ADMINISTRATION
On March 15, 2013, we were again subjected to a sizable terrorist attack. We were again shocked into the realization that we have a serious problem with Islamic Jihad working to destroy Western culture by acts large and small, from overt terror to quiet infiltration into our infra-structure. It is not that we haven't been kind enough to the Muslim community or that we haven't made enough of an effort to support 'moderate' Muslims. It isn't even, as President Obama seems to believe, that America is too uppity and needs to settle for a more modest position in the world community. The core issue is that Salafist Muslims have declared war on the West and Israel and we are largely ignoring it. They are determined to reshape our culture so that it fits inside their system of theocratic governance and sharia-based life style. Their efforts are aided by academics, politicians and media people who genuinely believe in globalism. They would like to see rule by the small group at the U.N. that represents coalitions of the countries of the world, though not the people of those countries. The machinations of our own Government have been a significant part of the problem.
We present a group of papers concerned with different facets of the problem of Muslim Jihad, Muslim terrorism and Muslim practices as manifested in the Muslim world and in ours. Areas examined in this set are: Islam: our perception versus their practices; the USA government's endorsing and protecting Jihadists; and changing styles of Islamic recruitment and terrorism.
We need this information when we ask the hard questions: How do we minimize Islamic terrorism? What solutions are available? Do we need new laws or is it sufficient to start using the ones we have? If the media can no longer be relied on to alert us to the danger of Islamic Jihad, what resources can we substitute? If the schools are anti-American, how do we educate our children? If the Government is, operationally speaking, in cahoots with Salafists such as the Muslim Brotherhood, what do we do? The Jihadists are determined to wipe out our way of life and substitute their sharia-based religion. It's about time we reacted.
Return to What We Are Talking About
TO MAKE A WESTERNIZED TERRORIST: COMBINE RESURGENT ISLAM AND AMERICAN SOFTHEADEDNESS
by Bernice Lipkin
Bernice Lipkin examines the determined efforts of jihadists, aided and abetted by an Administration that is an adherent of the ideology of "progressivism." An unforeseen consequence has been the emergence of the Westernized Muslim terrorist, who is native to the West or who has lived here much of his life. The Lone Wolf and small group terrorists, provided they are imbued with passionate commitment, have advantages over the imported jihadist. They have local knowledge and already "fit" into the environment. The most compelling reason for large terror organizations to utilize them is that it is cost-effective. As Lipkin points out, "Supplies are cheap and terror enthusiasts are plentiful. With reduced need for a large cast, synchronous operations and complicated equipment, the 'script writer' can more easily mock up a plot to use at an oncoming event that will guarantee attention." "There is likely to be more opportunity for roughly scripted rather than rigidly choreographed direction. The field workers may be given the plot and left to work out the details. Or some tasks may be carefully timed and others left for improvisation depending on the circumstances." Until America changes its ways, Islam's activities on behalf of Islamic supersessionism will continue.
READ MORE

IF THE MAJORITY OF MUSLIMS ARE PEACELOVING PEOPLE, DO WE REALLY HAVE ANYTHING TO WORRY ABOUT?
by Citizen Warrior
Citizen Warrior carefully dissects the Muslims we lump together as peaceloving into its components, including those who are peaceloving except when they are rioting; those who look forward to being at peace when the world has readjusted itself to the requirements of Sharia law; those who are peaceloving but are always pushing the envelop, demanding concession at work and at school that suit their lifestyle; those who aren't violent but never speak against rioting and mayhem, and so forth. And there's the more passive Muslims who work by not working and overloading the welfare system, who populate the Muslim enclaves, pay zakat and accept stoning, beheading and mutilation because such punishments are part of their religion. And their religion is immutable. Citizen Warrior notes that even if the peaceloving are in the majority, "it doesn't take a majority to cause serious trouble..." Put another way, if only 10% of the world's Muslim population is violent, that amounts to more than half the entire population of the United States of America.
READ MORE

BOSTON BOMBER EXPOSES ISLAMIST SECRET
by The Investigative Project
If it weren't so deadly, it would be comical. The perpetrator of the Marathon bombing says very seriously, this is why I did it, and Obama administration officials and CAIR snap back, no. that can't be the reason. no.no.no. The Investigative Project (IPT) tells us that "Dzhokhar Tsarnaev is telling investigators he and his brother were motivated by religion to plot their carnage," and high level Government official aren't about to agree that Islam's teachings had anything to do with it. They wouldn't question his explanation if he said he was made to feel different or he was too poor to buy shoes everyone else was wearing. So it is disturbing that the Government and Islamic advocacy groups reject even the possibility that immersing oneself in the teachings of authentic Islam might lead someone to commit an act of terror. Such misplaced certainty makes it unlikely they will look into the "role radical Islam played in past terror plots," no matter how many terrorists proudly try to tell them the truth.
READ MORE
<!- PUT ARTICLE LINK HERE ->

THE GREEN BANNER OF BATU KHAN
by Alexander Maistrovoy
Alexander Maistrovoy wrote this article to examine the large increase in the practice of Salafist Islam in Russia. It has spread everywhere from its confines in the Caucasus Mountains to major cities such as Moscow and St. Petersburg. Where ever it goes, it deliberately incites rage against the Russians. Serendipitously, the article puts into context the growth of Wahhabism in Chechnyia and Dagestan, the homeland of the Tsarnaev brothers, who exploded two bombs during this year's Boston Marathon.
READ MORE

A SHORT HISTORY OF CHECHNYA AND CHECHEN TERRORISM
by Ben H. English
This a companion piece to Alexander Maistrovoy's article above on the growing commitment to Islamic jihad by Muslims all over Russia. This article focuses on the violence in and around Chechnya, itself. As Ben English writes, "the Northern Caucasus Mountains serve as a fertile breeding ground for violent Islamic extremist groups." He recounts some of the atrocities committed by the Muslims of Chechnya. Like the Palestinian Arabs, their culture fosters the development of the mass murderer and the assassin. It isn't true that everybody wants to enjoy their life and take care of their families, just like you and I do. Some cultures are dedicated to a higher calling: the imposition of Sharia law on everybody, using as much violence and barbarity as possible.
READ MORE

NEW SAUDI FATWA DEFENDS PEDOPHILIA AS 'MARRIAGE'
by Raymond Ibrahim
Raymond Ibrahim writes of a recent fatwa issued by Dr. Salih bin Fawzan, a member of Saudi Arabia's highest religious council: "There is no minimum age for marriage, and that girls can be married 'even if they are in the cradle.'" As Dr. Fawzan says, nowhere is there an minimum age for girls to marry in Sharia. ... Muhammad, Islam's role model, married Aisha when she was 6-years-old, 'consummating' the marriage — or, in modern parlance, raping her — when she was 9." Fawzan does allow for the practical consideration that the child should be capable of handling the weight of the man. But her age and/or an extreme difference in age between husband and wife have no bearing on the matter (no pun intended). As Ibrahim points out, "Sharia law is nothing less than a legal system built atop the words and deeds of a 7th century Arab, whose behavior — from pedophilia and sex-slavery to war mongering and plundering — was very much that of a 7th century Arab." As non-Muslims, we might perhaps regard these savage practices as a monstrously sick joke if so many Muslims weren't intent on inflicting Islam's enlightened views on the rest of us.
READ MORE

I SAW SOMETHING, SO I'M SAYING SOMETHING
by Stella Paul
Stella Paul speaks for many when she writes, "The authorities expect us to report suspicious backpacks, but stay silent as the tomb about the nature of the men who put them there." It is another indicator of what has happened to this country because the Chief Executive has been concerned with protecting the Muslim community from unproven hatred but ignores that the Salafists are actively undermining our way of life as they push their mission of bringing Sharia to America. If they can persuade us to criminalize anti-Islam statements, eventually, we would have no freedom of speech. As it is, the Administration's whitewashing terrorists and sneering at our military and border police is a prescription for demoralizing our troops and making the jihadists confident. Pretending that Islam is a peaceful religion doesn't make it so. It only makes us as stupid as the Jihadists think we are.
READ MORE

IS LEFTIST SCHOOL INDOCTRINATION UNSTOPPABLE?
by Bruce Thornton
Bruce Thornton makes clear that the Marxist interpretation of American history and attitudes is no longer an esoteric 'narrative' held by a few obscure intellectuals. It is by now being mouthed by ordinary lower-grade (in the sense of teaching K12) teachers of ordinary American youngsters. Education at this level initiates the implanting of attitudes and opinions that are stored at a level often resistant to later examination. Because Thornton has experienced the impact on his own family, this is not a unanchored theoretic article, though it targets concepts and techniques that need examination. As he points out, "the ideas may be garbled, half-baked, incoherent, and a collection of clichés and slogans. But they are still toxic and effective at transmitting a world-view to impressionable minds." Basically, Thornton alerts us that this is yet another area where the termites munching at our basic freedoms are busily at work. This is an important article that makes clear what's wrong with our current educational system.
READ MORE

TERRORIST? DON'T ASK, DON'T TELL
by Matthew Vadum
Matthew Vadum's article is going to be a surprise for many if not most people, no matter how knowledgeable they are about the dirty laws and regulations the government has put in place the last few years. According to the recently-issued Touchstone document on training FBI agents, if a terror suspect is associated with the "humanitarian" wing of a terror group, that doesn't mean the FBI should think he's acting "in furtherance of the organization's illicit objective(s)." Heaven forfend! Of course, this allows a member of a Salafist organization to appear in public wearing its peace and humanitarian burqa, while promoting Islamic terrorism under the hood. But we wouldn't want to hurt his feelings -- why he might have to abandon his noble efforts to make us all live under Sharia.
READ MORE

THE UBIQUITOUS MUSLIM BROTHERHOOD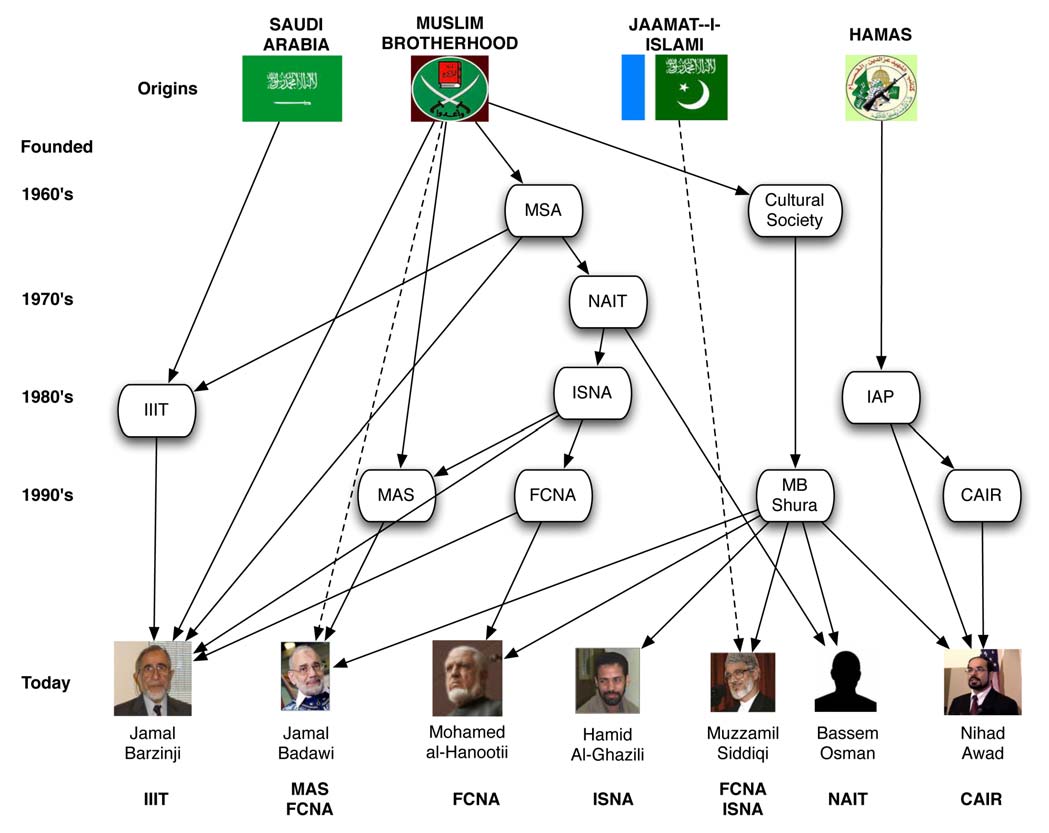 From: Steven Merley, "The Muslim Brotherhood in the United States," Series No 2, Paper No 3, April, 2009, Hudson Institute.

HISTORY OF THE MUSLIM BROTHERHOOD PENETRATION OF THE U.S. GOVERNMENT
by Carol Lopez
Carol Lopez has written a comprehensive examination of how the United States has bolstered and protected the forces of al-Qa'eda and the Muslim Brotherhood (MB). In the Middle East, they are establishing Salafist governments, not democratic ones. In the USA, the Brotherhood has been allowed to tamper with America's security. Their ambitious but detailed and well-organized plan is to bring back the Caliphate, where Islam is dominant and believers in all other religions — or no religion — are subservient. Over the years it has spread its ideology by establishing seemingly benign schools, mosques, social and student clubs as well as by exploiting interfaith groups and developing political networks at high levels. Sometimes openly, most often undercover and via a third-party, it has used tactics ranging from quiet infiltration into the host country's infra-structure to using the growing Muslim community to intimidate, riot and terrorize the natives. Its greatest accomplishment may be in fostering a politically correct environment that blames Islamic terrorism on a small group of hijackers and discourages "inquiry about the very Islamic doctrine that al-Qa'eda and hijackers themselves declared to be their motivation." Lopez makes clear why "it is urgent that we recognize this clear and present danger that threatens not only our Republic but the values of Western civilization."
READ MORE

'ACTIVISTS' HOPING TO HELP BREACH GAZA BLOCKADE, RAPED IN BENGHAZI
by Lori Lowenthal Marcus
The Gaza flotilla of 2010 gained publicity; the flotilla of 2011 didn't get far out of the gate. This year they tried a truck convoy. As Lori Lowenthal Marcus writes, this too was a bust, and a terrible experience for several of the women who were raped. This story has wider implication. First, with respect to the terrorism of the future (See here), it reinforces the likelihood that terror will be small affairs carried out by local Lone Wolves. Second, it reveals what is an open secret, that the naive Western human shields shipped in by organizations such as ISM to Gaza and elsewhere have been raped by the Arabs they have come to help. Khaled Abu Toameh wrote in a related article on a fatwa issued by Jordanian Salafi Sheikh Yasser Ajlouni allowing jihadists to rape women captured during war. "As of now, families of 'pro-Palestinian' activists around the world will have to think ten times before sending their daughters on humanitarian aid convoys." ("Raping Women in the Name of Islam," April 7, 2013)
READ MORE

NEW TREND IN AL-QAEDA'S RECRUITMENT EFFORTS: AMERICAN MUSLIMS SHOULD CARRY THE BURDEN OF JIHAD IN U.S.
by Y. Carmon and H. Migron
As Y. Carmon and H. Migron write, "Al-Qaeda's effort to recruit Americans for action in the U.S. takes place on two levels." On the ideological level, they try to counteract the "the efforts of moderate Islamic scholars to challenge jihadist and extremist notions." On the practical level, "Al-Qaeda is striving to place the responsibility for jihad in America upon the Muslim community in the U.S. This is instead of having mujahideen come from other parts of the world to attack the U.S., and instead of recruiting American Muslims to fight on other jihadi fronts worldwide." Seems an obvious refinement. We may have seen the fruit of this approach in Boston at the Marathon.
READ MORE

March-April, 2013 BLOG-EDS
This is where our readers get a chance to write opinions and editorials and share articles they find informative. The Blog-Eds page for the month is updated every few days.
There is a separate file that is the index for the articles on the Blog-Ed page. You can access an article immediately from this index by clicking on the item in the index.
To access the Index, click the "Blog-Eds List" box in the Blue Strip on the top of the Blog-Ed page.
Please note that The Blog-Ed pages for March and April are not currently available.
Different Blog Ed pages will be down intermittently until the Archive structure is in place. We apologize for the inconvenience.
Return to Feature Index