50 YEARS LATER, AMMUNITION HILL HERO RECALLS KEY BATTLE FOR JERUSALEM
by Steve Linde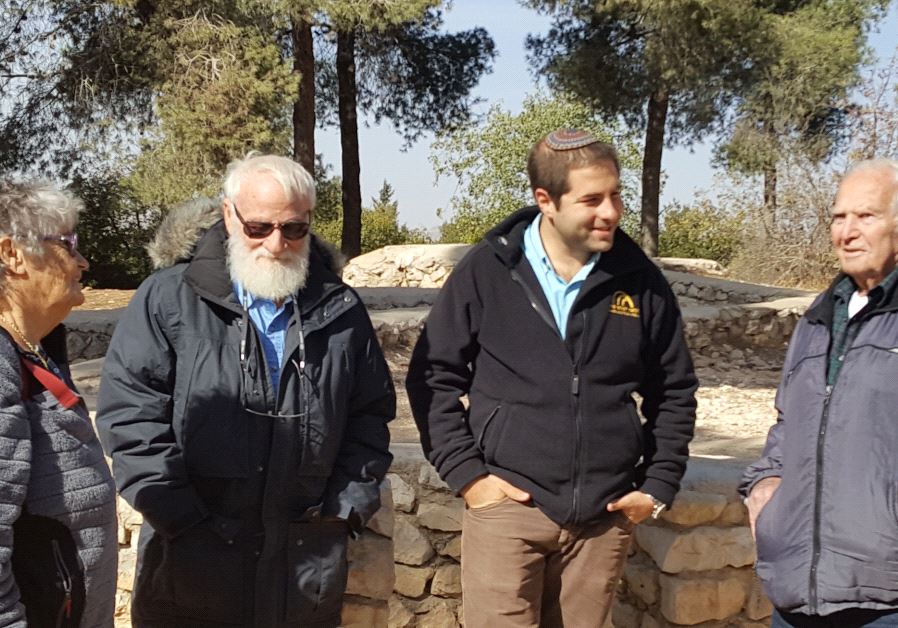 On Ammunition Hill, (from right to left) are Nir Nitzan, who led the charge into the Western Ammunition Hill trench in 1967, Yoram Taharlev, who wrote a famous Hebrew song about Ammunition Hill, JNF's Ammunition Hill Liaison Yoel Rosby and Nitzan's wife, Galia. . (photo credit:AMMUNITION HILL)
I was really scared," recalls Jacob Haimovitch, better known as Yaki Hetz, as he ponders the heroic role he was thrust into during the Battle for Ammunition Hill in Jerusalem. "It all happened so quickly."
Hetz was just a 21-year-old private when he and his comrades in Motta Gur's 55th Paratroopers Brigade's 66th Regiment attacked the strategic site from the west at 2:30 a.m. on June 6, 1967 and came under unexpectedly intense Jordanian resistance. When his platoon's bazookaman and then its commander were hit by Jordanian fire, he swiftly took command and led his men into the dark trench.
"Although I was a simple soldier, I knew we couldn't lose the momentum of the battle," he says, sitting at the entrance to the Ammunition Hill National Heritage & Memorial Site. "My friends told me afterwards that I actually shouted, "Aharai!" [Follow me] and then shot two bullets in the air."
Hetz administered first aid to one of his soldiers, then shot two Jordanian soldiers as he and his men proceeded to move through the trench under heavy fire. They eventually blew up the main Jordanian bunker with hand grenades and took control of the Hill. Thirty-six Israeli soldiers and 71 Jordanians were killed in the bloody battle that ended at 6:30 a.m. the next morning. Hetz received an IDF Medal of Courage for his leadership role in a key battle to reunite Jerusalem. He went on to receive an IDF Southern Command citation for his heroism in the Battle for the Chinese Farm during the 1973 Yom Kippur War.
Asked what he had learned in the past 50 years, Hetz pauses and says: "I am very much for peace, but we must first of all be strong. If we're not strong, our enemies will slaughter us. Our strength is in our spirit. The Jordanians were better soldiers from a professional point of view, and they had better weapons. But we won because of our fighting spirit. We have to pass this spirit on from generation to generation. That's the most important thing, and it's why I still come here regularly to guide groups and tell my story."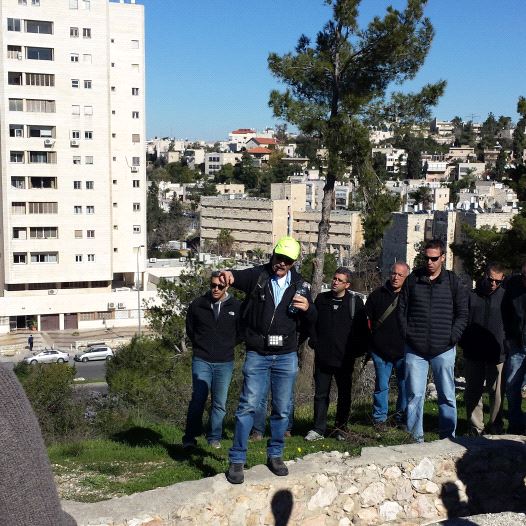 Yaki Hetz on Ammunition Hill
In honor of the battle's 50th anniversary, JNF-USA has partnered with the Ammunition Hill National Heritage & Memorial Site and the Israeli government in three major projects: the Commemoration Hall for the 182 soldiers who fell in the Battle for Jerusalem, the JNF Ammunition Hill Museum and the restoration of the battle ground. Bruce K. Gould, JNF-USA's Assistant Vice President of Campaign and Major Gifts Chairman who lives in Orlando, donated and opened the Commemoration Hall together with Prime Minister Benjamin Netanyahu and Jerusalem Mayor Nir Barkat in 2015.
The JNF delegations will be among 4,000 people on Ammunition Hill in the Commemoration Ceremony to celebrate the reunification of Jerusalem. Among those attending will be President Reuven Rivlin, Prime Minister Netanyahu, Jerusalem Mayor Nir Barkat, and several cabinet ministers and members of Knesset.
"Most importantly, we will be honoring the 1967 liberators of Jerusalem and their families, as well as the families of the soldiers who fell in the Battle for Jerusalem," Rosby adds.
Alon Wald, Ammunition Hill's marketing manager and events coordinator, is the brainchild behind a $10,000 photographic competition to mark the 50th anniversary of the reunification of Jerusalem. Alon's father, Rami Wald, was one of the 36 Israeli soldiers killed in the Battle of Ammunition Hill.
"We decided that 50 years after my father and his fellow fighters gave Jerusalem to the Jewish people, we would symbolically offer Jerusalem to the whole world through photographs," Wald says. "For us, it's a kind of closure. Together with JNF and other organizations, we aim to set a new Guinness record with the number of photographs we collect over the course of our competition. We have a committee of judges that will choose the best photographs of Jerusalem from around the world, and we will exhibit the best 100 pictures right here on Ammunition Hill."
It was Six Day War hero Shimon "Katcha" Cahaner, the former director of Ammunition Hill, who recruited Wald to work at the site where his father was killed.
"I grew up visiting Ammunition Hill every Remembrance Day, but it was only when I started working here at the request of Katcha 10 years ago that I realized the true meaning of the place. We, the fighters who survived and the children of those who lost their lives here took it upon ourselves to carry the torch and continue their legacy," he says. "We have just opened a new museum telling the very human story of each one of the fallen fighters. They are all inspiring. No one in Israel is born to be a war hero."
"This is Israel, not Sparta, a country that wants peace. We don't want war, but when it happens, we know how to fight together. It's all about people like Yaki Hetz, a private who took over from his wounded commander and said, 'Follow me.' And his comrades followed him, title or no title. I am proud to say that although I lost my father in the battle, I gained dozens of new fathers, the fighters of Ammunition Hill who were with me and my family all the time. I was a baby when my father was killed, and it was through his comrades that I got to know him."
Asked what the lesson of Ammunition Hill is for him, Wald says: "For me, the message is this: My father went from being a civilian ­­– a lover, father and carpenter – to being a fighter. He and his comrades were special. After the bloody battle was over, instead of rejoicing, the surviving fighters showed they were real human beings, and took two hours to bury 17 Jordanian soldiers whose bodies they had found on the Hill. They even took the time to write on a tin in English, 'Buried here, 17 brave Jordanian soldiers, IDF 1967.' That speaks volumes about the kind of people they were, and the legacy of Ammunition Hill."
---
Steve Linde is senior features editor at The Jerusalem Post. He served as editor-in-chief for five years from July 2011, after working as managing editor, news editor and night editor since he started at the newspaper in 1997. He previously worked as a radio broadcaster at Israel Radio's English News. This article appeared February 6, 2017 in the Jerusalem Post on and is archived at
http://www.jpost.com/Israel-News/50-years-later-Ammunition-Hill-hero-recalls-key-battle-for-Jerusalem-480727. This article was written in conjunction with JNF-USA. Portions not relevent to the history of Ammunition Hill have been omitted.