Here is the list presented for Elementary School children: (See a larger version here.)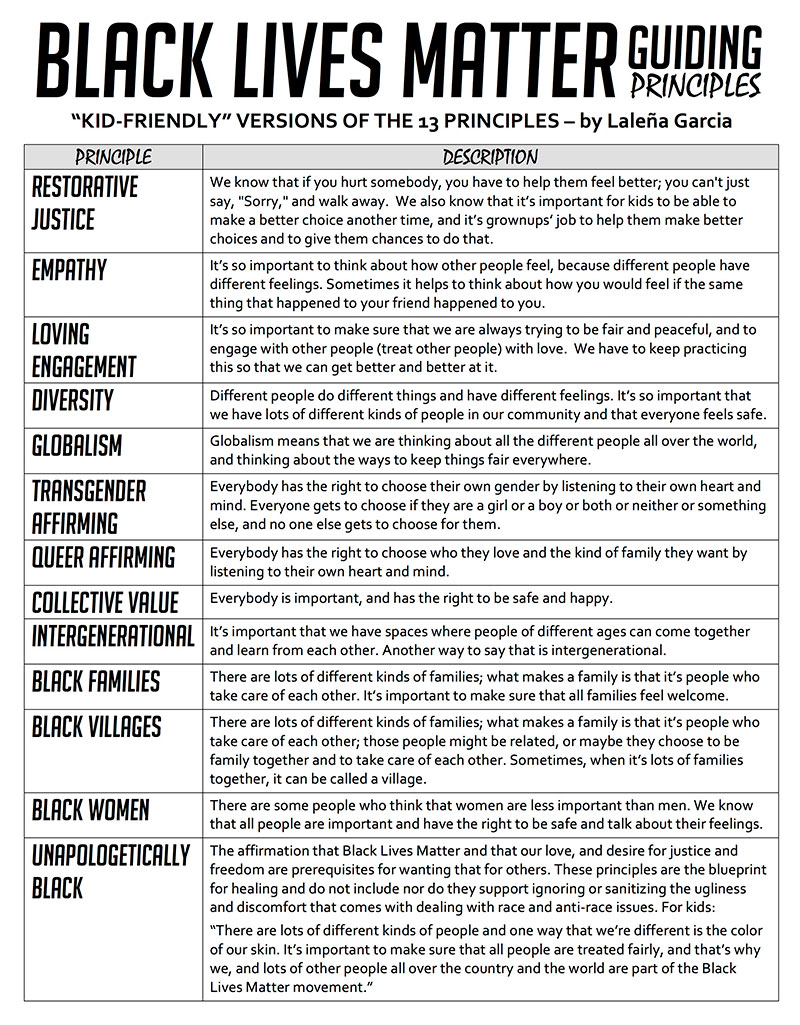 Here is the list presented for Middle School and High School children: (See a larger version here.)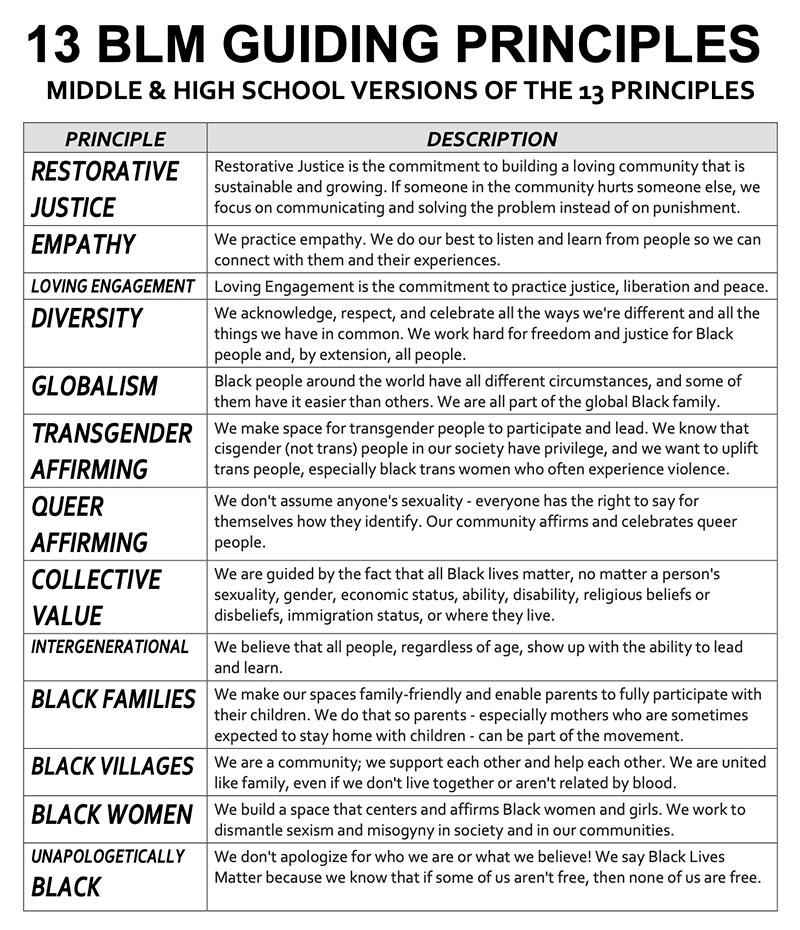 Moving the indoctrination forward
Once we start to look a little further in the curriculum materials, we can see where this is headed. The purpose is clearly to indoctrinate children in a larger, sinister Marxist ideology.
Black Lives Matter provides teachers a list of definitions of terms "to support your explanation of the 13 BLM principles." These terms include: privilege, white supremacy, heterosexism, gender, cisgender, patriarchy, dismantle, and others. That's what the "principles" are actually all about.
Here is the list of definitions of terms for teachers: (See a larger version here.)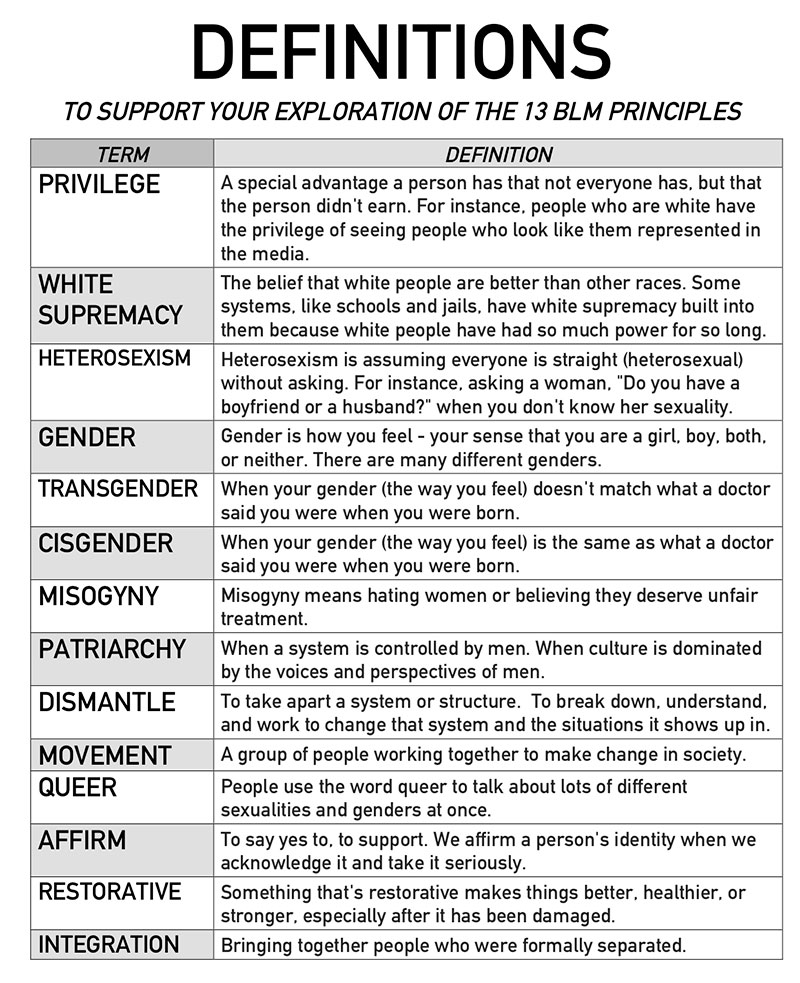 These are the terms being used to "refine" the principles in the minds of children. The purpose is clearly to create a generation of very radicalized, confused, and angry young people.
What can people do to stop this?
We are committed to helping people confront this across the country. But we can't do it alone.
The first thing people need to do is become educated about what is actually happening. That is the purpose of this series of reports.
Beyond that, people need to find out what is taking place in their local schools. (Most people, particularly parents, are shockingly unaware of any of this — which is what the schools want!) And then they need to have the courage to confront it and force the local officials to stop it. MassResistance is on the ground, has decades of experience, and can help with all of that. We've shown over and over that a small number of dedicated and educated citizens can move mountains!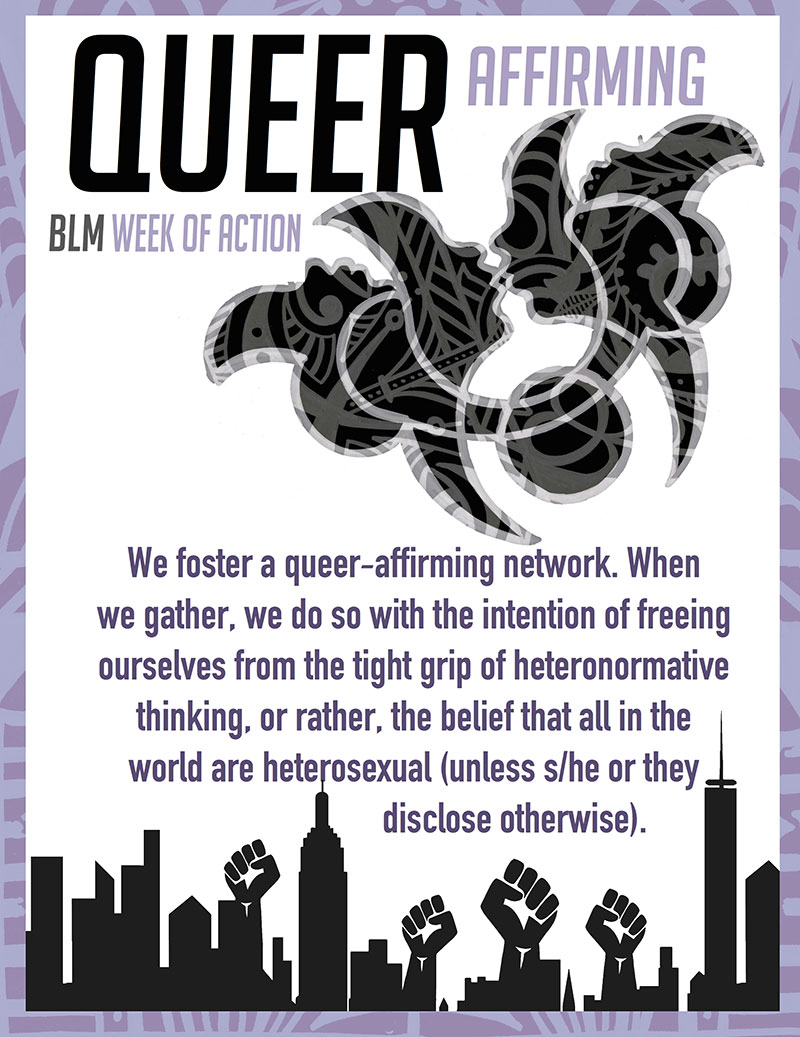 This is where "queer affirming" is leading children: "freeing ourselves from the tight grip of heteronormative thinking." A parent's nightmare!
---
"A leading pro-family activist organization, MassResistance provides the information and guidance people need to confront assaults on the traditional family, school children, and the moral foundation of society." They point out that "too many pro-family groups want to be seen as 'reasonable and 'not extreme.' They tend to 'fight' by writing commentary, re-posting shocking articles, and putting up a polite opposition to the latest left-wing lunacy. So they don't accomplish much. But MassResistance focuses on exposing the harsh truths," MassResistance has worked with activists in almost every US state and has offered guidance to activists in Australia, Canada, France, England, Ireland, Jamaica, the Virgin Islands, Finland, Ghana, Spain, Uganda, Nigeria, South Africa, Hong Kong, Singapore, Israel, New Zealand, Croatia, Brazil, and Chile.
This article was published by Mass Resistance, which promotes Pro-Family Activism. It is archived at
https://www.massresistance.org/docs/gen4/20d/BLM-Marxist-school-lessons/index.html
It is archived at Think-Israel at
http://www.think-israel.org/mass-resistance.blmschoolpropaganda.html