1.) Glick on Obama's catastrophic world tour
Column One: Surviving in a post-American world
by Caroline Glick
caroline@carolineglick.com
The Jerusalem Post
jpost.com/servlet/Satellite?cid=1238562949505&pagename= JPArticle%2FShowFull
Apr. 9, 2009
Like it or not, the United States of America is no longer the world's policeman. This was the message of Barack Obama's presidential journey to Britain, France, the Czech Republic, Turkey and Iraq this past week. Somewhere between apologizing for American history — both distant and recent; genuflecting before the unelected, bigoted king of Saudi Arabia; announcing that he will slash the US's nuclear arsenal, scrap much of America's missile defense programs and emasculate the US Navy; leaving Japan to face North Korea and China alone; telling the Czechs, Poles and their fellow former Soviet colonies, "Don't worry, be happy," as he leaves them to Moscow's tender mercies; humiliating Iraq's leaders while kowtowing to Iran; preparing for an open confrontation with Israel; and thanking Islam for its great contribution to American history, President Obama made clear to the world's aggressors that America will not be confronting them for the foreseeable future. Whether they are aggressors like Russia, proliferators like North Korea, terror exporters like nuclear-armed Pakistan or would-be genocidal-terror-supporting nuclear states like Iran, today, under the new administration, none of them has any reason to fear Washington. This news is music to the ears of the American Left and their friends in Europe. Obama's supporters like billionaire George Soros couldn't be more excited at the self-induced demise of the American superpower. CNN's former (anti-)Israel bureau chief Walter Rodgers wrote ecstatically in the Christian Science Monitor on Wednesday, "America's... superpower status, is being downgraded as rapidly as its economy."
The pro-Obama US and European media are so pleased with America's abdication of power that they took the rare step of applauding Obama at his press conference in London. Indeed, the media's enthusiasm for Obama appeared to grow with each presidential statement of contrition for America's past uses of force, each savage attack he leveled against his predecessor George W. Bush, each swipe he took at Israel, and each statement of gratitude for the blessings of Islam he uttered.
But while the media couldn't get enough of the new US leader, America's most stable allies worldwide began a desperate search for a reset button that would cause the administration to take back its abandonment of America's role as the protector of the free world.
Tokyo was distraught by the administration's reaction to North Korea's three-stage ballistic missile test. Japan recognized the betrayal inherent in Defense Secretary Robert Gates's announcement ahead of Pyongyang's newest provocation that the US would only shoot the missile down if it targeted US territory. In one sentence, uttered not in secret consultations, but declared to the world on CNN, Gates abrogated America's strategic commitment to Japan's defense.
India, for its part, is concerned by Obama's repeated assertions that its refusal to transfer control over the disputed Jammu and Kashmir provinces to Pakistan inspires Pakistani terror against India. It is equally distressed at the Obama administration's refusal to make ending Pakistan's support for jihadist terror groups attacking India a central component of its strategy for contending with Pakistan and Afghanistan. In general, Indian officials have expressed deep concern over the Obama administration's apparent lack of regard for India as an ally and a significant strategic counterweight to China.
Then there is Iraq. During his brief visit to Baghdad on Tuesday afternoon, Obama didn't even pretend that he would ensure that Iraqi democracy and freedom are secured before US forces are withdrawn next year. The most supportive statement he could muster came during his conversation with Turkish students in Istanbul earlier in the day. There he said, "I have a responsibility to make sure that as we bring troops out, that we do so in a careful enough way that we don't see a complete collapse into violence." Hearing Obama's statements, and watching him and his advisers make daily declarations of friendship to Iran's mullahs, Iraqi leaders are considering their options for surviving the rapidly approaching storm.
Then there is Europe. Although Obama received enthusiastic applause from his audience in Prague when he announced his intention to destroy the US's nuclear arsenal, drastically scale back its missile defense programs and forge a new alliance with Russia, his words were anything but music to the ears of the leaders of former Soviet satellites threatened by Russia. The Czech, Polish, Georgian and Ukrainian governments were quick to recognize that Obama's strong desire to curry favor with the Kremlin and weaken his own country will imperil their ability to withstand Russian aggression.
It is not a coincidence, for instance, that the day Obama returned to Washington, Georgia's Moscow-sponsored opposition announced its plan to launch massive protests in Tblisi to force the ouster of pro-Western, anti-Russian Georgian President Mikhail Saakashvili.
And as for Russia, like Iran, which responded to Obama's latest ode to the mullahs by opening a nuclear fuel plant and announcing it has 7,000 advanced centrifuges in operation, so Moscow reacted to Obama's fig leaf with a machine gun, announcing its refusal to support sanctions against North Korea and repeating its false claim that Iran's nuclear program is nonaggressive. Finally there is Israel. If Obama's assertions that Israel must support the immediate establishment of a Palestinian state, his declarations of support for the so-called Saudi "peace plan," which requires Israel to commit national suicide in exchange for "peace" with the Arab world, and his continuous and increasingly frantic appeals for Iran to "engage" his administration weren't enough to show Israel that Obama is sacrificing the US's alliance with the Jewish state in a bid to appease the Arabs and Iran, on Tuesday Vice President Joseph Biden made this policy explicit. When Biden told CNN that Israel would be "ill-advised" to attack Iran's nuclear installations, he made clear that from the administration's perspective, an Israeli strike that prevents Iran from becoming a nuclear power is less acceptable than a nuclear-armed Iran. That is, the Obama administration prefers to see Iran become a nuclear power than to see Israel secure its very existence.

AMERICA'S BETRAYAL of its democratic allies makes each of them more vulnerable to aggression at the hands of their enemies — enemies the Obama administration is now actively attempting to appease. And as the US strengthens their adversaries at their expense, these spurned democracies must consider their options for surviving as free societies in this new, threatening, post-American environment.
For the most part, America's scorned allies lack the ability to defeat their enemies on their own. India cannot easily defeat nuclear-armed Pakistan, which itself is fragmenting into disparate anti-Indian nuclear-wielding Islamist and Islamist-supporting factions.
Japan today cannot face North Korea — which acts as a Chinese proxy — on its own without risking a confrontation with China. Russia's invasion of Georgia last August showed clearly that its former republics and satellites have no way of escaping Moscow's grip alone. This week's Arab League conference at Doha demonstrated to Iraq's leaders that their Arab brethren are incapable and unwilling to confront Iran. And the Obama administration's intense efforts to woo Iran coupled with its plan to slash the US's missile defense programs — including those in which Israel participates — and reportedly pressure Israel to dismantle its own purported nuclear arsenal — make clear that Israel today stands alone against Iran.

THE RISKS that the newly inaugurated post-American world pose for America's threatened friends are clear. But viable opportunities for survival do exist, and Israel can and must play a central role in developing them. Specifically, Israel must move swiftly to develop active strategic alliances with Japan, Iraq, Poland, and the Czech Republic and it must expand its alliance with India.
With Israel's technological capabilities, its intelligence and military expertise, it can play a vital role in shoring up these countries' capacities to contain the rogue states that threaten them. And by containing the likes of Russia, North Korea and Pakistan, they will make it easier for Israel to contain Iran even in the face of US support for the mullahs. The possibilities for strategic cooperation between and among all of these states and Israel run the gamut from intelligence sharing to military training, to missile defense, naval development, satellite collaboration, to nuclear cooperation. In addition, of course, expanded economic ties between and among these states can aid each of them in the struggle to stay afloat during the current global economic crisis.
Although far from risk free, these opportunities are realistic because they are founded on stable, shared interests. This is the case despite the fact that none of these potential alliances will likely amount to increased support for Israel in international forums. Dependent as they are on Arab oil, these potential allies cannot be expected to vote with Israel in the UN General Assembly. But this should not concern Jerusalem. The only thing that should concern Jerusalem today is how to weaken Iran both directly by attacking its nuclear installations, and indirectly by weakening its international partners in Moscow, Pyongyang, Islamabad and beyond in the absence of US support. If Japan is able to contain North Korea and so limit Pyongyang's freedom to proliferate its nuclear weapons and missiles to Iran and Syria and beyond, Israel is better off. So, too, Israel is better off if Russia is contained by democratic governments in Eastern and Central Europe. These nations in turn are better off if Iran is contained and prevented from threatening them both directly and indirectly through its strategic partners in North Korea, Syria and Russia, and its terror affiliates in Iraq, Pakistan and Afghanistan.
For the past 16 years, successive Israeli governments have wrongly believed that politics trump strategic interests. The notion that informed Israel's decision-makers — not unlike the notion that now informs the Obama administration — was that Israel's strategic interests would be secured as a consequence of its efforts to appease its enemies by weakening itself. Appreciative of Israel's sacrifices for peace, the nations of the world — and particularly the US, the Arabs and Europe — would come to Israel's defense in its hour of need. Now that the hour of need has arrived, Israel's political strategy for securing itself has been exposed as a complete fiasco. The good news is that no doubt sooner rather than later, Obama's similarly disastrous bid to denude the US of its military power under the naive assumption that it will be able to use its new stature as a morally pure strategic weakling to win its enemies over to its side will fail spectacularly and America's foreign policy will revert to strategic rationality. But to survive the current period of American strategic madness, Israel and the US's other unwanted allies must build alliances with one another — covertly if need be — to contain their adversaries in the absence of America. If they do so successfully, then the damage to global security induced by Obama's emasculation of his country will be limited. If on the other hand, they fail, then America's eventual return to its senses will likely come too late for its allies — if not for America itself.

2.) Raymond Ibrahim on Obama's bow and other aspects of foreign policy
Obama's Abominable Obeisance: Cultural Perspectives
by Raymond Ibrahim
Middle East Forum,
http://www.meforum.org/2116/ obamas-abominable-obeisance-cultural-perspectives
April 11, 2009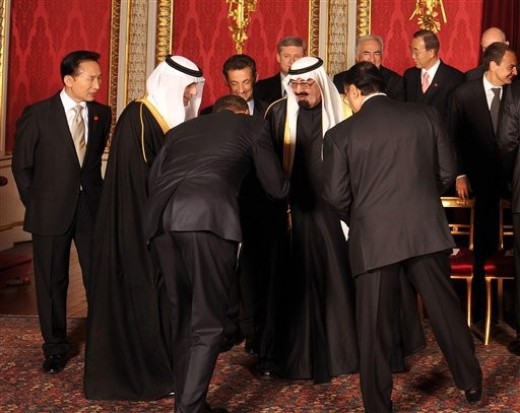 Is Obama's deep bow (with slightly bent knee) to the Saudi king as bad as it seems? The White House, apparently forgetful that we live in the Internet age, where everything is swiftly documented and disseminated — or else thinking it leads a blind nation — insists the president did not bow. He supposedly always bends in half when shaking hands with shorter people, though he certainly seemed quite erect when saluting the British queen, who is much shorter than the Saudi king.
Obama bowed; this much is certainly not open to debate. All that is left now is to place his odious obeisance in context. As such, history has much to say about the seemingly innocuous bow.
Millennia before the current war between the West and Islam — the war Obama insists does not exist in the first place — the ancient Greeks (forebears of Western civilization) warred with the Persians (forebears of the soon-to-be-nuclear Islamic theocracy, Iran).
Writing in the 5th century B.C., the Greek historian Herodotus explained: "When the Persians meet one another in the roads, you can see whether those who meet are of equal rank. For instead of greeting by words, they kiss each other on the mouth; but if one of them is inferior to the other, they kiss one another on the cheeks."
This explanation reminds one of Bush's hand-holding/kissing sessions with the same Saudi monarch, which some insist exonerate Obama's bow. Not so; as the Greek historian explains above, such behavior is representative of equal rank in Eastern cultures.
As for Obama's conduct, Herodotus continues, "yet if one is of much less noble rank than the other, he falls down before him and worships him."
"Much less noble rank"? Could Obama, like his wife Michelle, who only recently became proud of America, be operating under the conviction that being American is not all that noble?
As for "falls down before him and worships," this phrase is a translation of the Greek word proskunesis, which means "to make obeisance," to "worship, adore," as one would a god, or king, or god-king. Basically, to fall on one's face in prostration to another. Connotatively, it implies "to make like a dog" — base, servile, and submissive.
While common to the caste-like system of Persia, prostration was something the freedom-loving Greeks scorned. Indeed, wars were waged simply because the Greeks refused to submit — literally and figuratively — to Persian tyranny.
According to Arrian's chronicle, at the height of Alexander the Great's power — when his hubris against the gods and megalomania against man were most burgeoning — he decided to implement the proskunesis in his court, provoking controversy among the Macedonians, until one of their numbers, Callisthenes, rebuked him by saying, "Will you actually compel the Greeks as well, the freest of mankind, to do you obeisance?" Another close companion to Alexander, Clitus, vexed at the former's increasing pomposity and the lack of manly dignity at his court, told Alexander, in the words of the historian Plutarch, that "he [Alexander] had better live and converse with barbarians and slaves who would not scruple to bow the knee to his Persian girdle." His words cost him his life.
It was one decade ago, when I studied ancient history with Victor Davis Hanson, that I last examined the proskunesis (never thinking the day was nigh when it would have modern applicability — and thanks to a U.S. president!). Recently corresponding with VDH about this whole sordid affair, he confirmed that "the Macedonians seemed to really have felt proskunesis was about the worst thing someone could do."
In light of the West's ancestors' utter contempt for proskunesis, let us now examine Obama's prostration in context:
First, it must be affirmed that, as with ancient Greeks, Americans find bows, prostrations, and other servile gestures distasteful. Interestingly, the Muslim world shares this same view, particularly so-called "radicals," who are constantly condemning "manmade" governments, such as democracies, as systems of "human-worship" to be eschewed at all cost. Writes Ayman al-Zawahiri: "Know that democracy, that is, 'rule of the people,' is a new religion that deifies the masses by giving them the right to legislate without being shackled down to any other authority" (The Al Qaeda Reader, p. 130).
This, by the way, is why the Saudi monarch does not tamper with Sharia: doing so would be tantamount to self-apotheosis. Expecting prostrations from others would be viewed little better by the theocrats surrounding him. (Watch the video and note that, while the king proceeded with an extended right arm, Obama dived in with a bow, almost taking the former aback.)
In short, both Muslims and Americans (at least until very recently for the latter) find bowing to be an odious enterprise and therefore do not offer it to, nor expect it from, others.
Conversely, some Far Eastern cultures incorporate the bow. Had Obama been in Japan and bowed (and received a reciprocal bow signifying equality), his actions would have been culturally appropriate (not to mention expected). Yet, Obama had as much reason to bow to a Muslim as he would have to a Christian or Jew.
Yet surely he didn't bow to Abdullah due to the latter's exalted status in the Muslim world ("Guardian of the Two Sanctities"), a status that schoolboy Obama in Muslim Indonesia must have viewed with awe, but rather out of politeness, because Abdullah is a king, royalty. Not so. Were this true, upon meeting the British queen — equal "royalty" — Obama would have stooped to her as well. (Nor can his iPod gift be considered surrogate.)
Whatever prompted that rather instinctive bow — Obama may be used to bending the knee to Saudi royalty, considering that Saudis may have paid his college tuition — and regardless of antiquated notions of "honor" and "dignity," merely diplomatically, it was a bad move.
Not only is the Wahhabi king symbolic of the most "radical" form of Islam — it's not for nothing that 15 of the 19 9/11 hijackers, not to mention bin Laden, were Saudis — but his Sharia-enforcing kingdom is cited as one of the worst human rights violators in the world. Bowing to this man was therefore symbolically a bow of submission to radical Islam and all its attendant human rights violations.
This is compounded by the fact that, immediately preceding this ignoble bow, Obama was busy profusely apologizing to the Islamic world, insisting that the U.S. is not at war with Islam — and "never will be." Jihadis the world over must have been relieved to know that not only does the leader of the most powerful Western nation have no intention of naming them or placing them in context — so much for that first strategy of warfare, "know your enemy" — but that nothing they do in the future will ever cause the sleeping infidel giant's leader to arouse it.
Similarly, Obama's obeisance should give nuke-seeking Iran even more hope in its endeavors. After all, if the leader of the free West so readily bends the knee to Wahhabi despotism, how long before he bows to Iran, the true heir of proskunesis-Persia? And if he does not fully bow willingly, that is only more incentive for Iran to hasten and acquire nukes, so he can be made to bow unwillingly.
Finally, any would-be "moderates" or assertive governments who may have been serious about combating radical Islam and its attendant humanitarian abuses via Sharia have, through Obama's bow to the personification of radical Islam, just received a clear message: aside from occasional, perfunctory lip service, you're really on your own.
As for all those who would defend Obama's bow by saying he was being "diplomatic," because, you know, we "need" Saudi oil, how does that justify bowing, unprecedented from an American president, unexpected from the Saudi king?
When Alexander the Great, drunk with hubris, took on despotic ways, demanding that others prostrate themselves before him, the Macedonians revolted; some were put to death. What a long way Western civilization has come when today the leader of the free world and heir to democratic ancient Greece, far from despotically demanding that others offer him obeisance, voluntarily opts to prostrate himself — and in essence, all of America — before another. And what another.
Originally published at:
http://pajamasmedia.com/blog/ obamas-abominable-obeisance-cultural-perspectives/
Raymond Ibrahim is the associate director of the Middle East Forum and the author of The Al Qaeda Reader, translations of religious texts and propaganda.

3.) Prof. Steven Plaut's sarcastic letter from Shimon Peres.
An Open Letter from President Shimon Peres to President Barack Obama
Relayed to the world by Steven Plaut
Dear Mr. President,
I am shocked, Mister President, truly shocked. After all the hope you have inspired for a new America, after your denunciation of American arrogance, after your pledge to solve problems with the world's terrorists through talking, here you go and order the American Navy SEALS to violate the human rights of the Somalian pirates without so much as reading them their Miranda rights!
Have you lost your senses? Why could you not have learned from the lessons offered to you by Israel in its successful strategy to get Gilad Shavit released from captivity! After all, we have worked quietly and peacefully for more than three years to obtain Shavit's freedom. Why could you not have been content to do the same with Captain Phillips?
What happened to your promise to deal with all forms of activism in the world being perpetrated by misunderstood militants through civilized talking?
Mister President Minister, I have a great amount of experience in dealing successfully with terrorism and violence, and this is why I wish to explain to you why your actions were unjustified and simply unforgivable.
The first thing you must realize is that one can only make peace with one's enemies. With one's friends there is no need to make peace. There is no military solution to the problems of terrorism, and this is why you should have sought a diplomatic solution to the holding of Captain Richard Phillips. "No Justice, No Peace," as they say. You must now invite the leaders of this Somalian protest organization responsible for the hijacking of the ship and the holding of Captain Phillips to the White House. You must learn to feel their pain and understand their needs.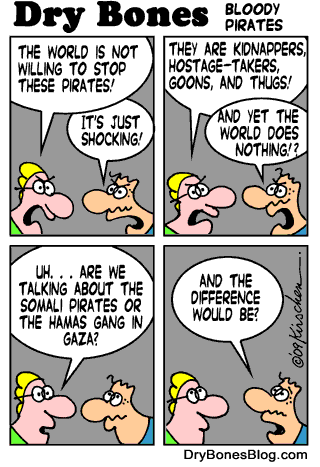 But most importantly, you must end the illegal occupation of territory that does not belong to you! First, you must withdraw from Guam and Hawaii and remove all the illegal Anglo-Saxon settlers there. But that is just a beginning. Large sections of the United States, including the Southwest, are illegally occupied territories. Some even have a Hispanic majority.
The solution is to create two states for two peoples inside Illinois itself. One will be for the Americans and the other for the Somali pirates.
Then there is the matter of the status of Washington, DC. It has a sizeable Somali minority, many of whom drive taxis. Your selfish insistence that the District of Columbia remain American is racist and insensitive. You must end the apartheid regime inside America and turn Washington into the shared capital of two states.
Then you must pay compensation to the families of the Somali pirates mercilessly killed in cold blood by your Navy SEALS. You must grant them survivor benefits from the American social security administration and lands inside Yellowstone Park. This is not even the first time that you Americans violated the civil rights of pirates. Your crimes go all the way back to Thomas Jefferson and his imperialist attacks on the Barbary coast pirates. The aggressors were led by that racist warmonger Lieutenant Stephen Decatur, Jr., who attacked pirate ships in Tripoli for no better reason than that they had hijacked the USS Philadelphia. Did you not learn anything from that early bout of American imperialist insensitivity?
You must offer the pirates Internet web services and five-star tourist hotels in exchange for their promising to abandon violence. After all, that is how we turned Yasser Arafat into a peace partner. You see, military force serves no role any more in the post-modern universe. It is passe. It is archaic. Today, consumer interests dominate the world, and the Somali activists of the earth will surely wish to make peace in exchange for some profits from participating in global trade.
The attacks on the American ship by the Somali pirates came because you have been insufficiently sensitive to the needs of the Other. You should have negotiated with them even while the ship was under attack. Conditioning negotiations on an end to violence is a no-win situation. It will simply prolong the bloodshed! You must put your own house in order, eliminate inequality and injustice inside Chicago, and then the militants will no longer target you.
The key is to build a New Middle Africa, one in which everyone is so busy with the important matters of developing tourism, infrastructure investments and high-technology that they will have no time to pursue violence.
Begin by declaring a unilateral ceasefire! Mister President, blessed is the peacemaker. Remember Martin Luther King! Go meet with the legitimate representatives of the Somali pirates. The entire world will support you and congratulate you if you respond to the attack on the American ship by disarming the United States and opening serious dialogue with the pirate activists.
All we are saying is give peace a chance. Yitzhak Rabin would have approved. Yes, chaver, what you need is shalom, salaam, peace. You will be awarded a Nobel Peace Prize in recognition. Do not allow yourself to be drawn down into the gutter of retaliation. Violence never achieves anything. History has no lessons. History is the dead past.
Follow my example! Provide the Somali pirate organization with anti-aircraft and anti-tank missiles so that they can battle against the true radicals and extremists. And they will do so with no ACLU or Supreme Court to restrain them!
Demonstrate your humanity by paying pensions to any widows and orphans of the militants killed by the Navy SEALS.
Mister President, my own peace policies have eliminated war, bloodshed and terror from the Middle East. We now have only peace partners. If you follow in my footsteps, you can achieve the same lofty goals.
Peacefully yours,
Shimon Peres, Peacemaker-at-Large
David Meir-Levi is an American-born Israeli, currently living in Palo Alto. His expertise is in Near Eastern studies and the history of the Arab-Israeli conflict. He is Director of Peace and Education at Israel Peace Initiative (www.ipi-usa.org). Contact him at david_meirlevi@hotmail.com
To Go To Top