ISRAEL PUBLISHED GAZA TRAVEL GUIDEBOOK FOR PRO-HAMAS FREEDOM FLOTILLA
by Omri Ceren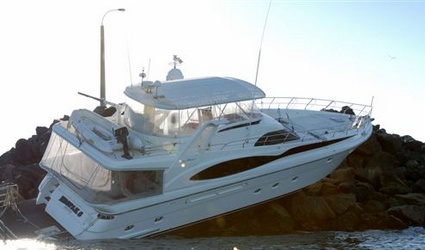 FROM: Israeli Ministry of Foreign Affairs
TO: Free Gaza Freedom Flotilla
RE: Gaza Tourism Guide
Dear Crazy People,
We've been given to understand that you intend to stage another media stunt, wherein you're again going to float some empty ships — they may be full this time, they were mostly empty last time — in the general direction of the Gaza Strip. Your hope is apparently that your cameramen will capture the Israeli reaction and edit it into an overreaction or, failing that, simply reprint your feverish fantasies with slack-jawed credulity. Again.[1]
Our problem isn't so much that your goal involves obfuscating the millions of tons of food and aid[2] we've delivered to Gaza civilians, which allowed Hamas to move money away from infrastructure and into weaponry, which led to more of our cities getting bombarded with rockets and missiles. It's not even how, knowing that we deliver 15,000 tons of goods every week, your 10,000 tons of concrete isn't exactly a shining testament to your good intentions. Not when just last week[3] we handed over 810,209 liters of heavy duty diesel fuel, 21 truckloads of milk powder and baby food, 897 tons of cooking gas, 66 truckloads of fruits and vegetables, 51 truckloads of wheat, 27 truckloads of meat, chicken and fish products, 40 truckloads of dairy products, 117 truckloads of animal feed, 36 truckloads of hygiene products, 38 trucks of clothing, 22 trucks of sugar and 4 trucks of medicine and medical equipment. But again: not the issue.
Really what we're concerned about is that you suck at driving boats. Last time you only had one ship and you still managed to crash it because — of all things — you tried to outmaneuver an Israeli Navy vessel.[4] This time you're bringing nine boats. While we fully expect our Navy to interdict all of you, a legal and justified act under black letter maritime law, the odds are overwhelming that one of you tools is going to accidentally ground your boat. Given your obvious intention of creating a spectacle and your similarly obvious inability to manage same, it's pretty much inevitable.
If and when that happens, we'd like you to have at least some sense of how to survive in Gaza City. The alternative is you running across the border — complaining the whole time about our security checkpoints — and that would be awkward for everyone.
So we've put together this Gaza Tourism Guide, complete with picture galleries, which we believe to be the most comprehensive ever assembled on the web.
We know that after looking over everything, you'll be as excited to stay in Gaza as we are to have you there. Feel free to pass this on at your ISM tabling sessions at Evergreen or whatever you people do on college campuses in between advocating genocide.[5] And in the future, if you really want to repeatedly create Gaza media spectacles so you can damage Israel's reputation, do what everyone else does. Join[6] the UN.[7]
WHERE TO SLEEP
Gaza City's luxury hotels are located on the Gaza coastline in the posh district of Ramal, which gets its name from the Arabic word for "sands." Ramal serves as a central gathering place for international and domestic dignitaries. Foreign officials are often found in the area, speaking about Gaza's unbearable plight at the Palestinian Centre for Human Rights during the day, before retiring to the United Nations beach club at night. Top Hamas officials also congregate in the area, and can be easily identified during wartime as the ones hiding in the half-bunker/half-silo basement[8] of the district's Shifa Hospital. As can be expected the accommodations and eateries in Ramal are superb.
At the far end of the luxury spectrum, the Grand Palace Hotel has a direct beach view and puts guests literally across the street from the Mediterranean Sea. The building's decadent Crystal Hall — included in the gallery below — makes it a much-desired banquet location for first weddings, second weddings, and martyrdom celebrations. Those seeking to secure the room are advised to book well in advance.
The Grand Palace's sprawling facilities also make it a prime location for political and corporate events. When Fatah leader Nabil Shaath returned to the Gaza Strip in 2010, entering the territory for the first time since Hamas had violently seized control in a 2007 campaign that involved shooting out the kneecaps[9] of Fatah-linked civilians, throwing them off roofs,[10] and executing them[11] in the streets — this is where[12] Shaath met with his Hamas counterparts.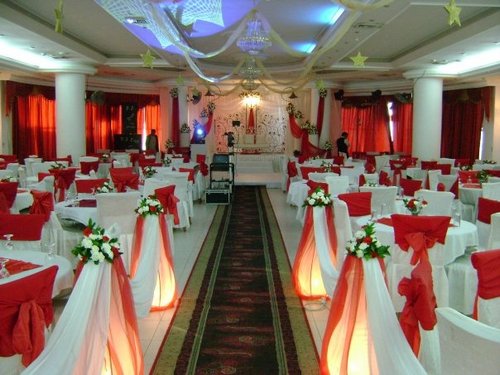 Grand Hotel
If you're looking for a younger vibe you might want to check out the Marna House. The warm family-run establishment is like a home away from home. Though it's Gaza's oldest hotel, the blending of modern luxury with the ethos of anti-Zionist resistance has made it a favorite with college-aged ISM volunteers. Stable Internet means guests can — and do — blog about the savagery of targeted Israeli self-defense operations, tweet about the wonderful bravery of Hamas's human shields,[13] and even upload galleries of the beach side terrace to Flickr. Since the clientele skews young, it's no surprise that past guests have set up a Marna House hotel & restaurant Facebook page[14] so they can "share memories" of their bitter twilight struggle against Occupation. The crappy resolution on the uploaded photos are a testament to the grittiness of the experience: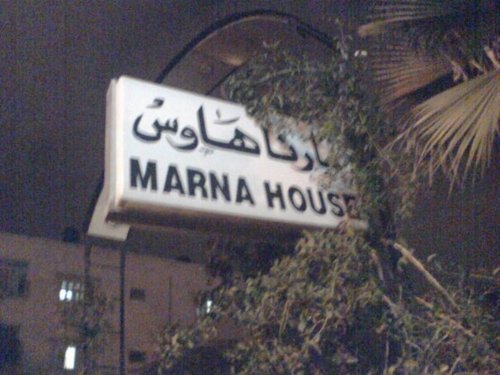 Marna House
The Al Deira hotel, built along Gaza's coast in sun dried mud bricks, is an option somewhere in between the Al Deira and the Marna House. Though the hotel boasts 22 spacious rooms and a world-class staff — enough so that some regular Western European diplomats and anti-Israel human rights investigators actually prefer it to the Grand Palace — the experience exudes down-to-earth Mediterranean hospitality. Bookworms will find a shop in the lobby specializing in Middle Eastern works of fiction, historical biographies, and conspiracy theories demonizing Jews. Wireless Internet is available for $2/hr or $10/day, and a fully equipped business center is available for $6/hr.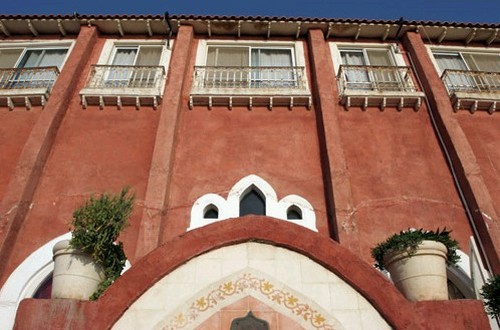 Al Deira Hotel
WHERE TO SHOP
Gaza's markets are simply overflowing with goods supplied by hundreds of smuggling tunnels, from food[15] and clothing[16] to widescreen TVs[17] and even live cows.[18] The depth and breadth of the selection is so astounding that smaller tunnel operators are actually getting run out of business[19] because they can't compete with the scale of the larger operations.
Tourists hoping for bargains may nonetheless find themselves disappointed, however. Gaza's relatively healthy per capita income — higher than India's as a result of being the world's largest per-capita aid recipient[20] — keeps demand robust and prices stable.
Still, wily locals will know where great deals can be found. Don't be afraid to ask for tips, either from your hotel clerk or from the attentive Hamas-provided tour guides who will be accompanying you everywhere. If you're lucky they might be able to track down one of the souvenir Goldstone headscarves,[21] honoring brutal apartheid judge[22] Richard Goldstone. They've unfortunately been selling out all over Gaza, so nothing's certain. Much more common are open air swap meets filled with kids selling automatic weapons.[23]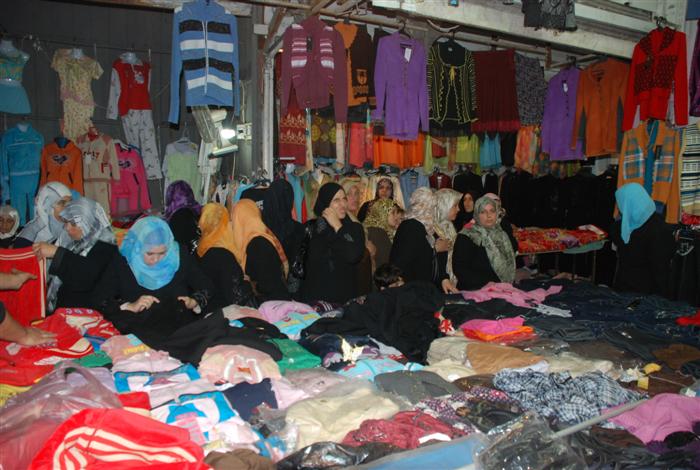 Many tourists, especially Americans, find bartering to be distasteful or uncomfortable. This is especially true in the hustle and bustle of a market. If it's not your cup of tea, you can head over to Gaza's professional and well-stocked supermarkets[24] for the kind of experience that you would find in any American chain.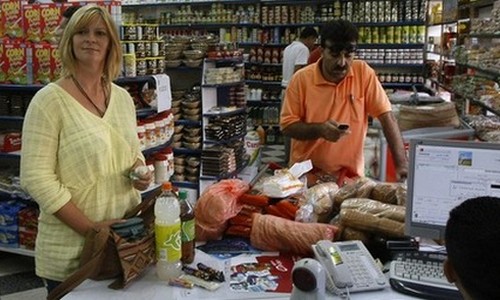 The customer is Tony Blair's sister-in-law.
WHERE TO DINE
All of the major luxury hotels have food facilities, with the seaside terrace restaurant at the Al Diera hotel being a local favorite. It's known for its view, its mezes (small Mediterranean-style dishes), and its fresh strawberry juice. Gazans will top the juice off with a scoop of vanilla ice cream, which is perfect for getting through the hot desert summer days.
If you're looking to get away from hotels, you can't do better than Roots. The well-known restaurant, part of the Cactus for Development Group's family of fine dining restaurants — "new standards in the hospitality business in Palestine!!!" — emphasizes that you should call ahead for reservations. Their full blown interactive menu here.[25]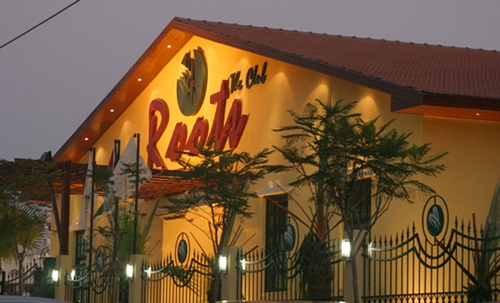 Visitors are strongly cautioned not to drink tap water while in the Gaza Strip. The Palestinians have severely overpumped Gaza's wells,[26] perhaps irreparably depleting the water table and leaving it open to mass contamination. Ground water is therefore not potable. Stick instead to bottled water, which is regularly supplied by Israel and imported through smuggling tunnels.
WHERE TO PLAY
Gaza summers revolve around whatever Gaza beaches aren't being used at the time to hack up critically endangered sea turtles[27] for their ostensibly magical blood. Whether it's relaxing with friends, exercising with a partner, or watching an AP stringer set up photo shoots in anticipation of captions about beach life being "the only escape available to Gaza children" — there's always something interesting going on.
The beaches do get crowded, and the new mandatory Hamas dress code makes them somewhat drab,[28] so at some point you may want to join other relatively wealthy foreigners at Gaza's nearby, full-time luxury spa.[29] There you'll find a steam room, a sauna, a small gym and a beauty parlor that offers facials and massages.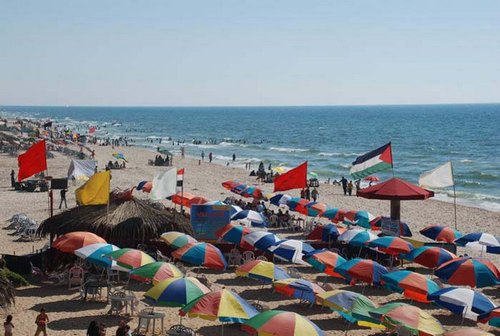 WHERE TO DRINK
Unfortunately, the Hamas government declared a total ban on alcohol importation and consumption in 2009. Even hotels frequented by well-intentioned Westerners such as yourselves are banned from serving liquor, a substance that Muslims find objectionable. Stores and clubs that fail to adhere to the ban get bombed.[30]
WHERE TO WORSHIP
Unfortunately, non-Muslims will find few options for worship in the Gaza Strip. The synagogues left by withdrawing Israelis were immediately desecrated and destroyed.[31] Most Christian churches were long ago transformed into mosques. Visiters are also advised to avoid gathering in Christian bookstores, which increasingly get bombed,[32] or around actual Christians, who increasingly get killed.[33]
WHERE TO DANCE
Unfortunately, Hamas has banned women from dancing,[34] as well as from wearing all but the most conservative[35] outfits.
WHERE TO LISTEN
Unfortunately, music shops and performances have also been deemed un-Islamic in recent years, to the detriment[36] of music shop owners and performers.
WHERE TO GET ONLINE
Unfortunately, visitors are advised to avoid Internet cafes because they get bombed.[37]

Footnotes
NOTE:The images above are actually the beginning of slide shows, which may be seen in the original article on the Mere Rhetoric website.
[1] http://newsbusters.org/blogs/rusty-weiss/2008/ 12/30/cnn-lends-credence-protestors-embellishment
[2] http://www.mfa.gov.il/MFA/About+the+Ministry/ Behind+the+Headlines/Israeli_humanitarian_lifeline_Gaza_ 25-May-2010.htm
[3] http://www.ynetnews.com/articles/ 0,7340,L-3892605,00.html
[4] http://fr.jpost.com/servlet/Satellite?cid= 1230456524951&pagename=JPost%2FJPArticle%2FShowFull
[5] http://www.mererhetoric.com/2010/05/25/ watchers-council-what-american-universities-will-tolerate-these-days/
[6] http://www.mererhetoric.com/2008/12/29/ un-palestinian-stooge-its-obvious-that-israeli-attack-violated- 48-hour-truce-that-no-one-knew-about-until-now/
[7] http://www.mererhetoric.com/2009/02/05/ un-clerical-error-made-us-mistakenly-think-israel-bombed- unrwa-school-opps/
[8] http://www.mererhetoric.com/2009/01/01/ gaza-hospitals-overflowing-with-hamas-weapons-palestinian- vigilante-murder/
[9] http://www.mererhetoric.com/2009/01/03/ hamas-blowing-out-the-kneecaps-of-fatah-linked-gaza-civilians- executing-dozens/
[10] http://www.mererhetoric.com/2007/06/11/ palestinian-non-civil-war-watch-now-theyre-throwing-each- other-off-roofs/
[11] http://www.mererhetoric.com/2007/06/ 13/palestinian-non-civil-war-watch-insanity-updated- content-warning/
[12] http://www.daylife.com/photo/ 049lcLd7aI6UF
[13] http://www.mererhetoric.com/2008/12/ 27/hamas-prepares-15000-soldiers-civilian-human-shields- for-full-confrontation-with-israel/
[14] http://www.facebook.com/group.php?gid= 6800636038#!/group.php?gid=6800636038
[15] http://www.mererhetoric.com/archives/ 11274910.html
[16] http://rochester.indymedia.org/newswire/ display/21818/index.php
[17] http://www.solomonia.com/blog/archive/ 2008/11/wide-screen-tv-in-gaza/
[18] http://www.daylife.com/photo/003s9nUbVAetn
[19] http://www.mererhetoric.com/2010/02/ 19/aww-glut-of-gaza-products-putting- small-time-smugglers-out-of-business/
[20] http://www.mererhetoric.com/2008/08/25/ eu-another-40-million-euros-to-hamas-will-totally- bring-peace-to-middle-east/
[21] http://www.google.com/hostednews/ afp/article/ALeqM5jRPMytBqsSgHfOJY8EIjKITk_aGw
[22] http://www.mererhetoric.com/2010/05/ 25/anti-israel-left-ignores-goldstones-apartheid-past- fabricates-israelisouth-african-nuke-deal-instead/
[23] http://www.mererhetoric.com/2007/ 05/11/kids-selling-weapons-at-gaza-auto-market/
[24] http://www.mererhetoric.com/2008/ 10/06/new-data-confirms-old-data-blaming-israel-for- gazas-medical-collapse-is-a-vicious-lie/
[25] http://www.rootsclub.ps/1/ Menu-Roots/Menu-Roots/Default.html
[26] http://www.mererhetoric.com/ 2004/02/06/palestinians-parch-themselves-blame-israel/
[27] http://www.mererhetoric.com/2008/ 04/04/palestinians-hack-up-critically-endangered-giant- sea-turtle-for-its-magical-blood-video/
[28] http://www.guardian.co.uk/world/ 2009/oct/18/hamas-gaza-islamist-dress-code
[29] http://www.google.com/hostednews/ afp/article/ALeqM5imO1SgRlhb378eZXKewYD0P4BMww
[30] http://www.mererhetoric.com/2006/01/ 02/palestinians-end-truce-they-never-started- ap-blames-israel-comes-frighteningly-close-to-outright-lying/
[31] http://www.mererhetoric.com/2005/09/ 11/palestinians-rampage-destroy-synagogues/
[32] http://www.mererhetoric.com/2007/10/ 07/peaceful-relations-watch-christian-bookstore-director- murdered-in-gaza/
[33] http://www.mererhetoric.com/2007/ 06/28/ap-gaza-christians-have-been-living- peacefully-now-under-attack-by-unknown-extremists/
[34] http://www.bloomberg.com/apps/ news?pid=20601087&sid=aB2RfynNbLmk&pos=9
[35] http://www.google.com/hostednews/ afp/article/ALeqM5iJrKI0iAzKX6kqUQZzGS8-4rzuww
[36] http://www.mererhetoric.com/2007/ 04/01/who-are-these-peaceful-loving-palestinian-people- and-why-do-they-seem-so-non-peace-loving/
[37] http://www.mererhetoric.com/2006/ 10/08/and-the-wheels-come-off-2-gaza/

Omri Ceren is a PhD candidate studying Rhetoric at the University of Southern California's Annenberg School for Communication. He lives in downtown Los Angeles. Email: omri@mererhetoric.com
This article appeared May 26, 2010 on the Mere Rhetoric website:
http://www.mererhetoric.com/2010/05/26/ israel-publishes-gaza-travel-guidebook-for-pro-hamas-freedom-flotilla/
Thanks are due to John Cohn and Doris Wise Montrose of the Children of Jewish Holocaust Survivors(CJHS) for sending this to Think-Israel.