JERUSALEM DAY: TODAY AND 1948
Hadar-Israel

Jerusalem Day is the day Israel celebrates the re-unification of Jerusalem in 1967 and its return to the Jewish people.
Those of us who live in Israel have gotten use to the joyous marches of excited young people, ceremonies at the Kotel (Western Wall) that bring tears to our eyes, even the traffic jams! But in these days when world leaders are once again considering the division of Jerusalem, it's crucial that we not forget what it was like in 1948 when during Israel's War of Independence the Old City, East Jerusalem and Judea and Samaria (the West Bank") were captured by Jordanian soldiers, resulting in a divided city between 1948 and 1967.
We can never allow Jerusalem to be vulnerable to attack again!

The photos below appeared in Life Magazine in 1948 showing Jewish residents of East Jerusalem escaping when Jordanian soldiers took it over and divided the City.
The next two photographs are remarkable. This is before and after of the same place!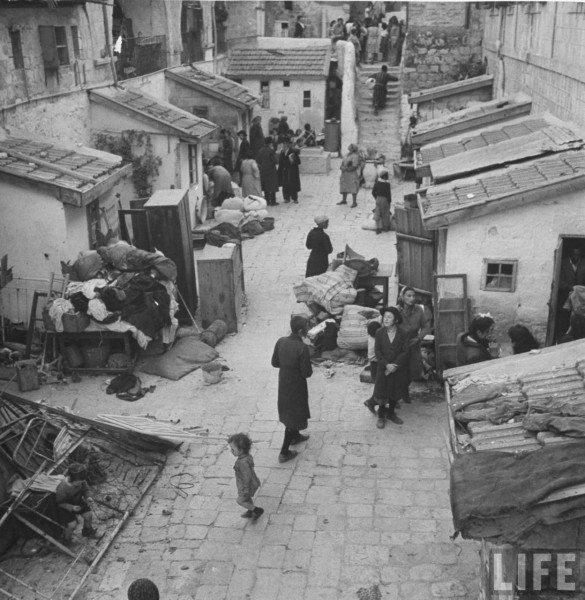 1948.5 Jewish families waiting outside their homes to be evacuated by Arab troops. Jerusalem, Israel. June 1948. (Life: John Phillips)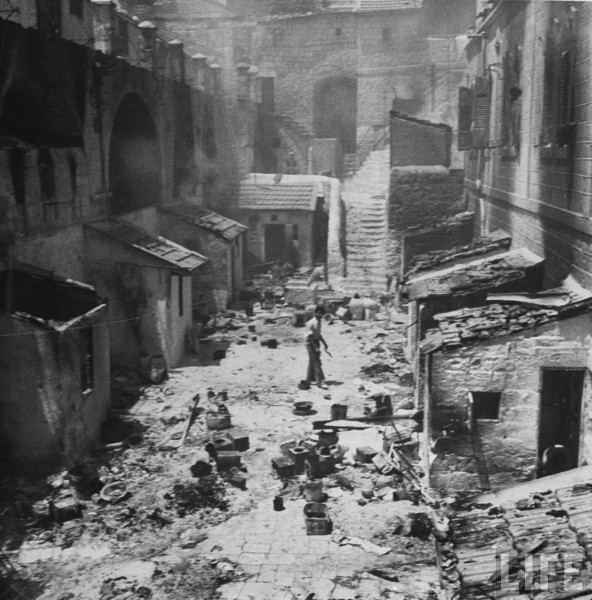 Looting in burning Jerusalem, June 1948 (Life: John Phillips)
Much of East Jerusalem was inhabited by Jews until the Arabs conquered the territory and threw out the Jews in 1948. It rightfully returned to the Jewish people 19 years later, via the 1967 war, which was started by the Arabs.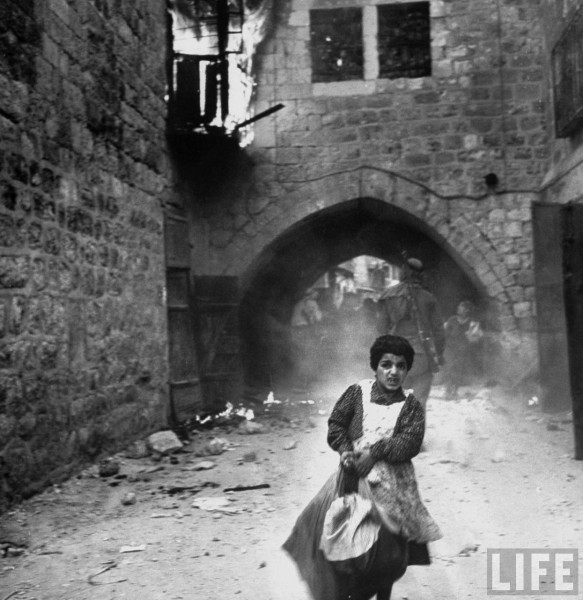 Jewish girl, Rachel Levy, 7, fleeing from street w. burning bldgs. as the Arabs sack Jerusalem after its surrender. May 28, 1948. (Life: John Phillips)
In 1948, Israel declared a state, the Arabs attacked, and Jordanian soldiers invaded the Old City and surrounding Jewish neighborhoods. Jordan gained control of the west bank and part of Jerusalem (it is the portion that was occupied by Jordan for 19 years that they now call "East Jerusalem"). As the Jordanian soldiers invaded Jerusalem, the Jews ran for their lives. As a result of the war, Jews were thrown out of the Old City and other areas of Jerusalem en masse (creating many Jewish refugees from "East Jerusalem" that no one ever talks about).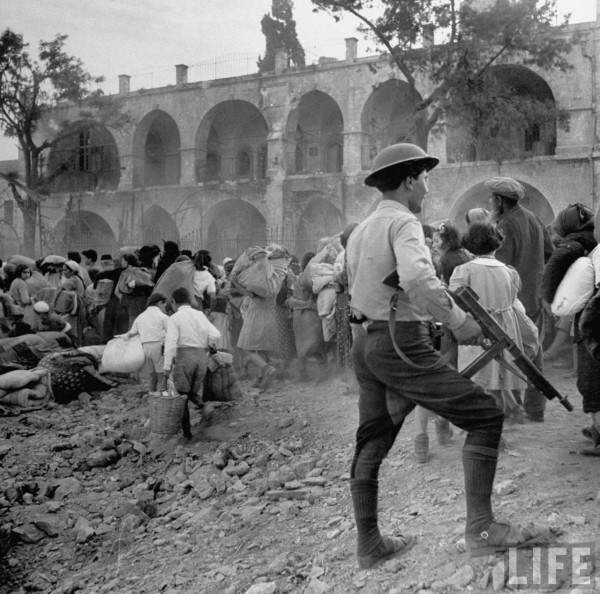 Jewish families being evacuated from city. June 1948. (Life: John Phillips)
Between the end of Israel's war of Independence in 1949 and the six day war in 1967, the Jordanians controlled the area and they, along with UNWRA, transferred many Arabs into Jewish-owned property there. They also destroyed much Jewish property, including the famous Hurva Synagogue (recently rebuilt), approximately 38,000 graves in the ancient Jewish cemetery on the Mount of Olives, and a multitude of Jewish-owned homes, synagogues, and businesses.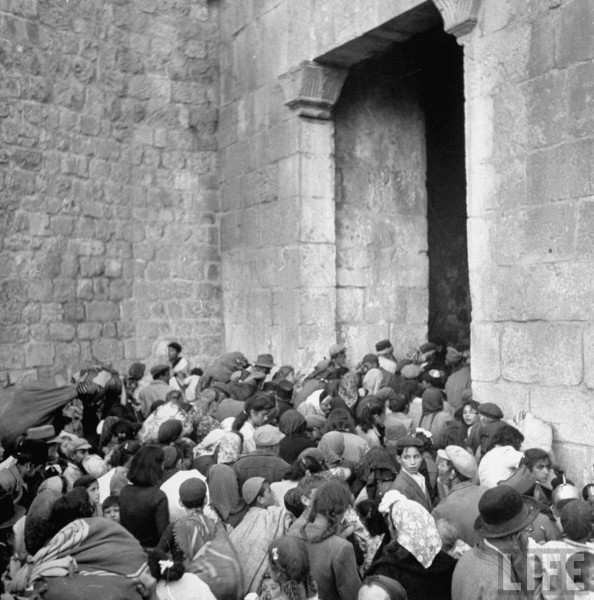 Jewish families leaving the old city through Zion's Gate. June 1948. (Life: John Phillips)
The controversial Arab neighborhoods right outside the Old City that today the Arabs call Sheikh Jarrah and Silwan were actually Jewish neighborhoods. Sheikh Jarrah consisted of two Jewish neighborhoods known as Nahalat Shimon and Shimon HaTzadiq. The latter was purchased by Jews in 1876. Nahalat Shimon was built by Sephardic and Yemenite Jews in 1891. Sheikh Jarrah was primarily a Jewish neighborhood in the late 19th century and remained so up until 1948.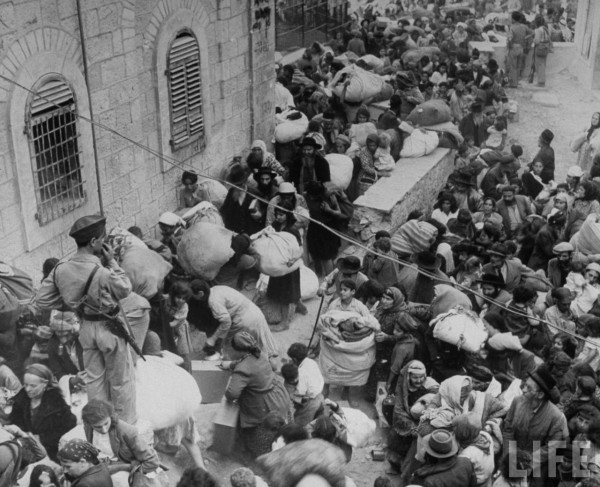 International Red Cross employees helping Jewish refugees. Jerusalem, Israel. June 1948. (Life: John Phillips)
In March 1948, Arabs invaded the neighborhood and set the Jewish synagogues and houses on fire, causing the residents to flee. In April, the Hadassah Convoy massacre, where 79 Jews were murdered, took place in the neighborhood. Silwan, where Yemenite Jews had settled in 1882 (and where King David built the original Jerusalem) was also taken over, along with the Old city's Jewish quarter which was razed.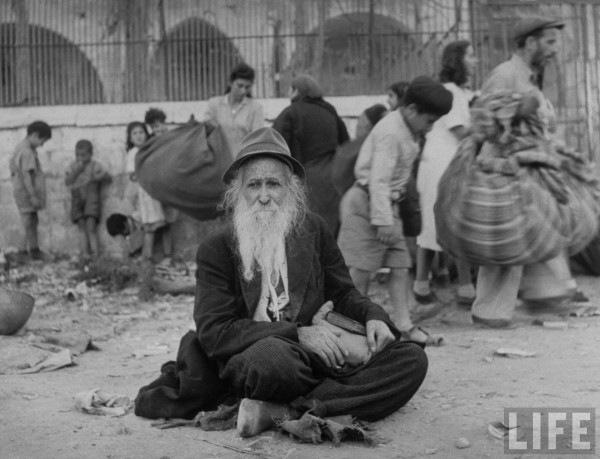 Elderly Jewish man sitting in street after surrender of city. Jerusalem, Israel. June 1948. (Life: John Phillips)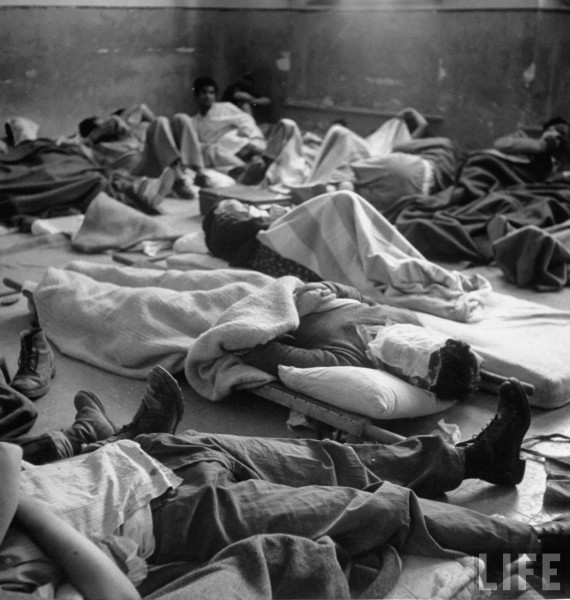 Jewish soldiers lying injured in hospital after surrender of city. Jerusalem, Israel. June 1948. John Phillips
Hadar Israel is a non-profit educational grassroots organization that builds personal links between English speaking Israelis and the international community in order to encourage understanding and support for the State of Israel as the secure home of the Jewish people. Contact them at info@hadar-israel.org or go to their website at www.hadar-israel.org
The photos are from Life Magazine's Pictures of Jerusalem 1948. All photos are by John Phillips © Time Inc., Courtesy of LIFE.com.