PALESTINIAN ARAB TV STILL URGING CHILDREN INTO TERRORISM
In still another episode on Hamas TV, the animal character, in this case a teddy bear, urges children to commit terrorism and via "martyrdom" gain entry to Paradise. The program features children singing that childhood means nothing without Palestine.
What is "Palestine?" Fatah TV features a map at which children point to Israeli cities, such as Haifa and Jaffa, and the host identifies them as cities in "our state, Palestine." (Arutz-7, 5/21/10 from MEMRI). You know, the state that does not exist and would require the conquest of Israel for it to exist.
Where is the objection to this indoctrination in war from our "unshakable bond with Israel" President and our peace-loving New York Times and our guarantor of international security, the UN? Was it Senator Clinton who called that "child abuse?"

ABBAS PLANS DIPLOMATIC OFFENSIVE, ISRAEL PLANS CONCESSIONS
Abbas is campaigning internationally to isolate Israel diplomatically. Israel's PM Netanyahu plans some concessions, perhaps releasing more terrorists who tried to murder Israelis, perhaps leaving more Arab cities under control of Palestinian Authority (P.A.) police.
The P.A. position is that negotiations should resume from Israel's last, best offer, but should not include the Arabs' last, best acknowledgment. Previously, it was understood that a new Arab entity should not be allowed to have a military, and that Israel should be able to station forces (Arutz-7, 5/21/10 from MEMRI).
Israel's turning the other cheek, when the Arabs slap the first one, does not work with them.
A significant number of released terrorists continue trying and sometimes succeeding in murdering more Israelis. Releasing such convicts is indeed a way for Israel to boost Arab confidence, but it is confidence in their ultimate success in destroying Israel. The more concessions Israel makes, the more contempt Arabs and others have for Israel. It does not build goodwill. Can't build goodwill among radical Muslim fanatics and foreign governments that appease them.
Leaving Arab cities under control of P.A. police means extending the havens for terrorists. The P.A. police do not eradicate terrorism. Note the prior article, about P.A. indoctrination in terrorism.
There appears to be an inconsistency in the P.A. negotiating position, in demanding that new Israeli administrations be bound by what the prior ones offered, and releasing the new P.A. administration from what the prior one apparently had accepted. It isn't so much inconsistency as bargaining, reneging on a matter of principle, and arrogance in assuming religious superiority.
PM Netanyahu was too timid or deceptive, when he agreed to an independent P.A. entity but demilitarized, without specifying that in order to become and stay demilitarized, it could not be granted sovereignty. Once sovereign, it need not stay demilitarized. Meanwhile, the U.S. is militarizing the P.A. without the P.A. reversing its education for war.
Why does Netanyahu want to station Israeli forces in the Jordan Valley? Any sizable Israeli concession of territory would deprive Israel of secure borders. At least some security would be retained, if Israel had troops along the border to warn of approaching enemy forces and to start repelling invaders.
Territorial swapping has much to commend it. May I suggest that Israel offer the P.A. Baffin Island in exchange for Judea, Samaria, and Gaza. Oh, Israel doesn't have Baffin Island to give? Well, neither do the Palestinian Arabs have title to Judea, Samaria, and Gaza. Never did.
The New York dailies emphasize that the P.A. is offering a higher percentage of land in the Territories for land in the State of Israel. The dailies call that a concession. The additional percentage is tiny. But again, the P.A. is offering what it does not have title to.

EU DIPLOMAT QUITS ANTI-ISRAEL JUNKET
Senior foreign relations official, and member of the EU parliament, Gabriele Albertini, quit a junket to Israel, after realizing it was set up to make anti-Israel propaganda.
The delegation had some sentiment for issuing an anti-Israel statement before it set out to ascertain the facts. However, it did not do that.
Israel rejected the delegation's request to be let into Gaza. The government does not want official missions to lend moral support to the terrorist regime there. Israel also could see that the delegation planned to ascertain and present just the Arab side of the conflict.
Mr. Albertini thought the delegation should change its itinerary, in order to allay Israeli concern. The delegation, however, reacted by entering Gaza through Egypt and showing its own displeasure with Israel by canceling a meeting with the Mayor of Jerusalem (Arutz-7, 5/21/10) and hearing even less of the Israeli side.
What does the delegation think it is, the UN, making up its mind before traveling to see, and presenting a case without having heard the other side?
Considering that Arabs and other Muslims in Europe talk freely about taking over Europe and imposing its oppressive religious rule upon it, one would think Europeans would be more open to other intended victims of jihad, such as Israel. Unfortunately, self-preservation is an art few are practiced in.

GUNMEN AMBUSH ISRAELI FAMILY
Senior foreign relations official, and member of the EU parliament, Gabriele Albertini, quit a junket to Israel, after realizing it was set up to make anti-Israel propaganda.
The delegation had some sentiment for issuing an anti-Israel statement before it set out to ascertain the facts. However, it did not do that.
Israel rejected the delegation's request to be let into Gaza. The government does not want official missions to lend moral support to the terrorist regime there. Israel also could see that the delegation planned to ascertain and present just the Arab side of the conflict.
Mr. Albertini thought the delegation should change its itinerary, in order to allay Israeli concern. The delegation, however, reacted by entering Gaza through Egypt and showing its own displeasure with Israel by canceling a meeting with the Mayor of Jerusalem (Arutz-7, 5/21/10) and hearing even less of the Israeli side.
What does the delegation think it is, the UN, making up its mind before traveling to see, and presenting a case without having heard the other side?
Considering that Arabs and other Muslims in Europe talk freely about taking over Europe and imposing its oppressive religious rule upon it, one would think Europeans would be more open to other intended victims of jihad, such as Israel. Unfortunately, self-preservation is an art few are practiced in.

AIPAC FILM ON IDF HUMANE CODE
AIPAC has released "Soldier's Story," a film showing how humane the IDF is.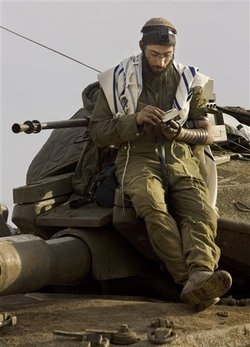 IDF soldier praying (AP/Ariel Schalit)
One story of the film is about an Israeli unit in Gaza. The commander saw Palestinian Arab troops loading a rocket launcher, from behind a couple of hundred school girls. The only weapons at that unit's disposal were machine guns. Machine guns are not accurate. The commander withheld the order to fire. The rocket was launched into Israel. It had the potential of killing innocent Israelis.
An Israeli pilot has to inform headquarters a minute before he is ready to fire, half a minute before, and 10 seconds before. Perhaps a civilian has come into the line of fire. Many times headquarters ordered him to stand down.
When a pilot is being fired at, he is not allowed to return fire until he verifies where the shots are from. Is the enemy is firing from within a kindergarten? It is a common practice of the Arab enemy to fight from behind children.
By contrast, Hamas fires both from within civilian areas and at civilians areas (Arutz-7, 5/21/10).
When the IDF kills enemy civilians, it is accidental and not terrorism. When the Palestinian Arabs, Hizbullah, and Arab states kill Israeli civilians, it is terrorism and not accidental.
Pro-Arab propaganda does not respect the truth. It is a weapon like terrorism, used unfairly. The propaganda proceeds, even though firing from amid civilians and firing deliberately at civilians are war crimes. The propaganda proceeds, even though international law holds responsible for civilian casualties the side that fortifies civilian areas. Thus Israel, which tries to be considerate of civilians, gets denounced when some get killed. The Arabs, who are inconsiderate both of Israel's civilians and of their own, do not get denounced when civilians on both sides are killed because of illegal Arab tactics.
Does the world's warped reaction to IDF decency give Israel a license to be indecent? No, but perhaps Israel has an exaggerated response that risks its own people's innocent lives to spare enemy lives. Terrorists count on Israel sparing them. Israel's exaggerated sense of decency spurs terrorists to use human shields. Then is IDF policy proper?
Who relishes the position of having to make decisions like those of Israeli headquarters and the commander in Gaza? Yes, pilots should be careful, but perhaps troops on the ground should be sterner.
The news brief did not explain enough. Nowadays, the IDF and the U.S. military have lawyers helping decide whether their troops may fire. Lawyers are cautious. Troops do not want to be punished under politically correct codes. Being too clean, may encourage the enemy to be too dirty.
The U.S. military has changed greatly since the Vietnam War, when it would announce that it had to destroy some village in order to save it from the Vietcong.
This week's Wall St. Journal reports that the U.S. is causing far fewer civilian casualties in Afghanistan, now, but is getting far more complaints about accidental civilian deaths from the President of Afghanistan. "Ya can't win!" Nobody has figured out the answer to the apparent new goal of fighting a war without casualties.
Some of my readers cite casualty figures, which are higher for the Arabs than for Israel. They think that this means that Israel is in the wrong. That kind of logic must be too brilliant for me to understand. I thought casualty figures show which side is fighting harder.

INTRODUCING OBAMA'S ANTI-TERRORISM ADVISER Meet President Obasma's counter-terrorism adviser, John Brennan.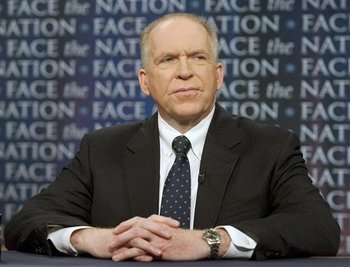 John Brennen (AP/CBS, Chris Usher)
In a recent speech, Mr. Brennan referred to his favorite city, "al-Quds, Jerusalem," the first term being the Arab name for that city [named by the Jews about 1,500 years before the Arabs conquered it]. Ayatollah Khomeini initiated "al-Quds Day," an annual signal for anti-Israel demonstrations all over.
Using the Arabic name, in English, for Jerusalem, is pandering to anti-Israel sentiment.
The speech went on to mention Brennan's Arab classmates at American University in Cairo, who desired "to practice our faith freely." "In Saudi Arabia, I saw how our Saudi partners fulfilled their duty as custodians of the two holy mosques at Mecca and Medina" ('Top Obama Officials Now Calling Jerusalem "Al-Quds,"' YouTube, may 199, 2010).
Is Brennan attempting to deceive fellow Americans or himself, when he alleges some concern for religious freedom by Arabs, and then refers to Saudi Arabia, which bans churches, synagogues, and non-Wahabi mosques?
Brennan wants to encourage "moderate elements" in the officially-declared terrorist organization, Hizbullah, to isolate the militant ones. He did not identify who in Hizbullah is moderate, but Hizbullah has not deviated from its stated goal of destroying Israel. So, while the US. strives to isolate Hizbullah, Brennan lends it legitimacy.
Brennan joins a long line of Obama advisers partial to the Arabs against Israel. Obama, himself, has had viciously anti-Israel friends. He belonged to an anti-Israel and anti-American, black-supremacist church for 20 years. His "Administration has ignited major tensions in its relations with Israel while not holding accountable and [not] penalizing the Palestinian Authority for continuing terrorism and incitement to hatred and murder." (5/21 news release by Zionist Organization of America, headquartered in New York and of which I am a member.)
Like Brennan, other U.S. officials have persuaded themselves, or at least tried to persuade others, that there are moderate elements with fanatical organizations, and that we can work with them. Iran-Contra is one example of the U.S. being made suckers of. Arafat was thought moderate, until it was too absurd to pretend he was. Now Abbas and Fayyad are called moderate, although they glorify terrorism. When the Arab side is totally extremist, officials and the media invent "moderates" among them, so seem to justify continued negotiations instead of just defeating them.
Sure the Muslim Arabs want to practice their religion freely. In Israel, they get the opportunity, unless you consider that to them, its free exercise means the right to curb other religions. When they controlled Jerusalem and Hebron, they denied access to people of other faiths.
During the election, Americans were shocked at the black-supremacist and other prejudiced statements that poured out of the mouth of Obama's pastor. Obama claimed that during those 20 years, he never noticed or was away at the time. Never noticed? Obama's excuse is as shocking in its implications as Rev. Wright's animus.
Obama likens himself to FDR. I think he is more like Marc Antony at Julius Caesar's funeral. To paraphrase the ancient Roman, Obama might say, "I come not to praise Israel, but to bury it." If you prefer, substitute "America" for "Israel," but that would include domestic policy as well as foreign policy.

MAJOR MIDEAST MISCONCEPTIONS: 12. POVERTY CAUSES TERRORISM
Terrorism is a major approach of jihad. The misconception that poverty causes jihad is demonstrably false. It may be an aggravating factor.
Many societies of impoverished people do not take to terrorism. Why so much among Muslims?
U.S. blacks had more legitimate grievances than the Muslims, whose jihad fabricates, rather than rectifies, grievances. Islamists spread false grievances for public relations. Their deliberately spread rumors get accepted by their people. Why are their people so credulous about rumors that keep getting disproved by political analysis? One such rumor is that "the Jews" plan to, and have attacked the al-Aqsa Mosque on the Temple Mount. That mosque never was attacked by Jews in the 90 years of such accusations of Jewish conspiracy.
If other governments and media were honest, courageous, and less prejudiced against Jews, they would have exposed those alleged grievances as false, long ago.
As time goes on, other societies take up terrorism, though not jihad. Jihadists seem to be forming a growing alliance with drug gangs, non-Muslim rogue states, and Communist-like groups in Latin America who, like them, despise Western civilization.
Jihad, which means "struggle," is religious in basis. It has taken on the connotation of struggle by violence. Muslims of all classes are religious, not just the poor. Wealthy Saudis and Iranians sponsor jihad. Saudi Arabia subsidizes radical mosques and madrassas, Islamic schools that indoctrinate students in jihad.
Education is no bulwark against extremism. Middle class engineers and doctors, embracing jihad, become terrorist technicians and leaders.
Who else becomes terrorists? Sudden terrorist syndrome indicates that moderate or nominal young Muslims can be radicalized swiftly. They believe what they are told by the radicals. Those schooled in the West apparently lack a sufficient grasp of general history to resist. They believe they are defending Islam, whereas they actually are attempting to impose the faith in its radical form on others, both Muslims and non-Muslims.
In the interest of jihad, Palestinian Arab women are at times accused of a relationship, even a minimal one, with unrelated men. As a result, they face dishonor and death. They therefore are encouraged to redeem their honor, in the jihadi spirit, by murdering Israelis. In some cases, Hamas has tricked the women into becoming compromised.
A Palestinian Arab who turns terrorist ensures his family's financial future. This is so because the Palestinian Authority, including Hamas, subsidizes terrorist families even after the death of the terrorist.
Having taken control of the autonomy left them by Israel, which had greatly improved their standard of living without improving their tendency to bigotry and violence, they brought down the standard of living. They spent money on war instead of on their people. Fatah leaders lavished funds on themselves. Arafat's commanders took a rake-off on their troops' pay. It is more true that certain terrorist movements generate poverty, than that poverty generates terrorism.

NEW YORK HINDU LEADER: PART 2. INDIA'S EXPERIENCE WITH ISLAM — LIKE ISRAEL'S
What in India's history, and in Narain Kataria's personal story, brought him to form an intellectual defense organization? For one thing, he has a master's degree in history from an Indian university, so he knows the long-term problem.
He narrated to me that Muslim invaders had been attacking India for a couple of hundred years. Muslim rule started in the 10th century. It took the invaders about 300 years to conquer Afghanistan, once part of India.
The clever invaders discovered that Indian armies depended on their king. Muslim forces concentrated their archers against the Indian king. Once he fell, his army disintegrated. The Muslims then were able to corner and slay the Hindu soldiers individually. The widows committed suicide, rather than let the Muslims violate them.
We have elaborate literary and epigraphic evidence from the works of renowned Islamic Historians and inscriptions on numerous mosques all over India which glorify the barbarism and savagery perpetrated on Hindus by Islamic rulers. In addition to thousands of temples vandalized, looted and desecrated by Muslims, Islamists also destroyed three magnificent Hindu temples built in the name of Lord Shiva at Benaras, Lord Rama at Ayodhya and Lord Krishna at Mathura, and erected lofty mosques over them to humiliate Hindus. (Lord Shiva, Lord Rama and Lord Krishna are considered as an incarnation of God in Hindu pantheon.)
Example from the cited source: "The Amir marched out toward Lamghan [in Afghanistan but then part of India], which is a city celebrated for its great strength and abounding wealth. He conquered it and set fire to the places in its vicinity which were inhabited by infidels, and demolishing idol temples, he established Islam in them. He marched and captured other cities and killed the polluted wretches, destroying the idolaters and gratifying the Musulmans." The sources elaborate upon the great wealth of India, before the Islamic conquest.
Kataria says, "Hindus want their temples back. The media does not report their sense of having been wronged, but instead, as wronging the Muslims."
[Muslims likewise took over St. Sophia Church, one of Christianity's primary cathedrals, in Constantinople. Muslim conquerors built a mosque over, and now also under, the Hebrew's Temple Mount in Jerusalem. Then they claim that no other religion's holy sites had been there.]
In 1947, the Hindus did not seek partition. The Muslims insisted on it by a 99% majority within their faith. Nevertheless, many stayed in India and doubled their population there. By contrast, Pakistan has been ousting non-Muslims. Thus the Muslims keep Pakistan exclusively Muslim but keep India not exclusively Hindu. "It is like having one's cake and eating it, too."
What India experienced, so has Israel. The first partition of Palestine led to an exclusively Arab state, Jordan, and another area, for a Jewish state but with a Muslim majority. The Muslims attempted to drive the Jews out of that other area, but in the effort, fled, leaving a Jewish majority.
Now the State Dept. and Arabs propose another partition into an exclusively Arab state under jihadist rule and a Jewish state having many restive Muslims. Restive, as when Arabs chant, "The Galilee is Arab!"
Kataria had lived in the one-third of India that the Muslims acquired during India's partition at the same time that the UN recommended partition of the remaining area of the Palestine Mandate after Jordan was emancipated from it. Kataria is from the Sind region. He was among the 10 million Hindus, Sikhs, and Buddhists that the Muslims of Pakistan, in collusion with the Pakistani army, drove into India. He feels fortunate not to be among the 10 million driven into the ground. The world took no notice.
According to Kataria, Hindus comprised 20% of Pakistan's population in 1947. Now it's 2%. "The Hindus suffered the brunt of the violence during partition, because, Kataria says, "Hindus were not thinking in terms of enemies, whereas the Muslims were organized to kill."
"Nearly two million Hindus are still held as slaves in southern Pakistan. In Bangladesh 20 million are missing."

U.S. TRAINS FOREIGN CADETS IN U.S. NAVAL AND AI R FORCE ACADEMIES
U.S. military academies accept one cadet per foreign country. This year, however, the U.S. Air Force and Naval Academies have accepted three cadets from Lebanon, based on their academic record, physical training, and English proficiency. U.S. Ambassador Sison explains that the "military academies have a long tradition of excellence, helping train not only future American military leaders, but the future leaders of our friends and allies."
(IMRA, 5/20/10).
This is worse than ordinary sentimental naivete. "Friends and allies?" Lebanon has reverted to being a satellite of Syria, which the State Dept. had declared a terrorist state. Hizbullah has a veto over the government of Lebanon and is part of the ruling coalition. The Army of Lebanon is an ally of Hizbullah.
It is bad enough that U.S. universities train students from countries that promote jihad against us. It is at least as foolish for our military academies to train officers from those countries. The U.S. government does not know friend from foe. It mistakenly thinks that educating foreigners inculcates American values. American schools hardly inculcate American values in American students.
Texas is trying to revise the curriculum to do that. Instead of recognizing the problem that Texas is exploring, and working with Texas, critics focus only on where the proposals go beyond American values and into detailed political and religious opinions. The critics seem to demonstrate what Texas worries about, that many Americans are unacquainted with the value of American values.

P.A. LISTS ISRAELI "VIOLATIONS" AND U.S. FAILS TO OBJECT
Palestinian Authority (P.A.) head Abbas gave U.S. envoy Mitchell a list of alleged Israeli violations.
The list includes Israeli detention of suspected terrorists and defending Israeli territory from Gaza terrorists using human shields. As usual, Mitchell accepted the list without comment.
Meanwhile, the Obama administration keeps reiterating its dedication to Israeli national security. It could demonstrate any truth to that dedication, and be constructive about it, by taking the P.A. to task for acting as if terrorism were legitimate and defense against it were not (IMRA, 5/20/10).
Until the U.S. gets that concept straight, any talk of peace is as illusory as the Administration's alleged dedication to Israeli security.
What the P.A. calls Israeli "violations" turn out to be legitimate Israeli responses to P.A. violations. This is another example of the Muslim Arabs' notion of their entitlement to supremacy and non-believers' non-entitlement to self-defense. It also is an example of the false accusations and claims of the jihadist side. Those who accept such accusations and claims of naivete, indoctrination, and ignorance that typified Communist fellow travelers, whom even Lenin called "useful idiots."
U.S. silence about P.A. defamation of Israel, a defamation that proves attachment to terrorism and not peaceful coexistence becomes complicity with the defamation. It condones terrorism. It b brings into question whether the U.S. government wants peace or it still pursues the State Department's traditional anti-Zionism.

LEFT OUTRAGED THAT ISRAEL BARRED NOAM CHOMSKY
Haaretz and the Israeli Left are outraged that Israel barred Noam Chomsky. Chomsky called that Stalinist. Odd of him to use that epithet. Chomsky supported the Soviet regimes during the cold War, and especially spoke up for the Khmer Rouge.
Barring people is not a Soviet monopoly. For having politically incorrect opinions, the United Kingdom barred radio host Michael Savage, the anti-gay Rev. Fred Phelps, Dutch politician Geert Wilders, reggae star Jah Cure, TV star Martha Stewart, Islamist cleric Yusuf Qaradawi, and many Israelis, including right-wing activist Moshe Feiglin.
The U.S. barred journalist Robert Fisk, Greek professor John Milios, the Belarus acting President Lukashenko, an LSD advocate, etc..
Canada, Australia, Germany, Austria, New Zealand, Sri Lanka, and Slovakia have barred people. Venezuela banned Lech Walesa. Many Arab countries ban Israelis.
Very few of those who denounce Israel for barring Chomsky denounce the other countries for barring people (Prof. Steven Plaut, 5/20/10, e-mail with links to each banning.)
Their double standard indicates that for them, the issue is not one of civil liberties. It is an opportunity to bash Israel.
Israel has plenty of resident leftists and Arabs who support the enemy. However, a country at war does not have to let in people who come to rally the enemy. That is not a matter of free speech but national defense.

FREEDOM OF SPEECH FOR NON-MUSLIMS?
Fox Business channel had the "Stossel Report" on Thursday, 8 p.m. on various aspects of freedom of speech and assembly. The first aspect was about freedom of speech for non-Muslims. The host was clear and sensible.
First guest was Ayaan Hirsi Ali, a remarkable woman. Originally from Somalia, she emigrated to the Netherlands, was elected to Parliament, renounced Islam, and had to flee for her life to America. She appreciates the freedom here, and advocates for it, but unfortunately still needs bodyguards.
She replied to the host with pinpoint, appropriate, and definitive answers. She was calm under challenge, lovely in personality, fair, and knowledgeable. Holland's loss was America's gain.
She already had encountered death threats for opposing Muslim oppression of women, in Holland. She does not consider it a Muslim man's right to murder his daughter, as if upholding his honor, or a right to beat his wife. Neither does she consider it a Muslim man's right to murder her because she objects. She explained that Islamic law considers it a right and duty to execute apostates such as herself. [Is it a religion of murder?]
Asked if exposing Islamic violence against women is a "provocation," Ms. Ali calls the fatwa against her life the provocation.
She helped film maker Van Gogh, who, like Geert Wilders, used Islamic verses to show religious approval of beating women. Even citing Islamic religious authority in favor of what she disapproves, did not exempt her from Muslim persecution. A Muslim who brutally murdered Van Gogh said he would have preferred to get her.
Her second and new book compares U.S. and Islamic values. It explains how to answer Muslim challenges to the American way. She is disappointed in American feminists for not fighting against "honor killings" and female mutilation carried on in the States.
There is censorship and self-censorship in the land of the free. For example, the usually bold TV show, "South Park," had a show that mocked, in bad taste and fantasy, the founders of several religions. It received nasty and threatening comments for an innocuous depiction of the founder of Islam, and not for depicting Buddha as a drug addict. Next time "South Park" displayed its cartoon, it covered Muhammad with a sign, "censored." It had given in to the threats.
Perhaps the station simply was showing respect? Then why not the first time and why not to the others? No, it censored itself out of fear of fanatics (5/20/10).
U.S. feminists may have become so left-wing, as to give priority to political correctness — the Left being increasingly allied with Islamists who are anti-liberal — that it condones the anti-feminism of Islam.
It isn't fair to American freedom and culture to let into our country people who want to deprive us of it.

TIMES SQUARE BOMBING RIPPLES AND ARRESTS IN PAKISTAN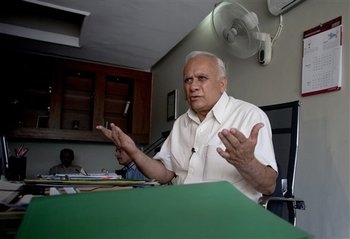 Shocked father of detained businessman (AP/Anjum Naveed)
The Times Square bombing is having a ripple effect, as Pakistan detains a widening circle of people over it.
The government of Pakistan has now arrested an army officer and a businessman for helping introduce the bomber to trainers and for doing some of the planning.
Details are murky; denials are rife. The officer is called "disaffected." The network for associating trigger men with trainers is called "informal." The question is asked whether there are a few men in the Army who support terrorism (Jane Perlez, NY Times, 5/22, A1).
"A few?" My series on a New York Hindu leader indicates that Pakistan is dedicated to terrorism, though now it is beginning to defend itself from terrorism. Like Saudi Arabia, Pakistan encourages terrorism but does not want terrorists to turn against it.
Pakistan birth featured mass-murder and expulsion by the million. The Pakistani Army committed purges, and on a genocidal level, when trying to keep Bangladesh from independence. Muslim terrorism against Indians in Kashmir is so prevalent, it has to be sponsored by Pakistani intelligence. Pakistan has thousands of madrassas run by radicals who generate terrorists.
When the U.S. intervened indirectly in Afghanistan against the Soviets, it channeled money and weapons for the resistance through Pakistan, without monitoring it. Turns out that Pakistan delivered that aid to radical militias. Hence the rise of the Taliban. What does that tell you about Pakistan and terrorism?
Not all of the help for the Taliban, however, was to assist jihad. Pakistan wants to somewhat control bordering Afghanistan, and considers India its enemy. On the other hand, if Pakistan were not militantly Islamic, it would not need to consider India an enemy, regardless of who controls Kashmir.
The question is not whether the Pakistani Army has some disaffected individuals, but whether the pro-terrorist intelligence outfit determined policy and still determines it.
There was a credible report a few years ago, that when he was President, Musharraf told fellow Islamists that at times, he would have to act as if he opposed them, but he was one of them. This is like the secret meeting of Muslim government leaders with Arafat, that I reported some years ago, in which, as he was about to sign Olso's peace pledge, he reassured them that Oslo is part of his phased plan for the conquest of Israel. Like Janus, two-faced: one face to the West, another face to jihad.
Deception is part of the Islamist code. The U.S. needs to recognize this and assess more realistically. Then the U.S. might finally develop foreign policy in its own interest.

CANADIAN HATE-LAW AND AMERICAN MONITORING OF POLITICAL ACTIVISM
The "Stossel Report" described in my prior article, also featured publisher Ezra Levant, who ran afoul of Canada's law against hate speech. Should there be any law against "hate speech," and how reasonable is Canada's law?
Canada's law violates the key legal principle of clarity. The law is vague. Aside from a list of specifics prohibited, the law also bans opinions that "could expose someone to hatred." What does that mean? One cannot tell in advance. It is up to what euphemistically is called the Canadian Human Rights Commission to decide. The result: chilled freedom of speech.
The guest had published pictures of Muhammad that all the other publishers were afraid to. As a result, 15 government agents interrogated the publisher for a total of 900 days, he reports. He could have been fined and even jailed.
Eventually, they decided to drop the charges. They explained it on the basis of some formula involving where in the publication the items appeared and similar conditions that make no sense. They told him he is free to go, until "next time." That last, intimidating remark cast a shadow over his innocence and their devotion to democracy.
Note that he was not accused of defamation. The government was upholding a counterfeit right not to be offended, against the real right to express ones' views. This is censorship, 21st century. Mr. Stossel advises Americans that some other democracies are much less free than we are, but we have similar tendencies to guard against.
One such tendency is to monitor or repress political activity and speech. In one state, that thinks the paramount right is for people to know who is behind political activity, community activists have to read a 100-page instruction booklet and fill out a 14-page form. They are dropping out of activism. Neighbors cannot organize without government monitoring.
Where do universities stand on hate-law? Universities are supposed to be places of enlightenment, controversy, free exchange of views. One would suppose mistakenly, these days. The head of the University of Ottowa threatened Ann Coulter, in advance of her scheduled speech, there, with prosecution if it crossed this law's invisible or moving line. The speech was accompanied by mob violence against her. Stossel considers the censorship law a state extension of that mob agenda.
Stossel and guests drew a distinction among: (1) Ordinary speech and writing, that the Constitution protects from Congressional interference; and (2) Calling people to commit an imminent crime or committing fraud [or abetting terrorism]. Fraud may be sued. Inciting to riot may be prosecuted. Child pornography exploits innocent children. Otherwise, there should be no censorship (5/20/10).
A law against being offended is the dream of political correctness and a nightmare for everyone else. Different things offend different people. Groups may pretend to be offended, as a means of extorting concessions from others. Islamic organizations are driving to institute forms of Islamic law in democracies. They consider any statement of Islamic history and theology, however true, academic, and respectful, offensive if it disputes their version. Thus they find free speech offensive. It is a way to repress dissent. Yet at universities where Muslims riot and call Jews names, there is little or no prosecution. Then there is no principle involved. The universities are anti-democratic or cowardly. These laws are tools of totalitarians.
Richard Shulman is a veteran defender of Israel on several web-based forums. His comments and analyses appear often on Think-Israel. He provides cool information and right-on-target overviews. He distributes his essays by email. To subscribe, write him at richardshulman5@aol.com and visit his website:
http://www.examiner.com/examiner/x-7095- NY-Israel-Conflict-Examiner/x-7
To Go To Top