READER DENOUNCES ISRAELI FREEZE IN JUDEA-SAMARIA AS "NOTHING"
President Obama postulated a linkage between Iranian nuclear development and the Arab-Israel conflict. He contended that if the Arab-Israel conflict were resolved, Iran could more readily be isolated. He then postulated a linkage between Israeli building in Judea-Samaria, which are disputed Territories, and Israel-Palestinian Authority negotiations.
Israel protested that there were no such linkages in logic or in fact. They said it was necessary to deal with Iran before it is too late. Pundits pointed out that the Iran issue will come to a head long before the Arab-Israel conflict could be resolved. They saw this as Presidential pressure on Israel, not constructive, for it encourages Arab recalcitrance. They found that Arab states privately approve of an Israeli or U.S. raid on Iranian nuclear facilities. The Arab states did not want to endure further risk because of waiting for this misconceived linkage, not that they favor Israel. Neither does Israel want to defer action and find a mushroom cloud rising during their negotiations with the Arabs.
What does one reader dispute on this? He said that Bibi Netanyahu conceived the linkage with Iran, not Obama. Apparently, Bibi conceived it privately, but the reader has a mole who informed him of it, Obama publicized it, and Bibi objected, but it really was Bibi's idea though it could get Israel destroyed. Wow!
The same reader also disputes calling Israel's freeze a freeze. Why? It is a partial suspension. I call that a partial freeze, openly stated as such. How can one deny it? Denial is not logical.
He also denies that this freeze is an Israeli concession. Why? It is not all that Abbas asked. That is no reason, ether. What was offered did not have to be offered. That makes it a concession.
In this, the reader either does not understand the Arab mind or has one. I state this with no disrespect for different cultures, which I realize have different ways of thinking and different values. Disrespect, though inadvertent, is by Westerners with the ethnocentric belief that the way they think, everyone else must think.
Muslim Arabs feel that the non-believers are wrong, and if Muslims accept a compromise from them, then they are sharing non-Islamic evil. Hence, they resist compromise except for their doctrine of accepting a truce during which they prepare for resumption of war.
Why didn't the Arabs make a concession? Disregarding Arab culture, again, that same reader gave these reasons:
(1) Israel did "nothing." It is not nothing for the many young Jewish couples, who have to move some distance away to find housing. Nor is it nothing for Israel to curb its national rights at outsiders' behest.
(2) If Netanyahu offered more, he would have been deposed. A reason he may have limited a concession does not make it a non-concession. Pure logic.
(3) Pres. Obama calls Jewish construction over the green (armistice) line illegal. An ideological politician is not the arbiter of international law.
(4) The Arabs already conceded 78% of the original Palestine Mandate, and see their way to getting only part of the other 22%. Bingo! Congratulations, reader, this is the first time I have read a layman's reference to the original Mandate area. Too bad you got the facts on this incorrect!
When the Mandate was proposed, its boundaries were drawn to coincide with the Biblical Land of Israel, and left 99% of the Mideast to the Arabs. The Mandate included the Golan and what now are Israel, Judea, Samaria, Gaza, and Jordan. Before the Mandate was ratified, Britain withdrew the Golan from it. Not long after that, Britain withheld what now is Jordan from Jewish national development, but not from the Mandate and passports from there still were stamped "Palestine." With independence, 78% of the original, ratified Mandate was emancipated from the Mandate, to become another desert kingdom.
The reader calls that a loss for Palestinian Arabs. Nonsense! The original population included villagers, Bedouin, and followers of the Hashemites, who had fled from Saudi Arabia. This was before the Arabs had a sense of nationality. They identified as Muslims. Most were Arabs. In 1947-49, many fled from their defeated attempt to drive the Jews out of Israel. Most Jordanians are descended from them. In other words, Jordan is an Arab Palestinian state.
That was not a loss for Palestinian Arabs. It was their gain, but a loss for the Jewish people, who had been promised, under treaties and international law, the whole of the Palestine Mandate. So now let's turn the reader's point on its head, and observe that there already was a division of Palestine into an Arab and a Jewish state, most going to the Arabs. The rest is hardly viable for one state, never mind two. It makes neither sense nor justice for a second Arab Palestinian state to be formed.
(For more on the Palestine Mandate, check the original document or ask me to quote the substantive provisions of it. For the prior discussion of the freeze, goto:
http://www.examiner.com/examiner/x-7095-NY-Israel-Conflict- Examiner~y2009m11d28-Israeli-Cabinet-approves-partial-building- freeze-in-West-Bank )
U.S. DIPLOMACY & JOURNALISM ON ARAB-ISRAEL CONFLICT
How realistic and fair are U.S. diplomacy and reporting on the Arab-Israel conflict?
Isabel Kershner of the New York Times reports that Israel's Defense Min. Barak has approved building 28 public and educational institutions in Jewish "settlements" in the "West Bank." He ordered a temporary freeze of other Jewish construction there. The freeze does not apply to Jerusalem. "Israel claims sovereignty over the whole of the city; the "Palestinians" want the eastern part as the capital of a future state (11/28, A5).
The U.S. asked Israel for a complete freeze and the Palestinian Authority (P.A.) to "crack down on anti-Israel violence" and the Arab states to somewhat normalize relations with Israel. The Arab states refused. Israel offered a partial freeze, more than any predecessor had offered, but less than Pres. Obama wished, and Abbas rejected the Israeli compromise. The opportunity to restart negotiations was lost. "At some point, extremists will try to provoke another war..." (Ed., 11/28.)
The framework of those presentations is slanted to obscure Israel's high legal and ethical position, the Arabs low position, and U.S. Executive branch exceeding its jurisdiction. One method of injecting bias is the terminology devised to make the Arabs seem justified in their demands:
(1) "Settlements," for Jews building in their historical homeland in an area that the Palestine Mandate reserved for them, including in their own capital, and not calling Arab construction "settlements.

(2) "West Bank," a term coined after Jordan seized Judea and Samaria, as those provinces have been known for thousands of years and still are officially named. This is another attempt to de-Judaize them;

(3) "Palestinians," coined for certain Arabs in a pretense of their having a nationality which notion they had rejected in my lifetime, until they found it expedient. This follows the Roman re-naming of the Jewish country, so as to de-Judaize it, but in this case, to give Arabs more of a national claim there; (4) "Extremists," a flexibly applied word that seems to cover both sides, but Jews never provoked wars in modern times, the Arabs did. Unstated by the Times is the news I reported that the P.A. is planning its third Intifada.
In another omission of what might lend truer perspective, Ms. Kershner ignored Israeli complaints that the public approval for more schools in Judea-Samaria was of an early stage in a series of approval steps, but that Min. Barak already had denied the next stage. These figures are misrepresented for domestic politics.
Israel doesn't just claim sovereignty over its whole capital, it has it, via annexation through a normal process. That the international lynch mob disapproves does not make truth. To mention what Arabs want of Jerusalem as if on a par with it actually being Israel's capital, is an attempt to equate what is not of equal right or entitlement. This is a similar technique to using those loaded terms mentioned earlier.
Nor is it candid to refer to the Arabs wanting eastern Jerusalem. By covenants, maps, school and TV presentation, Islamist ideology, and Arafat's phased plan for the conquest of Israel, the Arabs signify their intent to take over all of Jerusalem and of Israel. Is the New York Times assisting the Arabs' next phase?
Notice that the Times referred to Israel and the Arab states not meeting Pres. Obama's requests, but did not refer to the P.A. not meeting it. The newspaper puts it as the P.A. is supposed to "crack down on anti-Israel violence." That is disingenuous, being incorrect and vague enough to allow claims that the P.A. fulfilled its obligation. The Oslo Accords, which have a legal basis, and the Road Map, which is advisory, both state that the P.A. must dismantle the terrorist infrastructure. Oslo does not require a building freeze. The Road Map suggests one after P.A. action. As many of my articles show, the P.A. has not done that.
Instead, the P.A. raised a new demand, the freeze, as a pre-condition for negotiation. If U.S. diplomacy and media reporting were fair, they would admit that the onus for non-negotiation is on the Arabs. (Not that I expect negotiation to bring peace with Arabs who use diplomacy to pursue Arafat's phased plan for the conquest of Israel). And some of the onus is on Pres. Obama, whose suggestion for Israel facilitated making it an Arab pre-condition for negotiating.
Both U.S. diplomats and the Times make another false equivalency between the Arabs and Israel, in suggesting that both sides need to prove good faith before negotiation. The Arabs walked out of earlier negotiations, refused to negotiate, and set pre-conditions for it. Israel long has been willing to negotiate and without pre-conditions. That shows which side demonstrates bad faith. The New York Times reportage demonstrates advocacy journalism, in which it steers, rather than informs, the public.
PART 3: ARAB-ISRAEL CONFLICT IN THE ERA OF THE BIG LIE TECHNIQUE
I quoted one source, ZOA, and cited its source, MEMRI, about a new Arab blood libel against Israel: 'Palestinian Authority (PA) security chief Tewfik Al-Tirawi claimed on Abu Dhabi TV 'that Israel recruits Palestinians to sexually harass their own mothers and sisters as part of a comprehensive strategy to harm Palestinians.'" Since the inner quotation starts with the word, that, a reader should be able to tell that it is my source's paraphrase of the broadcast, and I am not claiming it is a direct quote of the broadcast, with all its flowery verbosity, but just reporting the news.
The rest of my article discussed other Arab blood libels against Israel and the Jewish people.
A critic of mine replied that when I acknowledge membership in ZOA, it doesn't mean anything except beware of my prejudice. He does not understand that journalists acknowledge what, if they did not, might seem like concealing a potential conflict of interest. As some phrase it, it is "In the interest of full disclosure." I have found these sources accurate, though I sometimes reach different conclusions from theirs.
The critic called my article "lies." He calls it a "deception" by my sources and me, on the grounds that the original report [not sure if he means the Arab broadcast, reporting of it, or MEMRI) did not mention the word, "sexual."
I had noticed that the source did not use that word in the text, just in the title. I examined the quotation form the original Arab broadcast alleging brutal discrimination against women, in an alleged attempt to break up the family. It was clear enough to me that this was sexual harassment. Even without the sexual angle, what the Palestinian Arab statement that some of his, as he put it, "lowly" people were recruited to do, shames them and, because of its undocumented accusation, is a shameful broadcast. The critic' logic, even if it were correct, is like the tail wagging the dog.
That broadcast joins broadcasts and press releases by Abbas, Arafat, Egyptian clerics, a Syrian Foreign Minister, Ahmadinejad, et al that constitute a library of blood libel of Israelis and the Jewish people. I have reported accusations that Israel sends prostitutes to impair Arab families, attempts to inflict sexual and other diseases upon Arabs, leaves poisoned candy for Arab children to find, poisons Arab water supplies, and more, giving sex a prominent role. As to that, the critic totally spares his indignation over lies, harmful ones, at that. The critic ignores the mass of evidence, in behalf of quibbling. Strange ethics!
On the libel that Israel tries to poison the Palestinian Arab water supply (which uses the same aquifer), I reported years ago that Arafat's first terrorist mission was a failed attempt to poison an Israeli water source. On the accusation that Israel tries to deprive them of water, more recently, I reported that Israel restored Gaza's failed water supply twice, and continues furnishing Gaza with some water. On the libel that Israel tries to sicken them, I reported only a fraction of the incidents in which Israel's competent medical researchers who try to work with regional counterparts to eradicate diseases, but some Arab governments refuse to cooperate. As for the charge of Israel attempting to break up families, I reported that Israel has let many Arabs immigrate for family reunification, though the Arabs constitute a hostile minority largely sympathetic to their fellow, outside Arabs. You can see which side is obsessed with religious/ethnic/racial hatred. This is like a case of the pot calling the white kettle black.
The critic accuses me of hating Muslims, to explain his accusation that I regularly lie. Since I use the same sources as for the libel article almost every week, sources he claims engage in deception, then perhaps he thinks that they, too, hate Muslims. In other words, disagree with him, and you must hate Muslims and lie about them. Although the critic talks about responsible journalism, he accuses people of hatred, without showing hatred. How responsible is that?
I think that hating people because of their religion, nationality, or race is very immoral. I report on actions and doctrines that do and act on it. Some cultures are largely given over to such hatred. In such instances, one may generalize about its society, it being understood that there are some individual exceptions but that they do not govern or influence that society, for which the bigoted rulers speak and polls and actions confirm.
The critic of this issue, like several others, keeps harping on the same points, sometimes repeating the same exact comment immediately after the prior one. That is making a nuisance of oneself. It reminds me of an element of the big lie technique, repetition.
I recommend he consider the reliability and the characters of the many Arab leaders who engage in the documented stream of anti-Israel and anti-Jewish blood libel and of the Jewish leaders falsely accused of it but who do not libel the Arab people. There is the mass hatred and mass lying in this era of the big lie technique.
PART 4: ARAB-ISRAEL CONFLICT IN THE ERA OF THE BIG LIE TECHNIQUE
We've discussed the confusion besetting people over which sources to believe, in an era when there are more sources but fewer honest and informed ones.
To some extent, this is generational. People would be wiser to respect the older and the younger generations for what they have and can contribute to society. Generational rivalry or contempt hampers society. Both generations think they know everything. The older one can develop wisdom from experience. The younger one can bring to bear newer technology. I've seen older people naïve about the veracity of news sources, but younger people have less behind them, with which to evaluate. Educational institutions have not and do not educate enough. Hence so much floundering and repeated historical mistakes.
I've seen naivete about major threats to civilization repeated. I gained political consciousness during the Nazi era. Shortly before it, Nazism enjoyed some popularity in the West. European and American pacifism outside of Germany prompted appeasement of Germany.
Did the result, WWII, teach us the lesson that's appeasement fails? No. I remember objecting to Pres. Roosevelt's appeasement of the Soviets.
Did the Cold War and hot proxy wars by the Communist International teach us that appeasement is dangerous? No. Now we appease Radical Islam so much, that our political leaders are afraid to mention it as the current international enemy of civilization.
Now the old Nazis and successors, and the old Communists and successors, many liberals, and Radical Muslims and allied Muslim governments are working with their customers and independent rogue states in what I see is a ganging up on the Jewish state, because it is a Jewish state. That is the "international community" that sides with the Arab aggressors against Israel.
I've seen ganging up on individual Jews. I've seen ganging up on blacks, and rescued one black boy by driving him home. Internationally, it is similar. Many Muslims either deny the Holocaust or express intent to complete it. Facts are irrelevant to them.
I just saw photos of a monument and thousands of shoes that the Nazi S.S. had robbed from Jews in Lithuania. Holocaust denial presumes that Jewish public relations deceived all of Europe into thinking there was a Holocaust that tons of documentary and thousands of eye-witnesses confirm, and which Europeans do not deny. Denial is not rational. It is psychotic. It is mob behavior driven by bigoted ideology and the need for a scapegoat for frightening or puzzling modern society.
When my grandparents' generation fled the persecutions abroad, and found sanctuary in the United States of America, they called this country, in their native Yiddish, if I recall the spelling, the "goldene medina," the golden state. They meant the relative freedom and tolerance more than the economic opportunities, which they also valued.
Considering the growing intolerance and chaos abroad, all my Jewish friends express deep gratitude for living here and now. My generation was nurtured during and shortly after WWII, a time of patriotism. For example, in elementary school, we heard of Patrick Henry, who said, "Give me liberty or give me death." Sometimes I pass by the Manhattan monument to Nathan Hale who, about to be hanged for spying on the British during the American Revolution, says, "I regret that I have but one life to live for my country." That is just what my uncle did, in the Pacific theater of WWII. Nor have I forgotten the forlorn sentiment expressed in "The Man Without a Country," during his loss of U.S. citizenship.
I regret to see that esprit de corps waning, especially when young people are attracted to an alien spirit of intolerance. Seeing America's warts, they don't realize its overall and growing decency; they do not know how much they have to be thankful for. I think that our young soldiers do know, and so I am thankful for them.
US REASSESSES TALIBAN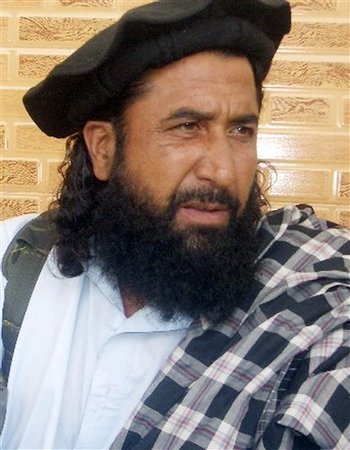 Taliban leader (A.P./Anwarullah Khan)
The Taliban leaders are inspired by a harsh religious doctrine, but the U.S. is reassessing whether its troops are. Western officials believe that most Taliban troops are fighting to earn a living or for personal grievances. If they can be offered a living outside the rebellion, they can be peeled away from it. This is Gen. McChrystal's strategy. It was, with the surge, successful in Iraq. Winning enemy troops over requires treating them with respect. It may mean letting tribal elders be intermediaries. It means local application, not a heavy-handed or one-size-fits-all procedure by the national government.
The chief difficulty of instituting the strategy in Afghanistan is that the national government is so corrupt and incompetent, that it lured away thousands of insurgents on false promises of jobs and protection, left them in the lurch, and finds them back in the trenches now embittered (Agand Gopal, Wall St. J., 11/28, A8).
If the assumption be correct that most troops are not driven by their leaders' ideology, then I over-emphasized ideology.
RADICAL ISLAMIC INTERNET RECRUITMENT
Governments' intervention has reduced the number of foreign language Radical Islamic Internet sites from about 1,000 to 50, hampering Islamist recruitment. The number of English language Radical Islamic Internet sites, however, has risen in seven years from 30 past 200.
Most of the English-language Internet sites are not run by al-Qaida. They are run by individuals who share its ideology. Many of these individuals are radical clergy like the one who influenced the Ft. Hood massacre. Their messages are theological, not bomb-making. Hence, they recruit people. Most of the arrested native Canadian terrorists and some American ones were inspired to jihad by English-language sites, and formed their own bomb plots.
U.S. officials did not comment on the sites and there servers (www.imra.org.il, 11/27 from Naharnet, Lebanon). Can their numbers be reduced?
CLERICS TAKING OVER IRANIAN SCHOOLS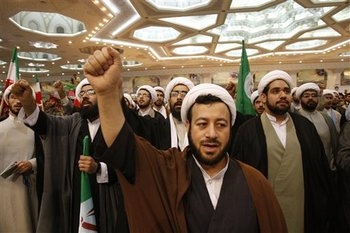 Clerics in militia chanting, "Death to Israel." (A.P./Vahid Salemi)
The total program is not clear, but Iran is having clerics take over or inserted into Iranian schools. This is part of a drive against Western influence (www.imra.org.il, 11/27 from Jordan Times).
The Iranian people overthrew the Shah for democracy, but the clerical counter-revolution deprived them of it. They still want it. The clerical regime is resorting more to totalitarianism, in an effort to defeat the pro-democracy movement.
Richard Shulman is a veteran defender of Israel from widespread libel on several web-based forums. His comments and analyses appear often on Think-Israel. He provides cool information and right-on-target overviews. He distributes his essays by email. To subscribe, write him at richardshulman5@aol.com and visit his website:
http://www.examiner.com/examiner/ x-7095-NY-Israel-Conflict-Examiner/x-7
To Go To Top