I'M GOING TO MISS WESTMINSTER ABBEY
by Omri Ceren
PART I: BRITAIN NOW FIGHTING TERRORISM BY STRIP SEARCHING CLOWNS, IMPLEMENTING SHARIA
December 23, 2008 http://www.mererhetoric.com/archives/11275229.html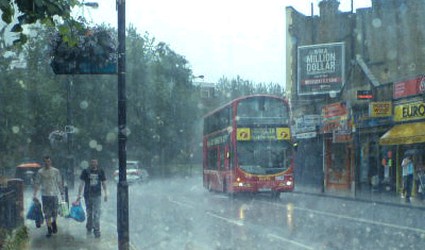 Mark Steyn asks whether - in the aftermath of the Iraqi mission and the Iranian hostages - Britain has "lost its survival instinct." Umm...
[Dave Vaughan] was wearing a flashing police helmet, a red nose and size 48 shoes. But even in his guise as PC Konk the clown, he was not above suspicion by airport security chiefs - who strip-searched him just in case. The stunned 60-year-old was frisked by guards and ordered to remove his comedy costume down to his shorts and T-shirt after setting off an alarm at Birmingham International Airport. He was even ordered to hand over his plastic handcuffs as they were deemed a 'risk' before eventually being allowed to board his flight. Mr Vaughan, a children's entertainer for 25 years, had been booked by Variety Club Midlands to perform for disadvantaged youngsters on a one-hour circular flight known as the Search for Santa.
This from a culture that used to rightfully pride itself on common sense and fair play.
60 percent of Britain's Muslim schools are linked to extremists. There are over 30 active terrorist plots from literally thousands of UK-born jihadists at any given time on British soil. More than two-thirds of those plots are somehow linked to Pakistan. And the Brits are responding by giving Pakistani jihadists wrist slaps, offering the Pakistanis direct aid, and domestically implementing sharia. Plus they're strip searching clowns. So yeah, I think something may be amiss.
PART II: UK-BORN JIHADISTS IN ENCLAVES ACROSS ALL OF BRITAIN
http://www.mererhetoric.com/archives/11275067.html November 10, 2008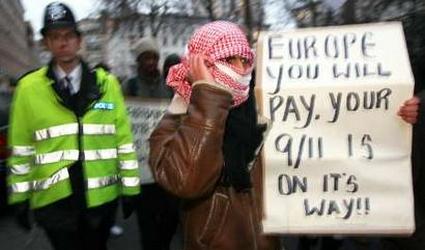 Good lord:
The document, which was drawn up by the intelligence branch of the Ministry of Defence, MI5 and Special Branch, states that "some thousands" of extremists are active in the UK... The report states that the threat from the Islamist extremist community in the UK is "diverse and widely distributed" but adds that the numbers of terrorist in Britain is "difficult to judge". The document does state, however, that the Joint Terrorism Analysis Centre, which is based in MI5's headquarters at Thames House in London, estimates that there are "some thousands of extremists in the UK committed to supporting Jihadi activities, either in the UK or abroad"...
The report continues: "The majority of extremists are British nationals of south Asian, mainly Pakistani origin but there are also extremists from north and east Africa, Iraq and the Middle East, and a number of converts... The main extremist concentrations are in London, Birmingham, with significant extremist networks in the South East, notably Luton..." There are around 1.5 million Muslims in Britain, a million of whom live in London... Security officials are convinced that UK-based al-Qaeda cells will attempt to carry out another "spectacular" inside the UK with major transport termini, such as airports and train stations, being the most likely targets.
Government officials are already not allowed to link jihadism to Islam despite the documented military necessity of doing so - but now British Muslims are demanding that UK officials stop criticizing sharia altogether. When an expose on radical Muslim incitement is brought to the British public's attention, it is - insanely - the filmmakers who get blasted. Then the BBC rushes to create programming - ficticious programming, obviously - highlighting how it's actually Christians who are targeting Muslims. And Brits wonder why they can't seem to get a handle on this domestic extremism thing.
Extremist imams are banning their followers from integrating even symbolically into Britain while British officials have deported only one radical preacher in the last three years. No worries though - they're keeping their borders sealed to Israeli politicians and parting ways with Israeli leftists and Israeli unions. So when it comes to dangerous Israelis, they're looking pretty good.
PART III: BRITAIN MORE OR LESS GIVES UP
February 11, 2009 http://www.mererhetoric.com/archives/11274615.html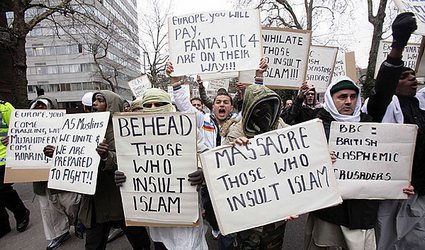 Today's news is that gangs of undetermined ethnicity and origin are literally waging war on Britain's fire crews. Parts of the UK's police force have long been in league with Al Qaeda. Their schools are infested with anti-British, anti-Western, and anti-Semitic incitement, and the government has given up on even trying to follow what's going on. No wonder they've quite literally given up on British pride.
When they do somehow stumble their way into patriotic and moderate Muslims, those people get marked for beheadings by other British Muslims. Calls are now regularly heard at the highest religious levels for imposing sharia law even on people who don't want it. The ancient seat of Anglo piety has publicly made its peace with its own extinction and is now defending its surrender as being a "coherent voice on behalf of all... faith communities".
Rather than considering the possibility that these threats and attacks and disasters might have something to do with political Islam, the Brits - in maybe the most surreal story ever - are doing exactly the opposite:
Ministers have adopted a new language for declarations on Islamic terrorism. In future, fanatics will be referred to as pursuing "anti-Islamic activity". Home Secretary Jacqui Smith said that extremists were behaving contrary to their faith, rather than acting in the name of Islam. Security officials believe that directly linking terrorism to Islam is inflammatory, and risks alienating mainstream Muslim opinion... "As so many Muslims in the UK and across the world have pointed out, there is nothing Islamic about the wish to terrorise, nothing Islamic about plotting murder, pain and grief."
Doesn't "nothing" seem a touch overly bold? At a minimum, the child imams that British jihadists are using to preach hate seem to think that there's something Islamic about it. Which sucks, because we really liked that country. At least we'll still have Paris or Rome, since there's no way the entire EU has spent the last year officially pushing this "nothing Islamic about self-described Islamic terrorism" doublethink.
PART IV: BRITAIN HANDS ITSELF OVER TO RADICAL ISLAM, BLAMES ISRAEL
January 13 2009

A NATION THAT ONCE VOWED to fight the enemies of civilization on the streets and in the hills is now quite literally on the run from fanatical Muslims:

British Islam has functionally defeated British Anglicanism. Schools are canceling Christmas in favor of Eid. Defending Christianity on the radio is now a firing offense. British prisoners are converting en masse to Islam either to get gang protection or because Muslims, having hijacked maximum security prisons, are forcing them to.

Everyday British institutions - those daily things that give life and color to a culture - are being gutted whenever they conflict with Muslim sensibilities. Historic pubs are being quickly altered whenever they rouse offense. Cultural staples like pork are becoming subject to discrimination lawsuits.

Meanwhile bloody Ashura flogging is now a public British ritual. There is a wave of honor killings crashing across Britain, with brothers killing their own sisters. Sharia - having been supported by a broad range of British legal officials - has now been officially incorporated into financial policy and civil law. "Moderate" British Muslim organizations are launching witchhunts against Muslims who cooperate with anti-terrorism investigators. "Moderate" British mosques are hosting 9/11 champions. The country is crawling with jihadists. British radicals even have their own airline.

Conclusion: it's over:
Islam is the fastest-growing religion in Britain: the number of Muslims has grown from 1.6 million to two million since 2000. Moreover, every major public institution has changed its policies to accommodate the demands of Islamic "community leaders". The Government, the Opposition, the police, schools, the Church of England, the BBC and now Channel 4 are all helping Muslims construct a parallel Islamic state. Early next year, the think tank Civitas will publish a survey of 100 British Muslim schools. Entitled When Worlds Collide, it will argue that some of them are pushing pupils into ghettos. Young women, in particular, are forbidden to pursue career opportunities. "Every year, an incalculable number of Muslim young women are lost to the wider world," says the report. One school website links to al-Qaeda; another directs pupils to a scholar who advocates the murder of Jews... According to Murray, "what we are seeing is the state deferring to a seventh-century Arabian tradesman as a source for secular law". He was speaking on Christmas Eve. The next day, Ahmadinejad spoke to the nation. Yesterday it was reported that Baroness Butler-Sloss, one of Britain's most senior legal figures, wants Sharia divorces to be enshrined in law. For the first time in decades, religion is moulding public life in this country; but that religion is not Christianity.
But British government officials are publicly worried that Israel's self-defense in the Gaza Strip will radicalize British Muslims. Because apparently watching your civilization collapse is less painful if it's Israel's fault. The quivering upper lip indeed.

Omri Ceren is a PhD candidate studying Rhetoric at the University of Southern California's Annenberg School for Communication. He lives in downtown Los Angeles. Contact him by mail at omri@mererhetoric.com and visit his website at http://www.mererhetoric.com/