INDEPENDENT EXPERT: IDF BULLETS DIDN'T KILL MOHAMMED AL-DURA
by Adi Schwartz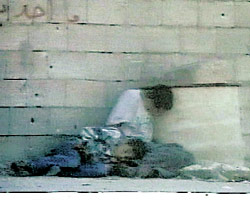 A report presented to a French court last week by an independent ballistics expert maintains that the death of Mohammed al-Dura, a Palestinian child seen being shot in the Gaza Strip during the first days of the intifada in September 2000, could not have been the result of Israeli gunfire, corroborating claims that the shocking footage was doctored.
The ballistics expert, Jean-Claude Schlinger, presented his conclusions after reviewing the footage, which shows Dura and his father cowering by a wall after being caught in the crossfire between Palestinian gunmen and Israel Defense Forces soldiers at the Netzarim junction.
The case revolves around a libel suit brought by the France 2 television channel and its Middle East correspondent, Charles Enderlin, against Phillipe Karsenty. On November 22, 2004 Karsenty wrote on his Web site, Media Ratings, that Dura's death had been staged and that France 2's conduct "disgraces France and its public broadcasting system."
A few weeks later France 2 and Enderlin sued him for libel. In October 2006 Karsenty was found guilty and was required to pay symbolic damages of 1 euro (and 3,000 euros in court costs).
Karsenty appealed. The judge asked to examine all of the film footage in the report of the shooting before rendering a verdict.
On Saturday, Enderlin rejected Schlinger's findings, arguing that "only partial evidence was given to him for evaluation."
In his report, Schlinger wrote, "If Jamal [the boy's father] and Mohammed al-Dura were indeed struck by shots, then they could not have come from the Israeli position, from a technical point of view, but only from the direction of the Palestinian position."
He also wrote, "In view of the general context, and in light of many instances of staged incidents, there is no objective evidence that the child was killed and his father injured. It is very possible, therefore, that it is a case [in which the incident was] staged."
Schlinger confirmed these statements in a telephone conversation with Haaretz.
Schlinger has served as an adviser on ballistic and forensic evidence in French courts for 20 years.
In his examination, he recreated the incident emphasizing the angle from which the shots could have been fired, the types of injuries and the types of weapons used by the IDF and the Palestinians.
According to his report, there is no evidence that the boy was wounded in his right leg or in his abdomen, as was originally reported.
Regarding the injuries reportedly suffered by the father, Schlinger wrote that "If the injuries are genuine, they could not have occurred at the time of the events that television channel France 2 reported."
Regarding the angle of the shots, Schlinger wrote, "Assuming that the shots came from the Israeli position, only the lower limbs could have been hit, because the rest of the body was protected by the house at the location."
This is the first time that an independent ballistics expert, not representing the State of Israel, undertook to examine Karsenty's claims.

Adi Schwartz is a correspondent for Haaretz. He has written about the al-Dura controversy over the years. This was published February 3, 2008 in Haaretz
http://www.haaretz.com/hasen/spages/959836.html
See an excellent summary by Tom Gross on You Tube on the part of the tape that France 2 has released.
See http://www.youtube.com/watch?v=E3Z4_11wLjw.
See also a talk by Karesenty on You Tube.
See http://www.youtube.com/watch?v=BGCgmBqBaUM&NR=.
Some other evidence:
"Mohammed Al Dura's father was treated in 1994 for wounds he claimed to receive from Israeli bullets in 2000"
by Nidra Poller
from (Jihad Watch )
http://www.jihadwatch.org/archives/019176.php
"Philippe Karsenty, who is appealing his 2006 defamation conviction –– for declaring on his Media-Ratings site that the al Dura news report was a blatant fake –– obtained medical records proving that Jamal's wounds were treated by an Israeli surgeon in 1994. Now the surgeon, Yehuda David, has confirmed this information on a December 12 newscast on Israel's Arutz 10 TV. Jean Tsadik of Metula News Agency resumed the Hebrew-language newscast for French-speaking readers.

According to the Metula release, Jamal al Dura declared on medical records in 1992 that Palestinian militia had attacked him with axes. Doctors at Gaza's Shifa Hospital* were able to save his life but he lost the use of his right hand because they could not repair a ruptured tendon in the forearm. Palestinian doctors referred Jamal to Tal Hashomer hospital in Tel Aviv in March 1994. Dr. Yehuda performed reconstructive surgery, grafting a tendon taken from the foot, and restoring almost normal use of the hand. The medical record of that operation also refers to the removal of "foreign bodies," suggesting that other instruments besides axes were used in the 1992 attack.

Alerted by the Ména [Metula News Agency] to the film of Jamal's wounds produced in 2004 by Talal Abu Rahma at the demand of France 2 news director Arlette Chabot, to silence investigators, Dr. Yehuda and his colleagues declare that the scars shown in that film were incurred in 1992 and result from axe blade wounds and definitely not from gunshot. They are ready and willing to testify to this in any court.