ARMING THE ENEMY IN LIBYA
by Arnold Ahlert
The military mission America is helping to prosecute in Libya against Gaddafi has placed us into some questionable circles — to say the least. Libyan rebel leader Abdel-Hakim al-Hasidi, in a recent interview with the Italian newspaper Il Sole 24 Ore, admitted that some of his rebel fighters, "around 25″ men from the Derna area in eastern Libya, had been recruited by him to fight coalition troops in Iraq. Al-Hasidi also admitted that he himself had fought against America's "foreign invasion" in Afghanistan. Thus, it appears that America' degradation of Gaddafi's fighting forces, claims of "humanitarianism" notwithstanding, is aiding our Islamist enemies.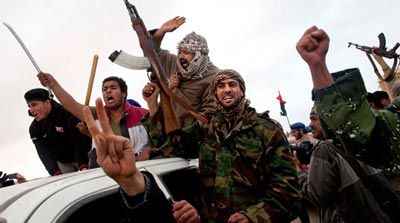 According to both U.S. and British officials, Al-Hasidi revealed he had been captured in 2002 in Peshwar, Pakistan. Handed over to the United States, and finally sent to Libya where he was released in 2008, he was a member of the Libyan Islamic Fighting Group (LIFG). LIFG was reportedly responsible for the killing of dozens of Libyan troops in a series of guerrilla attacks near the cities of Derna and Benghazi in 1995 and 1996. While LIFG is not part of al Qaeda itself, American military officials point to an "increasingly co-operative relationship" between the two organizations, and al Qaeda has come out in support of the Libyan rebel forces, claiming their victory would lead to "the stage of Islam" in the North African nation.
Al Qaeda is also helping itself. Idriss Deby Itno, president of Chad, has reported that the terrorist organization's offshoot in North Africa, Al Qaeda in the Islamic Maghreb (AQIM), has helped itself to surface-to-air missiles from a Libyan arsenal. Speaking to African weekly Jeune Afrique, Deby Itno claimed he was "100 per cent sure" of his assertion. "The Islamists of al-Qaeda took advantage of the pillaging of arsenals in the rebel zone to acquire arms, including surface-to-air missiles, which were then smuggled into their sanctuaries in Tenere," said Deby Itno. Tenere is part of the Sahara desert region stretching from northeast Niger to western Chad. "This is very serious. AQIM is becoming a genuine army, the best equipped in the region," he added. And despite the fact that he and Muammar Gaddafi are enemies, Deby Itno backed the Libyan leader's claim that al Qaeda helped to orchestrate the current uprising. "There is a partial truth in what he says," he said. "Up to what point? I don't know. But I am certain that AQIM took an active part in the uprising." He also characterized Western intervention there as a "hasty decision."
Other officials in the region confirmed Deby Into's assertion regarding the stolen weapons. "We have sure information. We are very worried for the sub-region," said a Malian security official who wished to remain anonymous. "We have the same information, about heavy weapons, including SAM 7 missiles. It is very worrying. This over-arming is a real danger for the whole zone," said a military source from Niger, who also explained that "AQIM gets the weapons in two ways; people go and look for the arms in Libya to deliver them to AQIM in the Sahel, or AQIM elements go there themselves."
If a report by Sky Net News is any indication, the Obama administration is impervious to this reality. According to that website, "Western diplomatic officials" have confirmed that the U.S. is "considering the legality of arming the Libyan rebels." Ostensibly, one of the "unintended consequences" of U.N. resolution 1970, requiring all member nations to "immediately take the necessary measures" to prevent the supply or sale of weapons to the Libyan government, contained no exceptions for supplying anti-Gaddafi forces. The administration is exploring a legal framework by which rebel forces could be armed if they could prove such arms were necessary to "defend themselves from Gaddafi's forces."
Mark Kornblau, spokesman for US Ambassador Dr. Susan Rice, confirmed the possibility. "Resolutions 1970 and 1973, read together, neither specify nor preclude such an action," said Kornblau. Britain and France are reportedly considering similar options with a coalition diplomat claiming the U.N. mandate "authorizes all necessary measures to protect civilians under threat of attack," and that any action taken "will be consistent with the United Nations Security Resolution and with international law."
Such assertions raise a couple of questions. First, as AOL news is reporting, rebel forces are on the offense, seizing the towns of Brega, a main oil export terminal, and Al-Egila "on their way to the massive oil refining complex of Ras Lanouf." Rebel forces are reporting no resistance, claiming Gaddafi's forces have "just melted away." Question one: With respect to the above conditions, does such action still constitute "defense?" U.N. Secretary General Ban Ki Moon says the U.N. is not trying to "change a regime" but provide protection to "save the lives" of innocent civilians, which segues into question number two: Does the protection of civilians include those civilians who are pro-government?
Khaled Kaim, Libya's deputy foreign minister asserts the coalition's claims of neutrality are bogus. "This is the objective of the coalition now, it is not to protect civilians because now they are directly fighting against the armed forces," he said in Tripoli. "They are trying to push the country to the brink of a civil war." British Defense Secretary Liam Fox denied the charge. "Losing Gadhafi is an aspiration, it is not part of the U.N. resolution," he said. Fox then added to the overall confusion. "We are not arming the rebels, we are not planning to arm the rebels," he claimed, contradicting the above report.
Perhaps the Obama administration should take heed, not of Mr. Fox, but of our own knowledge concerning the nature of the rebel forces. According to the U.S. Military Academy's Combating Terrorism Center, a cache of formerly secret Iraq files, known as the "Sinjar documents" captured by coalition forces in 2007, revealed that "Libya sent more fighters to Iraq on a per-capita basis than any other Muslim country, including Saudi Arabia," and that most of these forces "came from eastern Libya," where uprising against Muammar Gaddafi is most intense. "Libyans were more fired up to travel to Iraq to kill Americans than anyone else in the Arabic-speaking world," noted Andrew Exum, counterinsurgency specialist and former Army Ranger in a blog posting on March 10th. "This might explain why those rebels from Libya's eastern provinces are not too excited about U.S. military intervention. It might also give some pause to those in the United States so eager to arm Libya's rebels."
President Obama, who is expected to explain in a national address on Monday what the U.S. is doing in Libya, is sticking to the humanitarian script at this juncture. "So make no mistake, because we acted quickly, a humanitarian catastrophe has been avoided and the lives of countless civilians — innocent men, women and children — have been saved," the president said, despite waiting more than a month to take action. The president also noted that while the U.S. cannot get involved in every world crisis, Gaddafi was threatening a "bloodbath that could destabilize an entire region ... it's in our national interest to act. And it's our responsibility."
How far will the U.S. go to prevent de-stabilization "of the entire region?" Secretary of State Hillary Clinton was non-committal, saying it was "too early" to discuss intervention in Syria, where Bashar Assad's slaughter of innocents looks remarkably similar to Gaddafi's. Defense Secretary Robert Gates speculated that Yemen may be particularly troubling because "[T]he most aggressive branch of al-Qaeda ... operates out of Yemen...so if the government collapses or is replaced by one that is dramatically more weak, then I think we'll face some additional problems out of Yemen."
Where does it end? National Review's Andrew McCarthy explains what to expect with regard to Libya — and possibly beyond. "The rebels are not rebels — they are the Libyan mujahideen. Like the Afghan mujahideen, including those that became al-Qaeda and the Taliban, the Libyan mujahideen comprise different groups. What overwhelmingly unites them, besides opposition to Qaddafi, is sharia," he notes. "The Libyan mujahideen will exploit us but never befriend us...[[I]f we empower them, we will eventually rue the day."
After ten years in Afghanistan, eight in Iraq, both with no end in sight, most Americans already "rue the day." Enmeshing ourselves in Libya, where "victory" may consist of replacing an anti-American regime with another anti-American regime even more closely associated with al Qaeda, is troubling. Furthermore, an operation which the administration now admits American involvement "could continue for months," contradicting last week's assertion that it would last "days, not weeks," illuminates a disturbing reality regarding this administration: It is making up policy as it goes along.
And such a policy looks like it may very well end up aiding our mortal enemies.
---
Here, from The Associated Press, is the complete text of the Libyan leader's latest letter (with unusual English spellings and grammar as in the original):
Our son, Excellency,
President Obama
U.S.A
We have been hurt more morally that physically because of what had happened against us in both deeds and words by you. Despite all this you will always remain our son whatever happened. We still pray that you continue to be president of the U.S.A. We Endeavour and hope that you will gain victory in the new election campaigne. You are a man who has enough courage to annul a wrong and mistaken action. I am sure that you are able to shoulder the responsibility for that. Enough evidence is available, Bearing in mind that you are the president of the strongest power in the world nowadays, and since Nato is waging an unjust war against a small people of a developing country. This country had already been subjected to embargo and sanctions, furthermore it also suffered a direct military armed aggression during Reagan's time. This country is Libya. Hence, to serving world peace ... Friendship between our peoples ... and for the sake of economic, and security cooperation against terror, you are in a position to keep Nato off the Libyan affair for good.
As you know too well democracy and building of civil society cannot be achieved by means of missiles and aircraft, or by backing armed member of AlQuaeda in Benghazi.
You — yourself — said on many occasions, one of them in the UN General Assembly, I was witness to that personally, that America is not responsible for the security of other peoples. That America helps only. This is the right logic.
Our dear son, Excellency, Baraka Hussein Abu oumama, your intervention is the name of the U.S.A. is a must, so that Nato would withdraw finally from the Libyan affair. Libya should be left to Libyans within the African union frame. The problem now stands as follows:-
1. There is Nato intervention politically as well as military.
2. Terror conducted by AlQaueda gangs that have been armed in some cities, and by force refused to allow people to go back to their normal life, and carry on with exercising their social people's power as usual.
Mu'aumer Qaddaffi
Leader of the Revolution
Tripoli 5.4.2011
See also the video: Gaddafi speaking in English.
---
A Despot's "Dear Son" Letter to a U.S. President
Stephen Brown
April 7, 2011
Front Page Magazine
http://frontpagemag.com/2011/04/07/ a-despots-letter-to-a-president/
President Obama found a surprise on Wednesday when he opened the White House mailbox: a three-page letter from Muammar Gaddafi. Gaddafi opens his message familiarly, addressing Obama as his "son" and, in friendly fashion, hoping Obama will continue on as president and win the next election. But the reason for Gaddafi's dropping Obama a line while NATO bombs are dropping on him was essentially to get the US president to intervene and call off the bombing campaign that began last March 17.
"As you know too well democracy and building of civil society cannot be achieved by means of missiles and aircraft, or by backing armed member of AlQaeda in Benghazi," Gaddafi wrote in ungrammatical English, although his authorship cannot be confirmed.
A White House spokesman said this letter was "not the first" from Gaddafi to Obama. In a previous one, he called the American leader "our child" and sent it just as the bombing of Libya was about to begin. The letter's purpose was to explain that he was remaining in power to fight al Qaeda.
"If you find them (al-Qaeda) take over American cities, what would you do?" Gaddafi wrote.
The timing of Wednesday's letter, though, is just as interesting as its message as well as the fact it was only sent to Obama among the NATO leaders. On the one hand, the missive is an indication that the NATO air campaign is having an effect on Gaddafi's forces. On the other, it can be viewed as a weapon in his life-or-death conflict with the rebels.
Gaddafi's strategy now appears to consist of waiting for the coalitions opposing him, both that of NATO and of the rebels, to come apart. Helping rupture these alliances would therefore be one of his major preoccupations, and the letter can be interpreted as a means of helping bring this about.
In selecting Obama to receive his message, Gaddafi may perceive the American president to be the weakest link now in the NATO alliance. What probably prompted this perception, or misperception, is that American warplanes stopped flying combat sorties over Libya on April 4. American aircraft had been flying about half of all NATO combat missions. They will, however, continue to fly in supporting roles, carrying out military duties such as "reconnaissance, eavesdropping, aerial refuelling." But reducing American participation in the conflict would have signalled weakness to a dictator like Gaddafi.
The downsizing of America's air combat role, caused by America's handing over military responsibility to NATO, was also encouraging to Gaddafi for another reason: It led this week to the first serious dispute between NATO and the anti-Gaddafi rebels. The lull in air strikes created by the handover prompted the rebels to accuse NATO of flying too few missions, leaving the impression they were being abandoned. NATO admitted there had been a "pause," but responded its mission in Libya was to save civilian lives and not fly missions for the opposition.
Complaints about lack of NATO air support were especially severe concerning the rebels in the besieged city of Misrata, Libya's third largest. The rebel chief, Abdel Fattah Junes, even accused NATO of giving the Misrata defenders over to destruction. Junes warned if NATO waits another week, there won't be anyone left to help in Misrata. NATO has so far disappointed us," said Nunes. "Our officers had contacted them many times with targets to bomb, and if NATO had wanted to end the siege of Misrata, it could have done so days ago."
Besieged already for six weeks, if Misrata does fall amid much bloodshed, then the resulting friction between the rebels and NATO can only be imagined as well as the recriminations that will take place at the UN. One can also imagine Gaddafi's pleasure with the strife taking place among his opponents over Misrata and his desire to capitalise on it.
Besides a direct appeal to Obama for help and an attempt to divide NATO, Gaddafi's letter can also be viewed as seeking support among Obama's liberal supporters. After calling the United States "the strongest power in the world nowadays," Gaddafi refers to the war NATO is waging as "unjust" and "against a small people of a developing country." These are all key phrases and images the left delights in promoting when it comes to the United States: a military bully once gain pummelling, undeservedly, a small, Third World country.
Other words present in the letter directed towards liberal hearts were "world peace" and "the UN General Assembly" where Gaddafi reminded Obama he saw him speak. But the icing on the cake occurs when Gaddafi cleverly mentions in the letter the 1980s "military armed aggression" against Libya and names the political left's most reviled figure, Ronald Reagan, as the person responsible. All these references, of course, are also made to remind Obama of his own liberal background and that he is not a warmonger like Reagan. In the letter's warm, gentle, non-belligerent language, Gaddafi also creates an image as a peaceful man himself.
Pulling out all the tricks to obtain Obama's help, the letter contains emotional references to Obama's Muslim and African backgrounds. Besides calling the President "my son" at the start of the letter, he also calls him "our son" in the second sentence, telling him, like a wayward child, "you will always remain our son whatever happen."
Near the letter's end, Gaddafi increases the emotional appeal, calling Obama, in Arabic fashion, "Our dear son, Excellency, Baraka Hussein Abu oumama" and tells him to get NATO to withdraw, so Libyans can solve their own problems within the framework of the African Union. By using his middle name, Hussein, Gaddafi is also reminding Muslim readers and Obama of his background and that NATO is bombing a Muslim country.
The longer the Libyan conflict continues, Gaddafi knows the better the chance the coalitions will unravel, as frictions and diverging goals will develop. Other countries like Russia and China, who were lukewarm against the intervention, may also come out against it as would countries of the African Union. And NATO's inadvertent killing of civilians, like in Afghanistan, may lead to a demand that air strikes be stopped or limited. The coalitions, on the other hand, are waiting for Gaddafi's side to disintegrate through defections, which are also occurring. Since the war appears to be settling into a stalemate around Brega, it is now a question of who can outwait the other.
Gaddafi's letter is probably the opening shot in a propaganda offensive to relieve NATO pressure and hopefully divide the coalition. Obama probably received Gaddafi's attention first, because he withdrew American forces from a direct combat role and from killing Libyans. While Obama will not intercede with NATO to stop the air strikes, he may be more sensitive now to pressure with an election year looming from his liberal base and Muslim organizations to negotiate an end to the Libyan violence. But the Libyan people will never be safe with a brutal dictator like Gaddafi around, so Obama should return the letter to sender, future address unknown.

Arnold Ahlert was an op-ed columist with the NY Post for eight years. He currently writes for JewishWorldReview.com and FrontPageMag.com. Reach him at atahlert@comcast.net This article appeared March 28, 2011 in Front Page Magazine
http://frontpagemag.com/2011/03/28/arming-the-enemy-in-libya/