WHY WAS A NAZI FLAG FLYING FROM A JERUSALEM HOTEL IN THE 1930S?
by Lenny Ben David
Jaffa Gate was once too small for carriages and boasted a restaurant that later turned into a hotel down the road.
We recently published[1] pictures from the British Library's Endangered Archives Program,[2] including the incredible picture below of Jaffa Gate at Jerusalem's Old City which we have dated to the mid-1890s. Only in 1898 was the wall near Jaffa Gate breached so that carriages could drive into the city.
Jaffa Gate[3] and Abraham Fast's Restaurant (Debbas Collectioon, British Library)
We wanted to know more about the store on the left with the sign "A Fast. Restauranteur." Was this a tourist establishment of Abraham Fast, who in 1907 took over a large hotel several hundred meters to the west of the building pictured above and renamed it "Hotel Fast?"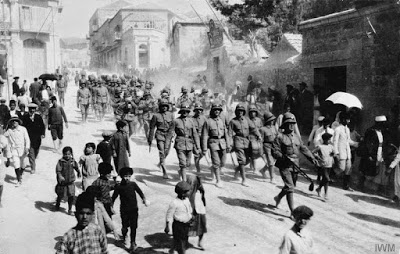 German troops[4] marching in Jerusalem on Good Friday, April 6, 1917. The building on the left is the Fast Hotel. (Imperial War Museum, UK)
It was a leading hotel with 100 rooms, built around a court yard with Ionic, Corinthian and Doric columns.
Hotel Fast and its kosher restaurant was a well-known establishment in Jerusalem for decades, and was probably considered by many to be a Jewish-owned establishment because of its Jewish clientele.
Nothing could be further from the truth. The Fasts were German Templers.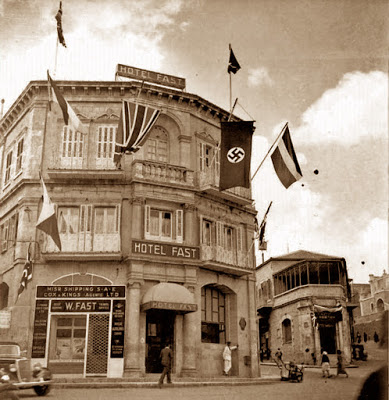 The German consulate[5] in the Fast Hotel, 1933. (Wikimedia, Tamar Hayardeni)
They lived in Jerusalem's German Colony and were exiled by the British after World War I and during World War II because of their support for Germany.
We recently uncovered pictures of German troops marching in Jerusalem streets on Good Friday 1917. Readers were able to identify the building on the left as the Fast Hotel.
Our biggest surprise was finding this picture of the German consulate in the Hotel Fast with the German Swastika flag flying from the building.
During World War II, the hotel was taken over by the British army command and turned into the Australian army club.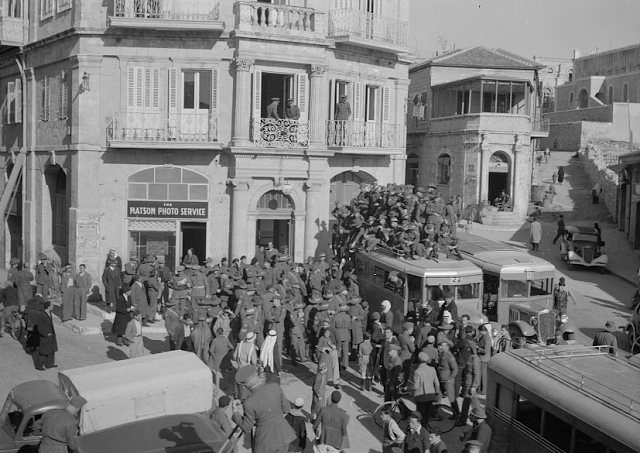 The Hotel Fast housed Australian soldiers[6] in World War II.
Here they are greeting the Australian Prime Minister Robert Menzies and the commander of the Australian troops in Australia, Lt. Gen. Thomas Blamey in February 1941.
The Matson Photo Service, shown on the ground floor, was run by Eric Matson, originally from the American Colony Photographic Department. Matson left Palestine in 1946 for the United States. His collection of photos were bequeathed to the Library of Congress where many of the pictures in this website were found. (Library of Congress)
The Hotel Fast building was abandoned in 1967 and torn down in 1976 to make way for the Dan Pearl Hotel.
Footnotes
[1] http://www.israeldailypicture.com/2015/08/a-major-19th-century-photo-collection.html
[2] http://eap.bl.uk/database/overview_item.a4d?catId=196125;r=6334
[3] http://eap.bl.uk/database/overview_item.a4d?catId=196374;r=24464
[4] http://www.iwm.org.uk/collections/item/object/205082094
[5] https://upload.wikimedia.org/wikipedia/commons/4/43/Swastika_flag_in_Jerusalem.jpg
[6] http://www.loc.gov/pictures/item/mpc2010006449/PP/

---
Lenny Ben-David served as a senior Israeli diplomat in Washington, D.C. He is an analyst, lobbyist, editor and writer. Visit his website at www.israeldailypicture.com. This article appeared August 31, 2015 in Arutz-Sheva and is archived at
http://www.israelnationalnews.com/News/News.aspx/200124#.VevWid8qcWM. Thanks are due Monchaarsh for sending this to Think-Israel.