THE JEWS OF THE NORTH AFRICA UNDER MUSLIM RULE
by Ruthie Blum, Novemer 14, 2018
David Littman, before his untimely death from leukemia in 2012, had intended this book on the Maghreb to be the first in a series that would cover the social condition of the Jews in Tunisia, Libya, Egypt, Syria, Palestine, Iraq, Yemen, Iran and Turkey -- an ambitious project that he was unable to tackle in its entirety.
"To his credit, King Mohammad VI has made a point of preserving the Jewish heritage of Morocco, especially its cemeteries. He has better relations with Israel than other Muslim countries but still does not recognize Israel and have diplomatic relations with the nation state of the Jewish People." — Alan M. Dershowitz, "What Is a 'Refugee'?"
"[T]he task of completing this exploration of the historical reality of Jewish existence under the Crescent rests upon future generations of researchers, to whom, it is hoped, our modest contribution will serve as an inspiration." — David Littman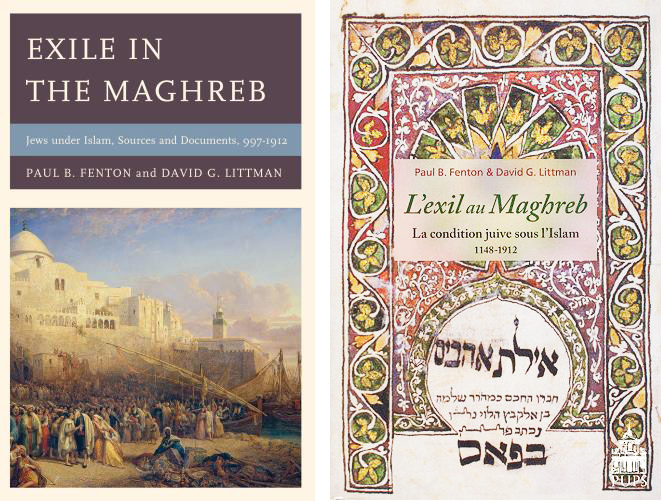 Exile in the Maghreb,[1] co-authored by the great historian David G. Littman and Paul B. Fenton, is an ambitious tome contradicting the myth of how breezy it was for Jews to live in their homelands in the Middle East and North Africa when they came under Muslim rule.
"Ever since the Middle Ages," the book jarringly illustrates, "anti-Jewish persecution has been endemic to Muslim North Africa."
Littman, before his untimely death from leukemia in 2012, had intended this book on the Maghreb to be the first in a series that would cover the social condition of the Jews of Tunisia, Libya, Egypt, Syria, Palestine, Iraq, Yemen, Iran and Turkey -- an ambitious project that he was unable to tackle in its entirety.
The impetus for the book, which was first published in French in 2010[2] and in English in 2016, was to expose the misrepresentation by certain historians of the relations between the Jews of Morocco and Algeria and their Arab rulers. One such historian cited in the book was the French Orientalist, Claude Cahen,[3] who dreamily wrote in his chapter on "Dhimma" in the Encylopaedia of Islam:[4]
"There is nothing in medieval Islam which could specifically be called anti-Semitism... Islam has, in spite of many upsets, shown more toleration than Europe toward Jews who remained in Muslim lands."
The original idea for the book -- a massive collection of personal testimonies, photos and documents spanning ten centuries (from 997-1912) -- came to Littman when he was on a humanitarian trip to Morocco in 1961. Littman noted:
"Following the independence of their country in 1956, the Jews of Morocco had begun to redefine their hopes regarding the future. Whereas new opportunities for them began to loom on the horizon, I was astonished to observe that the Moroccan Jews were making every possible effort to leave their native land to immigrate to the struggling young State of Israel or even to Europe, whose communities were still painfully recovering from the tragedies of World War II."
In an article for the Jerusalem Post -- entitled, "Exploding the myth of Moroccan tolerance"[5] -- Lyn Julius described an anti-Israel documentary[6] by Al Jazeera that blamed the Mossad for "play[ing] a key role in convincing thousands of Moroccan Jews that they were in danger and covertly facilitated their departure" to the newly established state of Israel. Prior to that, according to the broadcast, "Jews first began to settle in Morocco over 2,000 years ago and for centuries they and Muslims have happily co-existed there."
Julius writes that Exile in the Maghreb provides "a corrective to this common historical distortion."
There is, for example the account of Samuel Romanelli (1758-1814), an Italian Jew who visited Morocco at the end of Sultan Sidi Mohammad III's reign (1757-1790), and wrote about his travels in Oracle from an Arab Land (1792):
"Most of them [the Jews of Morocco] never die a natural death nor do they share the lot of common mortals: execution, torture, expropriation, incarceration are their fate. Their bodies might be mutilated and their residences turned into cesspools..."
In the article, "What Is a 'Refugee'? The Jews from Morocco versus the Palestinians from Israel,"[7] published earlier this year, the renowned lawyer, Alan Dershowitz, writes:
"Jews lived in Morocco for centuries before Islam came to Casablanca, Fez and Marrakesh. The Jews, along with the Berbers, were the backbone of the economy and culture. Now their historic presence can be seen primarily in the hundreds of Jewish cemeteries and abandoned synagogues that are omnipresent in cities and towns throughout the Maghreb...

"Now they are a remnant in Morocco and gone from the other countries. Some left voluntarily to move to Israel after 1948. Many were forced to flee by threats, pogroms and legal decrees, leaving behind billions of dollars in property and the graves of their ancestors.

"Today, Morocco's Jewish population is less than 5,000, as contrasted with 250,000 at its peak. To his credit, King Mohammad VI has made a point of preserving the Jewish heritage of Morocco, especially its cemeteries. He has better relations with Israel than other Muslim countries but still does not recognize Israel and have diplomatic relations with the nation state of the Jewish People. It is a work in progress. His relationship with his small Jewish community, most of whom are avid Zionists, is excellent..."
Exile in the Maghreb is a most important book, which sets the record straight about the true plight of the Jews after the conquests of the lands in which they had peacefully resided.
To encourage the work to be continued by others, Littman quoted Rabbi Tarphon in the Ethics of the Fathers:[8] "It is not incumbent upon you to complete the work, but neither are you at liberty to desist from it." Littman concluded:
"[T]he task of completing this exploration of the historical reality of Jewish existence under the Crescent rests upon future generations of researchers, to whom, it is hoped, our modest contribution will serve as an inspiration."
Footnotes
[1] Exile in the Maghreb: Jews under Islam, Sources and Documents, 997—1912. Hardcover — May 5, 2016. by Paul B. Fenton (Author), David G. Littman (Author)
[2] https://www.amazon.fr/LExil-Maghreb-condition-lIslam-1148-1912/dp/2840507250.
[3] http://www.crusaderstudies.org.uk/resources/historians/profiles/cahen/index.html
[4] https://archive.org/details/EncyclopaediaOfIslamVol51KheMahi/page/n1
[5] https://www.jpost.com/Blogs/Clash-of-Cultures/Exploding-the-myth-of-Moroccan-tolerance-437512
[6] https://www.aljazeera.com/programmes/aljazeeraworld/2015/01/return-morocco-2015120124346751467.html
[7] https://www.gatestoneinstitute.org/12014/refugee-jews-morocco-palestinians-israel
[8] https://www.chabad.org/library/article_cdo/aid/5708/jewish/Translated-Text.htm

---
Editor's Addendum:
These are some comments that added useful information.
Bhajan Francis
The article is very informative, interesting and was surprising for me to know that Jews were living in North Africa before Islam and their population was 250,000. I hope it will be easy for me to visit Morocco and see all historical cemeteries, synagogues and visit some Jewish people. Thanks for sharing the book review. From Pakistan.
b.a. freeman
i am truly saddened to learn that mr. littman is no longer alive, but i am thrilled that he and mr. fenton managed to complete the first volume of this series. there are so many liars who certainly know the truth about the dhimma and the treatment of non-muslims taught by islam, and it is tiresome to see that nobody *ever* does simple research to refute them. i look forward to reading this book.
Hamish MacDonald
Algiers was the main site of the Muslim corsairs who saw fit to pillage defenceless fishing villages and with other Muslim strongholds capture over a million souls to be sold into slavery. It only ceased with the arrival of the Spanish and British gunship and stopped enslaving defenceless people. Morocco is west of Algeria.
Ron
Muslims and their apologists who advocate for Islamic domination of western nations and the imposition of sharia law upon the nations' citizens attempt to disarm critics by claiming that living under Islamic rule as a dhimmi has always provided the non-Muslim subjects with a secure and blissful existence. However, as Ruthie Blum's article reveals, the concept of a happy dhimmi is a myth that attempts to whitewash the cruelty faced by non-Muslim subjects in Islamic lands. One only needs to look at present-day Saudi Arabia or Pakistan to find abundant evidence of the egregious mistreatment of non-Muslims by Muslims.
About a year ago, I read a short article by a Muslim historian who painted a glowing picture of the treatment dhimmis have received throughout history by their Islamic rulers. A dangerous falsehood like this needs to be countered with facts and I applaud Ruthie Blum for speaking out to set the record straight.