HOW OBAMA AND THE ARMY BETRAYED THE VICTIMS OF FORT HOOD
by Sara Carter
"Allahu Akbar! Allahu Akbar!"
Army Maj. Nidal Hasan's words hung in the air along with the smell of gunpowder from his semi-automatic pistol.
On Nov. 5, 2009, the Fort Hood Army psychiatrist methodically and deliberately took the lives of 13 people, including a pregnant woman. Thirty-two others were wounded. The shooting is considered the worst mass murder on a military base in U.S. history, and more than four years later, the victims have yet to find closure.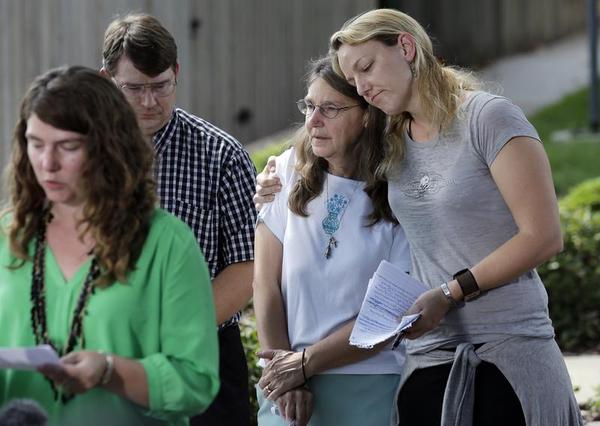 Kerry Cahill comforts her mother, Joleen, as they join other family members to talk about Michael Cahill, who was killed during the Fort Hood shootings, during a news conference following the sentencing phase for Maj. Nidal Hasan, Aug. 28, 2013, in Fort Hood, Texas. (AP/Eric Gay)
For the surviving victims, life will never be the same. Retired Army Staff Sgt. Alonzo Lunsford Jr. worked as a psychiatric specialist at the base and had met Hasan several times. He still has difficulty coming to grips with the horrors he witnessed. He's haunted by the screams of his coworkers whose paths crossed with Hasan in the waiting room at Fort Hood's Soldier Readiness Processing Center.
"Please, I'm pregnant, don't shoot my baby! My baby," cried Pvt. Francheska Velez, a 21-year-old from Chicago. Velez had returned home from her deployment in Iraq because of her pregnancy. Lunsford can still hear her pleading for her life.
Velez's cries didn't matter to Hasan, who shouted "God is great!" in Arabic before taking her life with his FN 5.7 semi-automatic pistol, which had been mounted with green and red lasers.
Hasan was found guilty last year and has been sentenced to death, but the victims and victims' families say they feel abandoned by the government they swore to protect and by the military they voluntarily joined. The military appeals process can be long and arduous; no U.S. service member has been executed since 1961, and attorneys for the victims told TheBlaze it could be many years before Hasan's sentence is carried out — if ever.
The victims shared their stories and their struggle for justice in Wednesday's season two premiere of TheBlaze TV's For The Record (Wednesdays, 8 p.m. ET). For The Record spent several months investigating the shooting and the refusal by the Army and the federal government to award the victims Purple Hearts and to acknowledge that Hasan acted as a terrorist. Instead, the Army and White House have chosen to designate the massacre "workplace violence."
The survivors and family members of those killed are now relying on a civil suit they filed against the government arguing the shooting needs to be classified as a terrorist attack so those who qualify can be awarded the Purple Heart and the benefits that come with it, said Neal Sher, a New York-based attorney representing the claimants in the lawsuit.
"I knew then, like I know now, that Hasan is a terrorist and on that day I was looking into the eyes of a terrorist — an enemy of the United States," said Lunsford, who was shot seven times by Hasan and flat-lined twice on the way to the hospital before being revived.
NOTE: If this video doesn't work, goto http://www.youtube.com/embed/apHJKhacbGc
Texas Sens. Ted Cruz and John Cornyn are among numerous lawmakers who have tried to spearhead legislation to grant the Fort Hood victims financial compensation and Purple Hearts, but have been stymied by Senate opponents who blocked it from coming to a vote, Cruz told TheBlaze.
"It seems, for whatever reason, whether it was political correctness or something else, federal law enforcement and the military did not connect the dots and stop Nidal Hasan from carrying out this terrorist act," Cruz said.
"And then subsequently after it happened, this administration to this day persists in denying that it was terrorism. Instead they classify it as workplace violence," he continued. "Now that is offensive."
Under the direction of then-Secretary of Defense Donald Rumsfeld, the Pentagon issued Purple Hearts to the victims of the Sept. 11 terror attacks and a new medal called the Defense of Freedom Medal for civilians killed or wounded when the Pentagon was struck by Al Qaeda.
Sher, the attorney, said the federal government has "chosen to re-victimize" Hasan's targets by not designating what he did as terrorism.
"The U.S. government refuses to call it an act of terror, refuses to award Purple Hearts to the victims, refuses to compensate the victims and has chosen to re-victimize them by burying the truth about Hasan and those who were willing to give their lives for their country," he said.
'I Started Speaking Out'
Fort Hood Police Sergeant Kimberly Munley sat next to first lady Michelle Obama as a guest at President Barack Obama's 2010 State of the Union address. Munley, who was still in a wheelchair at the time but able to walk using crutches, was one of two officers who stopped Hasan's rampage. Her partner, Sgt. Mark Todd, fired the final shot that left Hasan paralyzed from the neck down.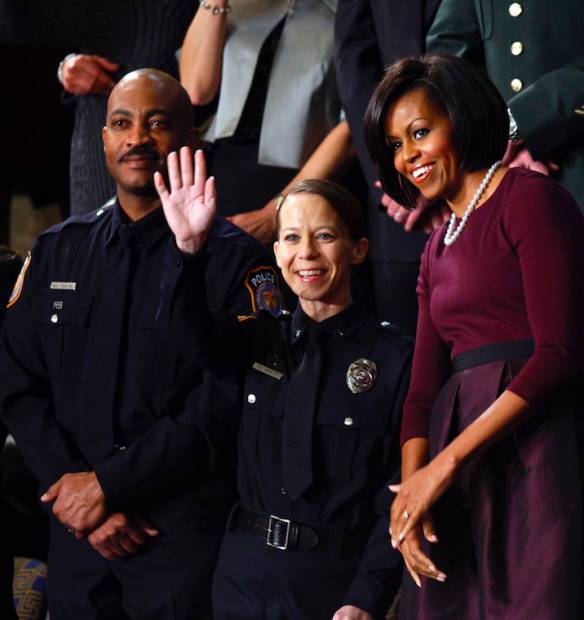 Kimberly Munley at President Obama's State of the Union, standing with First Lady Michelle Obama and her partner left, Mark Todd, the officer who fired the shot that paralyzed Nidal Hasan. (AP photo)
Munley, who sustained injuries herself, recalled how Obama promised her and her family when he visited Fort Hood after the shooting that he was "gonna take care of all the victims," she said.
The weeks and months have given way to years, and neither Obama nor the Army have ever compensated the victims for their trauma. The president "broke all his promises and betrayed us," Munley said.
For the first year after the shooting, Munley, Lunsford and retired Army Sgt. Howard Ray, another victim, were told by Army officials to keep quiet and not speak to media.
"I played along for that first year," said Munley, who, like the other victims, was concerned that speaking out might damage the ongoing trial. "I was on medical leave for a year and I started getting pretty frustrated because I wasn't gonna let the military system dictate my civilian life. And after that year, after seeing the soldiers that were injured and the victims' family of the deceased get neglected ... I started speaking out."
Under pressure from a growing number of lawmakers and the victims, Pentagon officials launched a review last year to see if there was enough evidence to re-categorize the attack as an act of "international terrorism. If the Army were to change the incident from workplace violence to an act of terrorism, the victims could receive the Purple Heart and the financial and medical benefits that come with it, Sher said.
For The Record and TheBlaze contacted the Army 14 times through emails and phone calls during the past several months seeking an update on the status of the Purple Heart review. The Pentagon and the Army each declined on-camera interviews, but after months of waiting, Army spokesman Col. David Patterson Jr. responded in an email on Jan. 31.
"Eligibility for the Purple Heart — as with other military awards — is quite specific," Patterson said. "Purple Hearts may be awarded to military personnel killed or wounded as a result of an 'international terrorist attack;' however, intelligence reports, investigations and studies, such as those by the Webster Commission and Congressional Research Service, all found that Hasan acted as a lone wolf. While there has been no intelligence or findings to date that indicate Hasan was under the direction or control of a foreign element, we stand ready to act accordingly should any evidence to the contrary be presented. If the U.S. Congress acts to change the standard, we will adhere to that direction."
For Ray, who was deployed multiple times to Iraq, what he calls the Army's lack of candor about Fort Hood is disheartening. He helped rescue nine people from the building the day of the shooting and watched as Hasan executed his plan in the same way he witnessed terrorists attack U.S. troops while he was serving overseas.
"Calling this workplace violence is a lie, and we know that by the contacts that [Hasan] had ... emails and everything else that came out during the trial," Ray said. "But at the end of the day, I would like to have seen my legislators not just propose that this is a terrorist attack but actually pass legislation saying so, but people are cowards and they don't want to do it."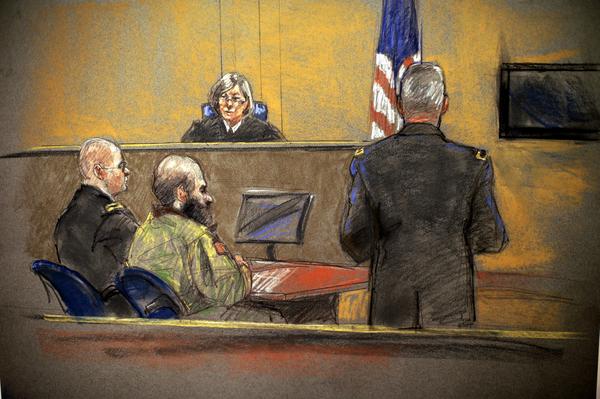 In this courtroom sketch, Maj. Nidal Hasan, center, sits before the judge, U.S. Army Col. Tara Osborn, during the sentencing phase of his trial, Aug. 26, 2013, in Fort Hood, Texas. (AP/Brigitte Woosley)
Lunsford says he was stunned by how the Army treated the victims who spoke about the incident. Lunsford recalled how lead prosecutor Col. Michael Mulligan, who successfully prosecuted Hasan's death penalty case, told him after his testimony that he needed to stay away from the news media.
He said Mulligan told him, "I'm not going to have you f— this case up for me. If I hear you say anything to the media, I will have them to come lock you up and strike your whole testimony."
Mulligan then turned around and left the room, Lunsford recalled.
Lunsford said he wasn't going to stand for the maltreatment. He told his victim's advocate to go back and get Mulligan. When the prosecutor returned, Lunsford stood up and said, "Sir, you wear the uniform just like I wear the uniform."
"I would never do anything to taint this case or to make it go south because of something that I did in dereliction of my duty, but I will share this with you," Lunsford recalled telling Mulligan. "You did not choose this case. This case was given to you as an assignment. So, when this case is over with, you get to go back home to your family and wait on your next assignment. ... I have the physical scars I look at every day when I take a shower or look in the mirror. That is with me for the rest of my natural-born life. It doesn't leave. I don't have the opportunity to go back home and wait for my next assignment."
Mulligan could not be reached for comment.
A video of the events surrounding the attack is available at http://www.video.theblaze.com/media/video.jsp?content_id=31356233.
'Lone Wolf'?
Army spokesman Patterson cited the 2012 William H. Webster Commission report as part of the reason the branch chose not to label the shooting a terrorist act. The report, which includes testimony and evidence that Hasan was in contact with known terror leader Anwar Al-Awlak, nevertheless determined that Hasan was operating on his own.
The Webster report revealed that Hasan was in contact with Awlaki, the U.S.-born Al Qaeda leader who fled to Yemen and was becoming a prominent figure in the terrorist organization at the time. Awlaki was killed in a drone strike in 2011 on Obama's orders.
According to the FBI, an informant they were interviewing in 2011 told them Hasan "had contacted [Awlaki] via the Internet and had asked what he could do to help Muslims" and that Awlaki had "advised Hasan that since he was an American soldier, he should kill other American soldiers."
The FBI's informant claimed Awlaki said he had given Hasan "permission to carry out his attacks at Fort Hood."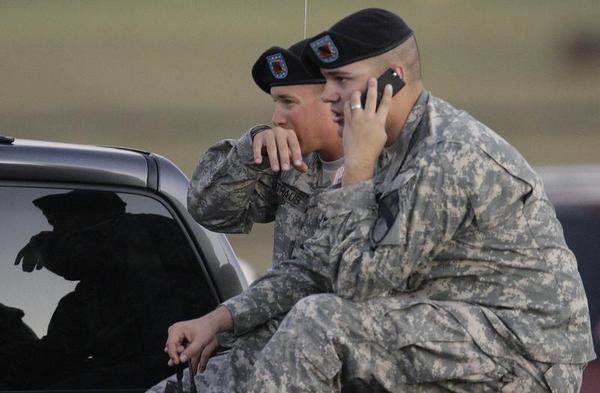 In this Nov. 5, 2009 file photo, Spc. Ryan Howard, right, and Spc. David Straub wait for news of fellow soldiers while waiting at the gate of the Army base after a shooting at Fort Hood. (AP/LM Otero)
ForThe Record also obtained documents that reveal a "suspicious activity report" was filed by Bank of America in February 2007. The report, by the bank to the Financial Crimes Enforcement Network within the Treasury Department, showed that Hasan was transferring large sums of money to the Arab Bank of Palestine while working at Walter Reed Medical Center and at the time he was in communication with Awlaki. There were at least three transfers: two for more than $20,000 and one large lump sum for $150,000, according to the documents.
Additionally, while Hasan was at Walter Reed, he delivered presentations suggesting that Muslim military personnel should not be asked to fight other Muslims, arousing suspicion among coworkers, a 2009 Washington Post report revealed.
During Hasan's trial last year, Fort Hood judge Col. Tara Osborn would not allow prosecutors to mention Hasan's correspondence with Awlaki and also barred prosecutors from mentioning his interest in becoming a conscientious objector to the war. Hasan, who represented himself said he was a "mujahadeen," a Muslim holy warrior.
"This will come back to bite [the court] in the civil trial," Sher said. "Because the judge removed the ability for prosecutors to talk about some of the most important evidence against Hasan in a first-degree murder trial."
The Webster report found that the FBI made several mistakes when the agency failed to interview Hasan, even after concerns were raised about his contact with Awlaki.
The report, which did not recommend any action be taken against the FBI, stated that the agency "erred in the process they followed to conclude that Hasan's communications with [Awlaki] were benign and acceptable. Their assessment of Hasan was belated, incomplete and rushed, primarily because of their workload."
'Never Leaves You'
Lying in a pool of his own blood, the 6-foot-9 Lunsford played dead. He was hoping Hasan would stop shooting long enough to give him time to escape from the building and find a weapon to stop the shooter.
Bleeding profusely, Lunsford jumped up and pushed his way out the door with the scramble of people trying to escape. He ran to the parking lot but Hasan was already outside following him. Hasan pointed his weapon at Lunsford, firing repeatedly until Lunsford collapsed on the blacktop beneath him.
He had been shot through his left eye, one of seven bullets that pierced his body during Hasan's attack.
It's "not about what I saw. It's what I smelled. Blood has a very distinct smell and blood mixed with gunpowder and — that never leaves you," Lunsford said as he unconsciously rolled a bullet between his fingers. It was one of the rounds doctors removed during surgery. He keeps it with him as a reminder of what he survived.
"The smell of blood and the screams," he said with a far-off look in his eyes. "You hear everybody scrambling ... you're hearing pleas for life, calls for help."
He remembered the "discharge of the weapon." It was like "slow motion, the shell casings hitting the floor. I never will forget that. And he had discharged so many rounds, as he was walking, the shell casings were caught between the grooves of his boots and it's like he was walking on taps," Lunsford said.
Lunsford, like many of the other victims, suffers from post traumatic stress disorder, and his physical injuries have permanently disabled them from continuing to serve in the armed forces.
They still hope that a future presidential administration or the Army will hold true to the promise that they will be taken care of and not forgotten.
For now, the Fort Hood survivors spend their days not only fighting their own demons, but their own government for justice. They were unprepared for Hasan's attack on their military base, but believe it is only a matter of time before it happens again.
"Our government may have abandoned us," Lunsford said. "But we don't believe the American people have. What happens the next time this happens on a U.S. military base, what's going to happen to the victims and their families when the government refuses to acknowledge the truth?"
---
EDITOR'S NOTE: For those who would like to pursue this story, The Blaze has assembled helpful material
(http://www.theblaze.com/blog/2014/02/12/do-your-own-homework-theblaze- releases-research-from-investigation-into-ft-hood-shooting/):
The 14 victims of the Fort Hood massacre, including an unborn baby.

See http://www.theblaze.com/blog/2014/02/12/the-victims-of-the-fort-hood-massacre/
The Webster Report: Commissioned by the FBI, this committee examined how investigators missed clues about Nidal Hasan's radicalization before the attack. The report also includes copies of emails sent between Hasan and Anwar al-Awlaki.
See http://www.fbi.gov/news/pressrel/press-releases/final-report-of-the-william-h.-webster-commission


Page 41 includes the initial reporting that "Hasan tripped the wire" by contacting Anwar al-Awlaki.


Page 58 includes the San Diego FBI agent's thought that the Washington office was treating the case so strangely that Hasan must have been a confidential source for them.


Page 60 includes the FBI Washington Field Office "did not assess this guy as a terrorist threat" just five months before the attack and that the Hasan investigation was "politically sensitive" for the Washington Field Office.
Gen. William Casey's assessment that "What happened at Fort Hood was a tragedy, but I believe it would be an even greater tragedy if our diversity became a casualty here" came on the ABC News program "This Week" on November 9, 2009.
See http://abcnews.go.com/blogs/politics/2009/11/ft-hood-gen-casey-doesnt-rule-out-terrorism/
Secretary of Homeland Security Janet Napolitano said, "in the Hasan matter, he was a terrorist," in testimony before the House Committee on Homeland Security on February 9, 2011. The video of her statement comes 1:06:30 into this clip:
See http://www.c-span.org/video/?297928-1/Securiy
President Obama's explanation about "that pull toward extremism" leading to the Fort Hood attack and being the future of terrorism came during a speech at the National Defense University on May 23, 2013.
See http://www.whitehouse.gov/the-press-office/2013/05/23/remarks-president-national-defense-university
Sen. Joseph Lieberman's statement about the Defense Department's "vague, politically-correct terms" came from a press conference on the Fort Hood shootings report on February 3, 2011. It starts 12:30 into the hearing:
See http://www.c-span.org/video/?297840-1/fort-hood-shootings-report
Sen. Susan Collins' statement came from the same event. It starts 8:15 into the hearing:
See http://www.c-span.org/video/?297840-1/FordHo
Rep. John Carter's statement about "Two of the most important agencies" came from a hearing on the Fort Hood shootings on August 1, 2012. It comes 1:23:12 into that clip:
See http://www.c-span.org/video/?307372-1/fort-hood-shooting
The National Counterterrorism Center (NCTC) classified Fort Hood as a terrorist attack in its 2009 Report on Terrorism. It appears on page 61 of that document.
See http://www.riskintel.com/wp-content/uploads/downloads/2011/10/2009_report_on_terrorism.pdf
The Department of Defense issued the "Protecting The Force" report in January 2010. Nidal Hasan's name does not appear in the entire document. The only reference to Islam or Islamic extremism comes in the title of a report mentioned in a footnote on page 18. The phrase "workplace violence" appears 17 times.
See http://www.defense.gov/pubs/pdfs/dod-protectingtheforce-web_security_hr_13jan10.pdf
The Senate investigation into the Fort Hood attack was commissioned by Sens. Joseph Lieberman and Susan Collins. It faulted both the Department of Defense and the FBI for failing to recognize the threat posed by Hasan before the attack.
See http://www.hsgac.senate.gov//imo/media/doc/Fort_Hood/FortHoodReport.pdf?attempt=2
The emails from Hasan to al-Awlaki expressing a desire to transfer money to him can be found in the Webster Commission report. The email from Hasan that offered to send money appears on page 54.
See http://www.fbi.gov/news/pressrel/press-releases/final-report-of-the-william-h.-webster-commission
The terrorism case against the Arab Bank of Palestine is scheduled to start in April.
See http://www.bloomberg.com/news/2013-10-21/arab-bank-gets-u-s-supreme-court-query-in-terrorism-case.html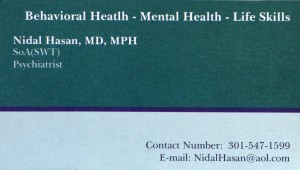 Hasan's business card featured the acronym "SoA (SWT)." SoA is an acronym for "Soldier of Allah," which is a term used on Jihadist websites. SWT stands for "Subhanahu Wa Taala" which is a phrase commonly used after mentioning Allah and roughly translates to "Glory to God."
A "senior Obama administration official" referred to the Fort Hood attack as "an act of terrorism" in January 2010.
See http://www.foxnews.com/politics/2010/01/15/time-obama-official-calls-fort-hood-massacre-act-terrorism/
The Army's guidelines on awarding the Purple Heart are found on page 20.
See http://www.apd.army.mil/pdffiles/r600_8_22.pdf
The Department of Defense position paper opposing the awarding of Purple Hearts to the victims of Fort Hood is here: DoD Fort Hood Purple Heart
See http://www.theblaze.com/wp-content/uploads/2014/02/dod_fthood_purple.pdf
Rep. John Carter has introduced several pieces of legislation to help the victims of the Fort Hood attacks. The most recent was in September 2013: BILLS-113hr3111ih
See http://www.theblaze.com/wp-content/uploads/2014/02/BILLS-113hr3111ih.pdf
The Secretary of the Army's letter to Rep. Joe Wilson is here: Rep-Wilson-letter. We contacted Rep. Wilson's office before this story aired. The Army has not given them any update on how the "thorough review" of the trial record is proceeding.
See http://www.theblaze.com/wp-content/uploads/2014/02/Rep-Wilson-letter.pdf
The Army refused an on-camera interview for this story, but they did send us this response (we have redacted certain contact information for privacy reasons): Army Letter January 30.
See http://www.theblaze.com/wp-content/uploads/2014/02/Army-Letter-January-30.pdf
We followed up, asking for further clarification on how certain evidence fails to meet the standard for awarding the Purple Heart: Response to Army. We have yet to hear back from the Army. When we do, we will update this story.
See http://www.theblaze.com/wp-content/uploads/2014/02/Response-to-Army.pdf
---
Sara Carter is a journalist with the Washington Times. The present article appeared Feb. 12, 2014 in the Blaze and is archived at
http://www.theblaze.com/stories/2014/02/12/theblaze-investigation-how-obama-and-the-army-betrayed-the-victims-of-fort-hood/