WHO SAYS AMERICA IS SO SMART?
Posted by Batya Medad, February 15 2008.
I've been saying for ages that world terrorism will never be stopped until the victims admit that it all starts with the Arabs who are trying to murder me and destroy the State of Israel. They are connected to Bin Laden, of 9-11 infamy.
Instead of recognizing that they're all the same, the world, led by the United States' Bush and Rice, wants to give them another state, at the expense of the State of Israel.
I was happy to see an article in Newsweek online
(http://www.newsweek.com/id/110937/?rf=nwnewsletter), which at least touches on the American missreading of the situation, even though it doesn't really cut to the quick.
NEWSWEEK: Why did you write this new book?

Michael Scheuer: Because I think our country is in trouble. The enemy we are facing, Osama bin Laden and the movement he heads, is much more dangerous than anyone gives him credit for. Much smarter, much more talented, and now increasingly recruiting a new generation that's better educated, not just in school terms but in operational and especially technological ways. We defeated the swashbucklers. The Errol Flynns of the jihad are gone; they're about to go on trial in Guantánamo. Now we have the gray-suited fellows who are quiet, don't draw attention to themselves, but are tremendously savvy.

Have we underestimated Osama bin Laden?

I think there is tremendous racism in our response to bin Laden. He wears a beard and a robe and lives in a cave. (I doubt that's true, by the way. It's the made-for-Hollywood version.) So we dismiss him. But it is just extraordinary to treat your enemy as an idiot, especially when you are losing two wars to him, and when our director of national intelligence is warning that Al Qaeda is rebuilt, refitted and stronger than ever.
To give you an idea of how the United States is actually helping terrorists, nothing is better than seeing the movie, The Siege, which never got the publicity it deserved. And that's not because it's Bruce Willis's worst ever performance.
Most worrying is that Israeli politicians are getting more and more dependent on the Unitied States "experts" who are the very ones Michael Scheuer is ranting against. The truth is that when it comes to understanding Arab terrorism, the United States doesn't know bupkes.
How long will it take for Israel to wake up and understand that Olmert and his American "advisors" are leading us to Hell and destruction?
Batya Medad lives in Shiloh. She can be reached by email at Shilohmuse@yahoo.com or visit her website It is archived at
http://shilohmusings.blogspot.com/ or go to http://www.shilo.org.il
To Go To Top
CARTOON RIOTS RESUME IN AND OUT OF DENMARK
Posted by Judith Apter Klinghoffer, February 14, 2008.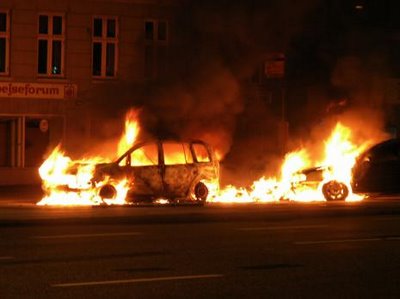 Copenhagen suffers 5 nights of "youth" riots. A JP photographer is injured. Fire fighters are stoned and police has to use tear gas and arrest rioters. It seems to follow the French pattern.
The placard wording demonstrates determination to avoid past excess but it is the exception rather than the rule.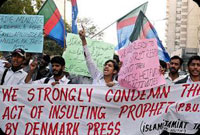 KARACHI, Feb 14 (Reuters) – Chanting "Death to the cartoonist", dozens of Islamist students burned the Danish flag in southern Pakistan on Thursday after the republication of a caricature of Prophet Mohammad.

In Kuwait, several parliamentarians called for a boycott of Danish goods. "The government has to take action against Denmark," said Waleed al-Tabtabai, a member of parliament. "The sons of dogs published drawings that are offensive to the Prophet." Kuwait's deputy prime minister Faisal al-Hajji said the Gulf Arab country would make an official complaint.
What is most striking is the failure of the Muslim voices who condemn the republication to even mention the murder plot which triggered the republication. See for example the op ed Dr Haroon Junaidi, From Edinburgh in the Scotsman.
For more pictures see
http://www.snappedshot.com/archives/1655-RAGE-BOY-SIGHTING!!!!!!- Anti-Denmark-Day-of-RAGE;-NOW-WORLDWIDE!.html
and http://gatewaypundit.blogspot.com/2008/02/ riots-in-denmark-muslim-youths-go-on.html
Femming Rose about Kurt Westergaard.
For the past three months Kurt and his wife have been moving from house to house. In early November, they had a few hours to collect their most necessary belongings before they were driven to a safe location. They had to leave their car at home because the police wanted to create the impression that Kurt and Gitte were still living in the house. The mail was collected, garbage was removed, and an agent who physically resembled Kurt was installed in the house. This was done in case the plotters were to execute their plans to kill Kurt.

In the middle of December Kurt and Gitte returned to their house for just one day to celebrate Christmas with their family.
Still, not a word from the Organization of Islamic Conference about his troubles and no call on Muslims to stop rioting. They have plenty of words to say about the reprinting of the cartoons:
The Organisation of the Islamic Conference (IOC) denounced on Friday the reprinting of a Danish cartoon of the prophet Mohammed, warning it could lead to confrontations between Muslims and Christians.

"By reprinting these cartoons we are heading toward a bigger conflict and that shows that both sides will be hostages of their radicals," OIC Secretary-General Ekmeleddin Ihsanoglu, a Turk, told AFP in Istanbul.

"It is not a way of improving your rights and exercising your freedoms when you use these rights for insulting the most sacred values and symbols of others and inciting hatred," he said. "This is a very wrong, provocative way – unacceptable."
Contact Judith Apter Klinghoffer by email at jklinghoff@aol.com This article appeared in
http://hnn.us/blogs/entries/47382.html
To Go To Top
ENOUGH IS ENOUGH: STOP ISLAMISATIOM OF HOLLAND
Posted by Morris Sadek, February 14, 2008.
[Editor's note: There are various SIOE groups in Europe. See, for example, Pat Condell's very sensible talks on You Tube. See http://www.sioeengland.blogspot.com/. SIOE England is at http://sioeengland.wordpress.com]
This comes from SIOE. It fights back against sharia takeover.
* Muslims demand respect, whereas they do not treat non-muslims with respect.
* Female muslims refuse to be treated by male doctors.
* In Amsterdam cars were set on fire after Bilal near-lethally knifed 2 policewomen. Although the damage was enormous nobody received payment for damages, and the perpetrators have not been caught (and where is the news of how the two policewomen are fairing?)
* The imam of the As-Soenah mosque, said that this mosque can now be built larger than it already is, and he suggested that Theo van Gogh had deserved "sentence" he received.
* On 17 November 2007 muslim students in Amsterdam tried convert others to Islam.
* The photographer Sooreh Hera cannot show her photos of two men wearing masks of Mohammed and Ali. She was threatened and was forced into hiding.
* Geert Wilders, Eshan Jami and Ayaan Hirsi Ali are not able to walk the streets without bodyguards. Several times they have been threatened.
* Islamic students become angry because they are refused time off from studies so that they can ritually slaughter animals for their religious feasts.
* An anti-Wildersb group has been set up to silence Wilders, the only politician who dares to point out the dangers of Islam. The group demands he remains silent.
* Hizb ut Tahrir distributes leaflets saying "stop badgering islam".
The leaflet which the Dutch department of Hizb ut-Tahrir these spreads week, asks for signatures to place under a petition against the 'offence of Islam and the Moslems.' Islam is continuously badgered and that must stop, says spokesman Okay Pala.
* Moslems have been offended before even seeing the film of Geert Wilders and threaten violent action (see here to a small film from end courts, where it is suggested that Geert Wilders is decapitated. With thanks to none style)
* Our SIOE colleagues were victims of an assassination attack before attending a demonstration against islamisation. (all of their wounds have meanwhile healed)
* SIOE Netherlands members have been threatened (we have made an official report)
* Homosexuals are threatened and beaten up.
* Jewish people, families, are chased out of Amsterdam.
We can mention many things about what appears in the news. We can all say that muslims are offended every time we say the tiniest thing about the islam. They demand more respect, more tolerance. Our politicians do nothing about it and, indeed, ourpolitically correct politicians from The Hague invariably side with muslim demands. Even our queen (read
SIOE Nederland has enough of this, more than enough and it's time that we all stood together to it make clear that enough is enough.
We won't submit, we won't let them take our freedom away, they will not tell us what to do.
We don't want to live by the rules of islam, in other words Sharia law.
We do have a culture, a culture of tolerance and mutual respect. Nederland is a country founded on freedom. Why should we be forced to give up this hard-earned freedom? Why should we live under the fear of the dhimmis?
Islam is a dangerous ideology which is full of hate and intolerance, hate towards the west, hate towards the non-believers, apostates, Christians, homosexuals and Jews.
We demand our hard-earned our freedom back!
We call for individuals, gay-organisations, human right organisations etc. to come to our demonstration to make a protest together:
* Freedom of speech
* Freedom of expression
* Stop political correctness
* No politically correct dictatorship
* Stop mosque building
* Democracy not theocracy!
* No Sharia here!
* Stop islamisation of the Netherlands, and of Europe
ENOUGH IS ENOUGH!
TOGETHER WE STAND STRONG,
www.Sioe.wordpress.com
SIOE Netherlands Amsterdam
SIOE Nederland is a movement that's proud of our muliculturalism, we are proud that everybody can be who ever he or she wants to be. We are proud that everybody, Native Dutch, immigrants, homosexuals, you name it can live free in Holland. There is just one idiology, called islam, who beat up homosexuals, calling our womean whores for not wearing a headscarf and who are chasing away the Jews from Amsterdam. We, the people will not accept this. Holland is radicalising very fast and politics is doing nothing about it. That's why SIOE Nederland is founded. We are an organization by- and for the common people.
The National American Coptic Assembly in USA support SIOE
TOGETHER WE STAND STRONG
Morris Sadek, Esq. is an Egyptian attorney and a special legal consultant to DC Bar. He is with the National American Coptic Assembly. Contact him at morrissadek@gmail.com.
To Go To Top
WELL, DEAR CANDIDATES, WHICH IS IT? A TACTICAL WAR ON TERROR, OR A GENUINE CLASH OF CIVILIZATIONS?
Posted by Avodah, February 14, 2008.
The article below was written by Dr. Louis Rene Beres. It appeared February 6, 2008 in the Jewish Press In this article, Dr Beres clearly disinguishes between the tactics of war and the underlying causes that have created the conflict.
Louis René Beres is author of many books and articles dealing with terrorism, war and international law. Among these was one of the earliest books on nuclear terrorism (Terrorism and Global Security: The Nuclear Threat, Westview, 1979).
We must ask each Presidential candidate:
What is your understanding of all the implications of the Islamofacist revolution? Are we engaged in an ideological confrontation or simply dealing with individual elements of military strategy?

How do you view the war and how does it impact your foreign policy position?
Contact the Presidential candidates:
Senator Hillary Clinton – Democratic Candidate
Senator Barack Obama – Democratic Candidate
Mike Huckabee – Republican Candidate
Senator John McCain – Republican Candidate
From a national survival standpoint, the candidate debates remain pretty much beside the point. Not a single presidential aspirant has answered (or even attempted to answer) a very important question:
Are we Americans now involved in a merely tactical struggle against particular terror groups and individuals, or are we, instead, embroiled in something much larger? Should we now be focusing on assorted political, military and logistical issues (the effective position, more or less, of all candidates), or upon the much wider religious and cultural context from which our principal terror enemies are spawned?
These questions are politically sensitive, to be sure, but the answers will determine precisely which security measures we should adopt. Here are some preliminary answers: The roots of past and still-impending anti-American terror lie deeply embedded in civilizational hostility, in a partial but widespread Arab/Islamist hatred for Western values and post-Enlightenment modernity. This constructed and codified hatred extends primarily to Judaism, but also to certain parts of Christianity, Hinduism and Buddhism. Although it is true that the greatest portion of Arabs and Muslims strenuously reject terror violence as a means of fulfilling Islamic expectations, the remaining minority portion numbers in the tens of millions. Literally millions of Jihadists are still unhesitatingly prepared to enter "paradise" at a moment's notice. For them, there can be nothing better than an obligatory "martyrdom."
The current "War on Terror" should not be based solely upon the operational eradication of "extremists." This is not a truly military matter. Rather, our war must be founded upon the grim but correct understanding that, for the most part, Arab/Islamist terror is simply the most visible and painful expression of an enraged civilization. Steeped in fundamental hatreds, this fragmented community is not coextensive with the entire Arab/Islamic world, but it does explicitly affirm a perilously primal union between violence and the sacred.
More than anything else, it is this portentous union that now threatens America. Our War on Terror must confront a far-reaching enemy effort to usher in a new Dark Ages. We must wage a genuinely civilizational struggle against a resurgent seventh-century medievalism that seeks to bring fear, paralysis and death to whole legions of "unbelievers." In the next several years, a preferred terrorism tactic in this war is apt to involve chemical, biological or even nuclear weapons – a dire but informed prediction that should be more openly affirmed by all presidential contenders.
Our truest war is not against Osama Bin Laden or even those Arab/Islamic states that nurture and encourage his program for mass murder. Even if Bin Laden and every other identifiably major terrorist were apprehended and prosecuted in authoritative courts of justice, millions of others in the Arab/Islamist world would not cease their planning for an impassioned destruction of "infidels." These millions, like the zealots who destroyed the World Trade Center and attacked the Pentagon, would not intend to do evil. On the contrary, they would mete out death to innocents for the sake of an imagined divine expectation, prodding the killing of Israelis, Americans and certain Europeans with steadfast conviction and pure heart.
Sanctified killers, these millions would generate an incessant search for more "Godless" victims. Though mired in blood, their search would be tranquil and self-assured, born of the altogether certain knowledge that its perpetrators were neither evil nor infamous, but "heroic."
For our current enemies, terrorism is fundamentally an expression of religious sacrifice. For them, violence and the sacred are always inseparable. To understand the rationale and operation of planned terrorism it is first necessary to understand these particular conceptions of the sacred. Then, and only then, will it become clear that most Arab/Islamist terror is, at its core, a distinct manifestation of worship.
All civilizations hope for immortality. Political scientists may prefer to identify global power with guns, battleships and missiles, but the most sought after form of power in this world is always power over death. In essence, Arab/Islamist terrorism is a longstanding form of sacred violence oriented toward the sacrifice of both enemies and martyrs. It is through the presumably indispensable killing of Americans, Jews and many others that the "Holy Warrior" embarked upon Jihad can buy himself free from the unendurable penalty of dying.
It is only through such sacred killing, and not through compromise or diplomacy, that divine will can actually be done.
Forget the so-called "Road Map" or shortsighted plans for durable economic ties with Saudi Arabia. Everywhere in the Arab/Islamic world, America is routinely characterized as a pathology. A recent and very typical article from an Egyptian newspaper speaks characteristically of the U.S. as "the cancer, the malignant wound, in the body of Arabism, for which there is no cure but eradication." Such inflammatory references are more than a vile metaphor. They are profoundly theological descriptions of a despised enemy that must be lanced, cut out, excised. Where this liquidation can be accomplished by self-sacrifice, possibly even terrorism involving weapons of mass destruction, it would be life-affirming for the killers. Naturally, most Arab/Islamic governments and movements would deny this zero-sum, end-of-the-world thinking, but such denials would be dishonest.
The unvarnished truth of the terrorist threat to the United States and the West still remains widely misunderstood. We face suicidal mass killings with unconventional weapons in the future not because there exists a small number of insane terrorist murderers, but because we are embroiled – however unwittingly – in an authentic clash of civilizations. While we all wish it weren't so, wishing will get us nowhere. Our only hope is to acknowledge the relentlessly bitter and primal source of our existential danger, and then proceed to fight the real war on terror from there.
Contact Avodah by email at avodah15@aol.com
To Go To Top
AUSTRALIAN MUSLIM ACTIVIST COMING TO USA, COURTESY GOOGLE INC
Posted by Gabrielle Goldwater, February 14, 2008.
This comes from the Terror Finance website
http://www.terrorfinance.com/.
Mohammed Waleed Kadous, a senior research fellow at the University of NSW,Sydney, Australia in the school of computer science and engineering, has been offered a two-year contract by Google to work in software engineering, reported The Australian in November 2007
(http://www.australianit.news.com.au/story/0,24897,22717435-16123,00.html)
Dr Kadous has dedicated his spare time to civil rights. In 2001 he founded the Australian Muslim Civil Rights Advocacy Network which, in conjunction with the University of Technology, Sydney, released a 2004 booklet ASIO(Australian Security Intelligence Organisation), the Police and You, detailing anti-terror laws. The booklet is essentialy a guide to getting around anti-terror leigislation.
Dr Kadous has told The Australian that civil rights work helped further his career." My volunteer work has improved my ability to communicate ideas, especially under a lot of pressure," he said. " I'm hoping to volunteer for several civil rights groups ... and when I come back to Australia use both the skills I learn from volunteering and from working for Google. Lobby groups in the US have done some amazing work for civil rights."
(http://www.australianit.news.com.au/story/0,24897,22717435-16123,00.html)
He is active in the UNSW Muslim Students Society. In one of his Friday sermons he said:
Now, as far as I can see, these are three of the pillars of Western Society. The problem is that these three are Great Lies.

The First Great Lie is that if a majority of people say something is right, then it is right. This Lie is called democracy...anyone who looks, who reads, who pays attention and applies the Islamic filter – those "green-coloured glasses'' can see that Western Society is falling to pieces. The idea that I said earlier about the three great lies: I'm not the first person to see these problems – Western intellectuals have been discussing the problems for a long time. All three issues are being discussed right now, but it looks like all three are on a downhill slide, and the West doesn't seem to have anything to slow down these society-breaking developments. So we've got to be here to offer them the right alternative, that is Islam. How many more years do you think Western Society will survive before collapsing? 30 years? 40 years? If it's lucky. I'm telling you now, that there is very little doubt in my mind that within our lifetimes, something is going to happen. And we have to be ready to fulfill our Islamic responsibilities when that happens.
Full article at
http://isoc-unsw.org.au/main/index.php?option= com_content&task=view&id=25&Itemid=73


WALEED KADOUS WAS INTERVIEWED on Channel Nine's SUNDAY programme, aired on 16/10/2005.
(http://sunday.ninemsn.com.au/sunday/cover_stories/transcript_1891.asp )

His exchange with reporter Adam Shand:

ADAM SHAND: But there is also ambiguity and political orthodoxy inside the Muslim community on the question of home-grown suicide bombers.

WALEED KADOUS: I'm sure that there are some in the community who are involved in terrorism, but it is important not to exaggerate either the threat or the number. I would – actually, can I retract that. Let me just think of a way to phrase that better. If they do exist – and I'm not sure that they do exist – we only have ASIO's word to say that.

See also the article by Sharon Lapkin at
http://www.frontpagemag.com/Articles

Gabrielle Goldwater lives in Switzerland. Contact her at III44@aol.com

To Go To Top
PALESTINIANS: BIBLICAL HERO JOSEPH 'WAS REALLY A MUSLIM'
Posted by Gabrielle Goldwater, February 14, 2008.
This was written by Aaron Klein, WorldNetDaily's Jerusalem bureau chief. His newly released book is Schmoozing with Terrorists: From Hollywood to the Holy Land, Jihadists Reveal their Global Plans ? to a Jew! Contact him at aklein@worldnetdaily.com
This article is archived at
http://wnd.com/index.php?fa=PAGE.view&pageId=56304
Palestinians make astonishing claim, deny they'll help restore burned tomb
In the wake of an attempt by Palestinians to burn down Joseph's Tomb – Judaism's third holiest site – Palestinian Authority President Mahmoud Abbas' Fatah faction issued a statement denying it will help restore the shrine, referring to both the shrine and the biblical patriarch as "Muslim."
"Pay no attention to the rumors that we will work with Israel to restore the burial site of the holy Muslim Joseph," said the statement, issued from Nablus, the biblical city of Shechem. "We are going to guard this holy Muslim site."
Joseph's Tomb is the believed burial place of the son of Jacob who was sold by his brothers into slavery and later became viceroy of Egypt.
Palestinian security officials in Nablus said Monday they were called to the tomb to find 16 burning tires inside the sacred structure. A Palestinian police official who inspected the site told WND there was some fire damage to the tomb.
He said the Palestinian Authority, fearing embarrassment, immediately formed a joint committee from the PA's Force 17, Preventative Security Services and Palestinian intelligence, to find out who was behind the fire.
The move comes after Prime Minister Ehud Olmert announced last week he would ask Israel's Defense Ministry to work with the PA to reconstruct and restore the tomb, parts of which were destroyed in 2000 by Palestinians, including known PA security officers.
Under the 1993 Oslo Accords, which granted nearby strategic territory to the Palestinians, Joseph's Tomb was supposed to be accessible to Jews and Christians. But following repeated attacks against Jewish worshippers at the holy site by gunmen associated with then-Palestinian Liberation Organization leader Yasser Arafat's militias, then-Prime Minister Ehud Barak in October 2000 ordered an Israeli unilateral retreat from the area.
Within less than an hour of the Israeli retreat, Palestinian rioters overtook Joseph's Tomb and reportedly began to ransack the site. Palestinian mobs reportedly tore apart books, destroying prayer stands and grinding out stone carvings in the Tomb's interior. A Muslim flag was hoisted over the tomb.
Israel first gained control of Nablus and the neighboring site of Joseph's Tomb in the 1967 Six-Day War.
The Oslo Accords signed by Arafat and Prime Minister Yitzhak Rabin called for the area surrounding the tomb site to be placed under Palestinian jurisdiction but allowed for continued Jewish visits to the site and the construction of an Israeli military outpost at the tomb to ensure secure Jewish access.
Following the transfer of control of Nablus and the general area encompassing the tomb to the Palestinians in the early 1990s, there were a series of outbreaks of violence in which Arab rioters and gunmen from Arafat's Fatah militias shot at Jewish worshipers and the tomb's military outpost.
Six Israeli soldiers were killed, and many others, including yeshiva students, were wounded in September 1996 when Palestinian rioters and Fatah gunmen attempted to over take the tomb. Eventually, Israeli soldiers regained control of the site.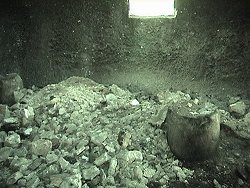 Gravestone at traditional burial site for biblical patriarch Joseph after it was ransacked by Palestinian mobs
The Palestinians continued to attack Joseph's Tomb with regular shootings and the lobbing of firebombs and Molotov cocktails. Security for Jews at the site increasingly became more difficult to maintain. Rumors circulated in 2000 that Barak would evacuate the Israeli military outpost and give the tomb to Arafat as a "peacemaking gesture."
In early 2000, the Israeli army began denying Jewish visits to the tomb on certain days due to prospects of Arab violence. Following U.S.-mediated peace talks at Camp David in September 2000, Arafat returned to the West Bank and initiated his intifada. During one bloody week in October 2000, Fatah gunmen attacked the tomb repeatedly, killing two and injuring dozens, prompting Barak to order a complete evacuation of Judaism's third holiest site Oct. 6.
Gabrielle Goldwater lives in Switzerland. Contact her at III44@aol.com
To Go To Top
LEON: RACISM CONFERENCE MAY TURN INTO A 'HATE FEST'
Posted by Maurice Ostroff, February 14, 2008.
This is from today's Johannesburg Mail and Guardian
http://www.mg.co.za/articlePage.aspx?articleid=332195&area= /breaking_news/breaking_news__national/. It was written by Michael Hamlyn, Cape Town, South Africa.
Former leader of the Democratic Alliance Tony Leon, who now speaks for the party on foreign affairs, has launched a scathing attack on South Africa's plan to host a second World Conference against Racism in Durban next year.
Leon told a meeting of the Women's International Zionist Organisation in Cape Town on Wednesday that last Friday President Thabo Mbeki announced that Durban would be the site for a review conference to evaluate the implementation of the decisions of the World Conference against Racism held there in 2001.
"Quite what good will come of this exercise remains open to serious question," Leon said.
He told the Zionists that Canada, one of the countries most supportive of human rights, announced that it would boycott the Durban 2009 conference, saying it would likely "degenerate into expressions of intolerance and anti-Semitism".
Canada has already concluded that "2009 Durban" will not remedy the mistakes of the past, but on the basis of its preparatory committee will simply see a ramping-up of the 2001 conference.
"You will recall at the original 2001 Durban conference [that] the American and Israeli delegation stormed out, citing anti-Semitic attacks outside the official meeting, which included the leaflets saying, 'Hitler should have finished his job'," Leon said. "You will recall that at that conference, it was Israel that was singled out almost alone among the human rights violators of the world."
He said that the preparatory committee for the conference is chaired by Libya, and its members include Iran, Pakistan and Cuba.
The United States voted against a United Nations resolution concerning the conference, and the 27 European Union countries have also expressed profound reservations about the fact that some of the most rights-delinquent countries in the world will sit in judgement on how the other states implement anti-racism measures.
It appears likely, Leon suggested, that many other Western nations will soon follow Canada's lead.
"The question then arises how South Africa hopes to steer the conference in a direction of balance and probity, rather than leading it to degenerate again into a hate fest of intolerance and imprudence."
He added that the South African taxpayer forked out R100-million for the last World Conference against Racism. "The results have been dismal and in terms of the advancement of the real fight against racism, almost non-existent."
He asked: "Are we again going to witness, host and pay for a slanted, sectional and sectarian conference, or will we use our best endeavours and our foreign policy credentials to steer it in the right direction?" – I-Net Bridge
Contact Maurice Ostroff at maurice@trendline.co.il
To Go To Top
CINDY AND THE ISLAMISTS
Posted by Gary Bauer, February 14, 2008.
Cindy And The Islamists
Late yesterday afternoon, the Associated Press ran a story that immediately caught my attention. Anti-war radical Cindy Sheehan has taken her demonstration road show overseas once again. You may recall that she previously cavorted with Venezuela's anti-American dictator Hugo Chavez. Now, she is evidently in Cairo, Egypt. I'm sure she will find time to see the sights, like the Great Pyramid of Giza, but the purpose of her trip was to demonstrate her solidarity with Islamic extremists.
According to the Associated Press report, Sheehan joined "50 heavily veiled wives and children of 40 senior members of the Muslim Brotherhood" to protest outside of the office of Egypt's first lady, Suzanne Mubarak. Sheehan told reporters, "I am here to protest the trial of civilians in front of a military tribunal as this is a violation to international law. As a mother of a son who was killed in the war, I presented a letter to Ms. Suzanne Mubarak to realize how those women and children are suffering."
I really want to be sympathetic to the mother of one of our soldiers who gave his life for our country. Out of Christian charity, I will assume that there is some terrible psychosis at work here, something akin to the Stockholm Syndrome.
But for those who don't know, the Muslim Brotherhood is a terrorist front group that one expert described as the "parent organization of Hamas and Al Qaeda." The Egyptian government has been fighting the Muslim Brotherhood since the 1940s and officially banned the organization in 1954.
It has, however, in recent years made a comeback as a political party, but its agenda has not changed. Instead of taking power by force, it now tries to subvert the political process to achieve the same goal: the imposition of an Islamic state in an Egypt ruled by Sharia law. Among its members was Khalid Shaikh Mohammed, the al Qaeda terrorist who orchestrated the atrocities of September 11th.
That Cindy Sheehan would protest in support of the Muslim Brotherhood is unconscionable. The Muslim Brotherhood is indistinguishable from the thugs who attacked us on September 11th and those who killed her own son. Her common sense has been utterly consumed by her grief, and her actions now border on sedition.
Speaking Of Common Sense
The following blog entry appeared yesterday on the "Best of the Web" section of OpinionJournal.com. It provides additional information on the horrific bombing in Baghdad recently that involved two mentally disabled women, and it makes a point I believe is worth repeating.
Too Evil for Words
From London's Times:
The acting director of a Baghdad psychiatric hospital has been arrested on suspicion of supplying al-Qaeda in Iraq with the mentally impaired women that it used to blow up two crowded animal markets in the city on February 1, killing about 100 people.
Iraqi security forces and US soldiers arrested the man at al-Rashad hospital in east Baghdad on Sunday. They then spent three hours searching his office and removing records. Sources told The Times that the two women bombers had been treated at the hospital in the past.
"They [the security forces] arrested the acting director, accusing him of working with al-Qaeda and recruiting mentally ill women and using them in suicide bombing operations," a hospital official said.
Read that again: The head of a mental hospital (allegedly) provided women under his care to al Qaeda to use as human bombs, for the purpose of murdering as many innocent people as possible. We are at a loss for words to characterize the depth of this evil.
Yet, Big Media and radical leftwing activists continue to denounce America rather than our enemies, who have told us repeatedly that they love death more than we love life. This enemy has no respect for "diplomacy," and will not stop until it is crushed on the field of battle.
Gary Bauer is also the president of American Values. Contact him at gary.bauer@mail.amvalues.org
To Go To Top
CODDLING ISLAMISTS
Posted by Gabrielle Goldwater, February 14, 2008.
This was written by Winfield Myers and appeared today in Front Page Magazine
http://www.meforum.org/article/1853. Winfield Myers is Director of Campus Watch, a project of the Middle East Forum.
The U.S. Department of State has awarded a grant worth $494,368 to University of Delaware political scientist, Brookings Institution fellow, and Pentagon consultant Muqtedar Khan, who last fall objected to serving on a panel with a veteran of the Israeli Defense Forces. According to a UD press release, the grant is to be used, "to initiate a dialogue on religion and politics between key members of religious and community organizations in the Middle East and the United States."
The press release continued:
Under the grant, participants from Egypt and Saudi Arabia will be on campus this summer for a brief period before traveling to other locations, including New York City, Chicago, Los Angeles and Washington, D.C. Later a group of American scholars will travel to Egypt and Saudi Arabia to take part in similar activities in those countries. A documentary film is planned of the visit to the U.S.
The choice of Khan to oversee a program dedicated to expanding dialogue between religious communities is beyond parody, as Khan himself has a record of thwarting dialogue, at least with Israeli veterans. Moreover, his award is part of a larger pattern of coddling Islamists within the bureaucracies of the State Department and Pentagon.
Last October 23, Khan objected to the presence of IDF veteran and Campus Watch associate fellow Asaf Romirowsky on an academic panel at UD. Organized by students to discuss "Anti-Americanism in the Middle East," the panel was set to go when Khan – writing from Washington, DC, where he had delivered a workshop at the Pentagon – sent the following email to undergraduate Lara Rausch, one of the key organizers of the event:
Laura, I have to speak at the Pentagon tomorrow. My workshop is from 12-4. I hope to catch the 5 pm Acela from DC and will be back in town by 7 pm. I will come directly, but may be late. I am also not sure how I feel about being on the same panel with an Israeli soldier who was stationed in West Bank. Some people see IDF as an occupying force in the West Bank. I am not sure that I will be comfortable occupying the same space with him. It is not fair to spring this surprise on me at the last moment.
Romirowsky, contacted via email, was asked what he thought of the State Department's action of singling out Khan for a substantial award to encourage dialogue, was taken aback.
"I seriously question the type of dialogue this will promote given the fact that he wouldn't share space with me on an academic panel," Romirowsky replied.
"Dialogue is good if you have something to dialogue about – starting with accepting the others' right to exist," he continued. "Yet, by not sitting on a panel with me due to my IDF service, he basically questioned Israel's right to exist within safe and secure borders."
"That itself should throw into question the integrity of any dialogue he might initiate."
In the two months following the story's October debut, Khan offered no fewer than three additional explanations for why he acted as he did. I documented these in December, and concluded that the reasons he gave in the October 23 email above rang truest: IDF vets are off-limits on panels in which he participates. The other excuses were little more than a smokescreen, set off in a vain attempt to reduce the embarrassment his intolerance had brought to himself and the University.
Khan's large grant from the State Department, coupled with his role as a Pentagon advisor, further exposes a troubling trend within those federal departments of coddling Islamists and turning a blind eye toward intolerance.
Hesham Islam, special assistant for international affairs in the office of Deputy Secretary of Defense Gordon England, has made news lately for allegedly calling Joint Chief analyst on counterterrorism Major Stephen Coughlin, who also reported to England, a "Christian zealot with a pen" and pressing for his removal.
Coughlin is widely celebrated as one of a small number of Pentagon analysts who are consistently tough on Islamism – a stance that has made enemies within the Defense bureaucracy. His thesis from the National Defense Intelligence College, titled "'To Our Great Detriment': Ignoring What Extremists Say about Jihad," is celebrated by terrorism experts as a clear-sighted warning that too few in Washington care to heed.
Although the Pentagon took Hesham Islam's biography off its web site, stories of his fate, along with that of Coughlin, are mixed. Rep. Sue Myrick (R-NC), who investigated the matter, wrote on February 5 that Coughlin told her there was never a conspiracy to remove him from his job. Some reports claim that Islam himself is on his way out, but Claudia Rosette, who investigated the matter closely, says on her blog that a call to the Pentagon produced a denial of that story. Steven Emerson has detailed Islam's past relationships with Islamists.
One thing, however, is certain: by entrusting Middle East studies specialists such as Muqtedar Khan with huge grants to bring Saudis and Egyptians to America, the State Department and Pentagon are remaining true to form. From former Undersecretary of State for Public Diplomacy Karen Hughes's stated fondness for the works of Wahhabi apologist John Esposito – a man who shares Hesham Islam's predilection for Christian-bashing – to Khan's previous work for the Pentagon, our federal departments entrusted with protecting America from Islamists are in fact employing them.
Gabrielle Goldwater lives in Switzerland. Contact her at III44@aol.com
The original article has live links to additional material.
To Go To Top
FROM ISRAEL: ISSUES COMING CLEAR
Posted by Arlene Kushner, February 14, 2008.
It's a balagan (a confused situation) and could make you crazy if you try to make sense out of what you read in the press:
-- Olmert has denied that Jerusalem is being discussed in negotiations; Qurei doesn't set the agenda for talks, he insists.

-- Shas, which is eager to remain in the government, has accepted this denial, and is staying "for now." The charade of staying in a government that wants to divide Jerusalem eventually, even if (a big if) perhaps it is not doing so at the moment, is breathtaking.

-- Nir Barkat, a member of the Jerusalem City Council, says that he has evidence from "secret sources" that in secret meetings Israel and the PA have already agreed on dividing Jerusalem. Livni, he says, knows about this secret channel and thus is complicit. In correspondence with Livni, Barkat has written that ""I would like to remind you that if this is true, it constitutes a complete deviation from Kadima's basic principles, a blatant violation of Basic Law: Jerusalem, a breach of the voter's trust and an undermining of the Knesset's sovereignty."
~~~~~~~~~~
And so, I have now gone to my own very knowledgeable "secret source," who is happy to share information with me provided that his name is not used. Some of what he says many of you will already have intuited or understood from various public sources; what he does is provide confirmation. But he also offers details, perspective, and additional information that is likely to be new to most.
There are, says my source, three channels of negotiations:
First there is the Ehud Olmert-Mahmoud Abbas channel. They are establishing basic principles only and not dealing with details. They do not write anything down, they simply talk. And thus they have deniability. There is no question that they have discussed Jerusalem and have agreed in principle that it will be shared. Abbas makes no compromises; in all instances where agreement is reached, it is because Olmert has acceded to a PA demand.
Then there are the day-to-day negotiations of teams headed by Israeli Foreign Minister Tzipi Livni and Ahmed Qurei, former PA prime minister. These negotiations involve written notes and so both sides are fearful of committing themselves prematurely. For this reason, there has been no progress on major issues; it is with regard to this level that it is said that talks are frozen. The teams are restricting themselves to discussing "pragmatics." As far as Jerusalem is concerned, they are talking about such matters as building in various neighborhoods and the possibility of re-opening Orient House. But my observation is that as much as this is called "pragmatic" it is ultimately political: To give Fatah a presence in Jerusalem, for example, is to concede that part of Jerusalem will belong to Fatah.
~~~~~~~~~~
Finally, there is the back-channel, which is what Barkat was alluding to (and he has details correct). It is also what Palestinians I've cited in recent days were referring to: on the table and under the table, open and secret meetings, etc.
The person representing Israel in these meetings is Deputy Premier Haim Ramon. He began these meetings in Rome, shortly after Fatah lost Gaza. At that time he met with Salam Fayyad, who was named PA prime minister when Abbas reconstituted his government after the Gaza rout. But the Fatah powers objected to this, because Fayyad was willing to make some compromises and they want NO compromises. What sort of compromises was Fayyad willing to consider? Maybe half a million refugees returned to Israel instead of all four million. Maybe the PA would get all of eastern Jerusalem except for the Kotel, which would remain Israeli. Fayyad was not powerful enough to withstand Fatah objections.
And so now strong man Mohammad Rashid is negotiating with Ramon.
~~~~~~~~~~
Rashid was a trusted confident of Arafat and was deeply involved in financial shenanigans of the PA (as was Qurei, incidentally). And Rashid and Ramon are business partners. What is more, Haim Ramon has a direct connection with South African/Austrian multi-millionaire businessman Martin Schlaff, who is shoulder-deep in issues of corruption in this country. Or, as Gidi Weitz and Uri Blau describe him in Haaretz in a recent major expose on these issues, Schlaff plays "the role of the omnipotent Jewish gvir [patron] who wants to manage the affairs of the Middle Eastern shtetl."
http://www.haaretz.com/hasen/pages/ShArt.jhtml?itemNo= 948291&contrassID=2&subContrassID=14
Anyone familiar with the investigations of Ariel Sharon will know the name Schlaff. More recently there are corruption investigations involving Schlaff with Olmert and Lieberman. Schlaff won't set foot in Israel now, for fear of being immediately arrested. For a summary of this, far briefer than the very extensive Haaretz article, see:
http://www.israelnationalnews.com/News/News.aspx/125032.
~~~~~~~~~~
My source tells me that whatever Ramon and Rashid might come up with in terms of an agreement will not be accepted by the PA because of the intransigence of Fatah with regard to any compromises. Remember that Farouk Kadoumi, who was opposed totally to Oslo, has huge influence on the Central Committee of Fatah.
And from our side, dear Heaven, do we need to clean house!
Contact Arlene Kushner at akushner@netvision.net.il and visit her website: www.ArlenefromIsrael.info
To Go To Top
WINDOW OF OPPORTUNITY FOR HEBRON
Posted by Hebron Jewish Community, February 14, 2008.
This was written by Yossi Baumol, executive director of the Hebron Fund.
The Israeli government's siege of 20 young families living in Hebron's Beit HaShalom cracked for the first time recently. Shas minister Eli Yishai, struggling to justify his continued participation in a morally bankrupt government, pressured Defense Minister Ehud Barak, who then gave the Military Appeals Court its marching orders. Shamelessly, the court "suddenly" perceived the drastic humanitarian needs of the residents and allowed them to install windows in the unfinished building.
No less brazen was the behavior of Winograd Commission member Prof. Yechezkel Dror, who unabashedly explained that the commission's rulings were formulated on the premise that support "of a prime minister who would further the peace process was a decisive factor."
What a waste of time and money. Instead of the two heavy volumes published by the Winograd Commission, all we had to do was quote Olmert's almost prophetic words at the Israel Policy Forum Tribute Dinner in June 2005 – more than a year before the Second Lebanese War: "We are tired of fighting, we are tired of being courageous, we are tired of winning, we are tired of defeating our enemies!"
Who can expect to win a war with such leadership?
A leader like George W. Bush speaks differently: "The spirit of our people is the source of America's strength, and we go forward with trust in that spirit, confidence in our purpose and faith in a loving God who made us to be free."
Every nation in the world knows this. After all, was it a Jewish settler who said, "Give me liberty or give me death"? Or how about: "I regret I have but one life to give for my country"? Only one nation forgot this lesson – a nation that lost its land and independence almost 2,000 years ago, and after 60 years of renewed independence still hasn't figured it out.
The Jews of Hebron are neither tired of fighting nor tired of being courageous. As a non-Jewish visitor once told us: "Don't worry – we read the end of the book already and you guys win!" We know that in the end we will win, because we know the secret of Jewish power and deterrence.
"When the nations of the world shall see that the name of God is upon you, then shall they fear you" (Devarim 28). No nation can win when it acts against its own self-interest, when it denies its own heritage, when it undermines its own self-confidence – when it tortures and punishes its own true heroes who defend its borders the way the men, women and children of Beit HaShalom suffered the court's "freeze order" in the most cruel, literal sense possible.
In a recent talk I gave at a New York-area elementary school, a young girl asked me, "What is more important – Jerusalem or Hebron?" I told her that I had a unique perspective on this question.
For the past 25 years I have been living in Efrat, halfway between the two holy cities. For the past 25 years I have dedicated my life to these two holy cities – first as director of Talmud Torah Hebron, then as director of Yeshivat Ateret Cohanim when it was part of the Jerusalem Reclamation Project, and back again in Hebron again as executive director of the Hebron Fund.
We must understand our role as Jews if we are to understand the role of these two cities. Our mission statement, as Hashem told Abraham in Parshat Lech Lecha, has two parts: 1) I will make you a great nation; 2) Through you shall all the families of the earth be blessed.
Jerusalem is the second stage, where someday all the nations of the world will receive their sustenance through our rebuilt Temple. Hebron is the first stage – the place where we learn to become a great nation.
The Torah is split into two parts. The second part of the Torah, from Parshat Bo onward, is filled with commandments and laws, mysticism and miracles, a story defined by divine choice and coercion. This part of the Torah corresponds to Jerusalem. The first third of the Torah barely has any commandments, describes no miracles. It is the story of a small group of heroic people whose belief in God transforms them from a small family into a great nation. Their struggle is a natural one, a physical one, where commerce, agriculture, war and overcoming adversity play an important part. This saga takes place mainly in Hebron.
The redemption of the Jewish people also comes in two stages: The second stage, the spiritual redemption called Mashiach Ben David, is symbolized by Jerusalem. The first stage, the physical redemption, called Mashiach Ben Yosef, is more connected to Hebron.
Traditionally there are two spots on earth that are the gateways to heaven. Adam's soul came down from the heavens to Jerusalem and his body was formed by God from the earth of the Foundation Stone on the Temple Mount in Jerusalem. He returned his soul to his maker and was interred in Hebron at the Gates of Eden.
When we talk to God, when we pray, the Zohar tells us our words ascend up to the heavens through the Machpela Cave in Hebron. When we listen for God's answer by learning Torah, his answer comes from Jerusalem – "For from Zion does the Torah go forth and the word of God from Jerusalem."
So the answer is simple. Like our e-mail programs, Heaven has an outbox and an inbox. Hebron is the outbox, corresponding to the first part of the Torah, where we express our human choice and human endeavor, where our prayers go up, where, after a lifetime of toil, our souls ascend to Paradise.
Jerusalem is the inbox, where the answers come from – "You will be blessed from Zion and see the good of Jerusalem."
Someday, hopefully soon, we will enter the days of Jerusalem. The splendor of God will be so apparent that our free choice will be taken from us. In the meantime we are in the days of Hebron, the days of proactive human choice and initiative – but the window of opportunity may be closing soon.
Many of us dedicate this valuable time to politics, complaining about our leaders and saying, "If only Bibi/Eitam/Feiglin were in power." We seem to forget that we actually won several recent elections – somehow, though, the fruits of those victories were stolen from us again and again.
Our rabbis tell us, "The hearts of ministers are in the hand of God." They have no free will. They are on autopilot, playing a veiled role in God's cryptic plan.
When will we understand that it is all up to us? That with such brave, steadfast representatives as the Jews of Hebron, we could accomplish so much if we only stood with them?
Each and every one of you should make it your business to stand with them. Visit Hebron. Support Hebron. Please go to www.hebronfund.com to see how you can help right now.
You can contribute directly to The Jewish Community of Hebron, POB10, Kiryat Arba-Hebron 90100, hebron@hebron.org.il, 972-2-9965333 or write to The Hebron Fund, 1760 Ocean Ave., Brooklyn, NY 11230, hebronfund@aol.com
To Go To Top
IS SELF-DEFENSE INHUMANE?; THE PUNDITS MISS THE POINT
Posted by Richard H. Shulman, February 14, 2008.
STILL THINK THERE ISN'T A DOUBLE STANDARD?
"The latest anti-Semitism is also now mouthed by world leaders and sophisticated politicians and academics. Their loathing often masquerades as 'anti-Zionism' or 'legitimate' criticism of Israel. But the venom exclusively reserved for the Jewish state betrays existential hatred."
"Israel is always lambasted for entering homes in the West Bank to look for Hamas terrorists and using too much force. But last week the world snoozed when the Lebanese army bombarded and then crushed the Nahr al-Bared refugee camp, which harbored Islamic terrorists."
"The world has long objected to Jewish settlers buying up land in the West Bank. Yet Hezbollah, flush with Iranian money, is now purchasing large tracts in southern Lebanon for military purposes and purging them of non-Shi'ites." The Jews once again are the scapegoats.
"'That our State Department is at the mercy of a Jewish lobby' is the theme of Mearsheimer-Walt book...". Yet when the United States bombed European and Christian Serbia to help Balkan Muslims, few critics claimed American Muslims had unduly swayed President Clinton. And charges of improper ethnic influence are rarely used to explain the billions in American aid given to non-democratic Egypt, Jordan or the Palestinians, or the Saudi oil money that pours into U.S. universities. The world...seems to care little about the principle of so-called occupied land, whether in Cyprus or Tibet, unless Israel is the accused. Mass-murdering in Cambodia, the Congo, Rwanda and Darfur has earned far fewer United Nations' resolutions of condemnation than supposed atrocities committed by Israel. A number of British academics are sponsoring a boycott of Israeli scholars but leave alone those from autocratic Iran, China and Cuba."
Some critics of Israel are motivated by anti-Americanism, perceiving the US as an ally of Israel. (Israel is an ally of the US, but the US undermines Israel.) It's safer to criticize Israel than to criticize Muslims, who reply with assassins (Victor Davis Hanson in Prof. Steven Plaut, 9/18).
IS SELF-DEFENSE INHUMANE?
An Israeli decision to cut off electricity from Gaza is said to make Gazans turn to terrorism. As if then they would start "firing Kassams at Sderot? ... It's insane. From the moment we ran away from Gaza, the Palestinians (Muslims) stubbornly insist on trying to fire rockets at the electricity plant that supplies them with electricity – while we announced that no matter what they did, we would continue to give them electricity." "Never...has...a country supplied electricity, bought produce and supplied work to its enemies during a war."
POINTLESS NEGOTIATIONS
A thoughtful analysis by Shlomo Brom of The Institute for National Security Studies in INSSIGHT September 17, 2007, No. 30, like all the others, misses the point of the negotiations between the P.A. and Israel, as the US and other vultures circle for a piece of the action.
INSSight is shallow. Limited to superficial aspects, it implies that the point is whether the two sides can reach agreement. It doesn't even define the sides properly. The sides are not Israel and the P.A., as it thinks, but includes the Zionists, which excludes the Israeli government and has no official spokesmen, and the anti-Zionists, which includes the the Israeli government, jihadists.
The difficulties of negotiating with people whom one is suspicious of are considered. That is as far as the thoughtfulness goes. Omitted is that this whole process is a charade. All the official diplomacy is an exercise in finding some verbal formula, under perhaps temporarily calmer circumstances but perhaps not, so that the parties to the negotiation can seem to compromise or make peace but save face. For the Arabs to save face, their purported compromise must be vague and easily broken. For Israel and the US to save face, Israeli concessions must not be seen as a descent into its demise. That takes deceit.
The real purpose of the exercise is to undermine Israel so it cannot defend itself. That has been the State Dept. goal from the outset of Jewish sovereignty. The Israeli government is run by corrupt politicians hating Judaism, doing the bidding of agents of the US and Europe, and imagining that they can appease the Muslims, and by politicians having an irrational ideology that concessions automatically bring peace.
Concessions to unscrupulous totalitarians of ill will bring war.
Nobody still asks, why give the Palestinian Muslims more sovereignty, when their doctrine is that that would be the springboard for more successful jihad? Why reward their terrorism? Why at the expense of the Jewish homeland? Why not try to destroy their power, instead?
"HOSTILE" & "FRIENDLY" ENTITIES
Israel declared Gaza a hostile entity and the other part of the P.A. a friendly entity. Friendly? Its whole culture, including its media, schools, camps, mosques, and militias promulgate bigoted terrorism against Jews and Americans. No wonder they attempt terrorism daily! Abbas, to whom Israeli leaders wish to make concessions, controls some of those agencies. Friendly?
Richard Shulman is a veteran defender of Israel on several web-based forums. His comments and analyses appear often on Think-Israel. He provides cool information and right-on-target overviews. He distributes his essays by email. To subscribe, write him at richardshulman5@aol.com
To Go To Top
NO JUSTIFICATION FOR SHAS TO REMAIN IN THE GOVERNMENT
Posted by Manhigut Yehudit, February 14, 2008.
The Shas party of Israel has stated publicly that it will leave ruling government coalition should Prime Minister Olmert make any concessions to the Arabs about the status of Jerusalem. Should Shas leave Olmert's government, this action very well could take down the coalition, bring about new elections and end the ongoing "peace process" charade.
In Israel, though, things are not always as they seem.
Israeli Prime Minister Ehud Olmert has assured Shas that Jerusalem will not be discussed until the end of the negotiations. Olmert is using the loophole that Shas handed to him to enable him to further his concessions to the Arab enemy which will be suicidal for Israel.
It appears that Shas is willing to sit in the Olmert government until G-D forbid it is too late, just as Bibi Netanyahu sat in the Sharon government until it was too late to save Gush Katif and northern Samaria It is clear to all observers that Sharon's Expulsion has been a disaster for Israel on all levels.
Netanyahu voted in favor of Sharon's "Disengagement" plan in the Knesset. He constantly threatened to resign his post which probably would have ended all chances of Sharon being able to achieve the necessary approvals. In a crass political maneuver, Netanyahu finally resigned his post one week prior to the plan's implementation – after it was already too late to stop the plan by legal means.
Manhigut Yehudit would like to make it clear to Shas that by keeping Olmert in power, they share in the responsibility for the harm that the government is causing and for the coming Jewish bloodshed due to this government which makes decisions without Jewish values.
Shas has had every opportunity to leave this coalition. Why do they remain?
The Labor party's chairman, Ehud Barak, just reneged on a promise to pull Labor out of the coalition after the issuance of the Winograd report on the 2006 Lebanon War. Why does Labor remain?
Moshe Feiglin, head of the Manhigut Yehudit faction in Likud stated that he suspects that "the deal was closed with Shas and the Labor party before [Yisrael Beiteinu] was forced out of the government. Shas received its hush money and the Labor party got the war against the [settlements], creating more pressure on Barak to stay in the government. That suits him well, because he prefers to stay. When all the elites want the government to remain in power, that is exactly what will happen."
Moshe Feiglin says he can see no justification for the actions of the Shas party, but hopes that its voters will draw the correct conclusions. "Our goal," he said, "is to create a Jewish leadership alternative for the Nation of Israel so that all the people disenchanted from their previous political allegiances will have a political home on election day."
Feiglin added that it is time for the Religious Zionist camp to lead the country. "When we flee the call to lead, neither Shas nor the conventional Likud politicians will lead as we see fit. No matter who wins, the Left's policies will continue to rule. It is our obligation to lead Israel with fear of Heaven in our hearts."
Manhigut Yehudit officials point out that the practice of courting religious parties – like Shas – with major financial incentives and promises in exchange for supporting policies that endanger all Jews is tantamount to bribery by those offering the incentives, and at best, an error in judgment on the part of those who accept them. It comes as no shock that those who brought about and/or continued the suicidal Oslo Accords would employ such methods.
Much more problematic is the acceptance by religious parties of "benefits and protexia" from the above mentioned sources. The land-for-peace formula has proven to have cost in Jewish blood. The direct correlation between the amount of land that Israel cedes and the amount of Jews who are murdered is a fact that can not and must not be ignored by any of us.
The Torah is clear about Israel's Biblical borders. Therefore it is a matter of pikuah nefesh (saving a life) NOT to use our Land as a bargaining chip.
How will the leaders of Shas explain to the future grieving mothers that it was worthwhile to take this money from Olmert?
Manhigut Yehudit (Jewish Leadership) is a group of people inside the Likud party who want to see Israel adopt a more Jewish character. Moshe Feiglin, its cofounder, has emphatically said he does not want a theocracy, but he does want a State based on Jewish values. The Manhigut Yehudit website address is http://www.manhigut.org. To learn more about Manhigut Yehudit (Jewish Leadership) and to read their plan for Israel's future, visit www.jewishisrael.org. Or contact Shmuel Sackett, International Director (516) 330-4922 (cell)
To Go To Top
RAMADAN'S STONE LOVE
Posted by Gabrielle Goldwater, February 13, 2008.
This was written by R. John Matthies and it appeared today in Front page Magazine and is archived at http://www.meforum.org/article/1852.
If the practice of stoning (lapidation) exists across the Islamic world – most visibly in Afghanistan, Iran, Nigeria, Sudan, and the United Arab Emirates – it speaks much to Western forbearance that this same penalty, though reviled, can make the fortune of one who commends the practice. Consider the case of Hani Ramadan and the state of Geneva.
Hani Ramadan – director of the Islamic Center of Geneva (CIG), grandson to Muslim Brotherhood founder Hassan al-Banna, and brother to Islamist superstar Tariq Ramadan – was dismissed from a public teaching post in suburban Geneva in 2003 for publishing a defense of stoning in France's Le Monde. (Brother Tariq, who sought to distance himself from his brother on this point, lamely proposed a "moratorium" on the practice.)
This was not his first brush with the teaching establishment and the civil authorities: Ramadan's colleagues blasted him for tasteless remarks on the place of women in 1996 and 1998; and Hani and brother both were refused passage to France for alleged ties to terror groups (in 1997 and 1996, respectively; Hani was also denied an Egyptian visa in 1999).
But the most recent affaire Ramadan began in the Fall of 2002, when the teacher drafted an opinion editorial on stoning, punitive amputation, and AIDS for the September Bulletin (posted to and since removed from the Islamic Center's website) of the Committee for Respect of Muslim Rights (CRDM).
In it the author (1) claims "the punishment fits the crime: the severed hand for theft, stoning for illicit pleasure. This represents not only retribution, but a form of purification" and deterrence; (2) he demonstrates an odd compassion, writing: "While it's true that stoning is a difficult spectacle [...], reports reveal that the condemned is not long to suffer: the hail of stones dispatches the individual in the space of several seconds"; (3) and finally, he admits that while AIDS is certainly spread through transfusions of contaminated blood, "only those guilty of deviant comportment expose themselves to contagion."
Also curious were his assertions that "the penalties that govern theft and adultery may only find application in a society respectful of Islamic practice and principle." For example, he writes: "It is forbidden to remove the thief's hand in a state that does not deliver [...] the means to lead a dignified existence."
An abridged version of the same document appeared shortly thereafter in France's Le Monde (edition dated September 10, 2002), under the title La charia incomprise, or "Misinterpreting Shari'a."
The saga continues as follows:
* October 11, 2002: Geneva's Department of Public Instruction (DIP) suspends Ramadan. The following day, in a reply to researcher Albert Levy (which Le Monde refused to publish) Ramadan asserts that real democracy "will never thrive under Islamic skies."

* February 5, 2003: Ramadan is terminated for reason that his role as Islamic Center chief and statements are "incompatible" and "clearly at odds" with the mission of public education.

* March 15, 2004: An administrative tribunal orders the state to return Ramadan to his post. The state refuses, but offers Ramadan any number of jobs away from children, which Ramadan refuses.

* April 4, 2004: Ramadan again commends stoning, in Geneva's Matin Dimanche: "I'll say it again, that [stoning] concerns not only females, but adulterous males, as well; this should refute the feminist case against me." A new investigation is launched April 8. * May 2005: The courts again demand the State to return Ramadan to his post. Geneva ignores the request, but agrees to disburse his regular salary ($9,700 per month in today's dollars) to cover the period of his inactivity, and throughout the foreseeable future.

* January 16, 2008: Ramadan agrees to abandon his wish for reappointment, in exchange for two years' salary, or about $230,000.
Geneva admits it made the largest allowable payout, for reason that the state was eager to close the case on "Mr. Stoning." And to sweeten the pot, Geneva further agreed to reimburse his legal costs, of $80,000. Add to this five years' wages, of $633,000, and one describes a settlement of some $1 million. News of Ramadan's reward caused Geneva's Matin to gush: "it pays to praise stoning."
Such are the spoils of "lawfare" (legal wrangling designed to punish opinion). And such are the goals of lawful (or non-violent) radical Islam: to hinder efforts to query the faith, and establish a regime wherein nothing "Islamic" is subject to censure.
The city of Geneva offers guests the spectacle of the Reformation Wall, constructed a century ago. Here one reads the phrase that sings Geneva, the Reformation, and the confidence of the age: Post Tenebras Lux, "After Darkness, Light." It may well be that Ramadan's guiding phrase, as published in a clarifying remark, instead reads: "Human Rights are relative to culture." A phrase that speaks both the diversity we prize and the censure we reject – and testifies to the squishiness of our time.
A wise man remarked: "If all values are relative, then cannibalism is a matter of taste." Another dish, like Ramadan's, we'd do well to return to the kitchen.
Gabrielle Goldwater lives in Switzerland. Contact her at III44@aol.com
To Go To Top
PEACE NOW LOSES REGISTRAR'S APPROVAL
Posted by Arieh King, February 13, 2008.
This was written by Dan Izenberg, and it appeared 2 days ago in the Jerusalem Post
www.jpost.com/servlet/Satellite?cid=1202742130570&pagename= JPost%2FJPArticle%2FShowFull
The Registrar of Nonprofit Organizations has decided to withdraw the certificate of proper administration from the organization that provides funding for Peace Now, a Justice Ministry official said Monday.
According to the official, the registrar, Yaron Keidar, recently conducted an in-depth examination of the nonprofit organization, known as Sha'al Educational Enterprises.
The official added that Keidar found several problems involving the organization. The most serious was the fact that the aims of the organization, as it defined them, did not tally with the activities of Peace Now, which is a political-ideological activist movement calling for a two-state solution along the 1967 Green Line boundaries. This is problematic, as it may lead to misrepresentation regarding what the money of Sha'al's donors would be used for.
The official added that unless Sha'al Educational Enterprises corrects the faults that Keidar discovered in his investigation, the organization would be dismantled.
Peace Now Director-General Yariv Oppenheimer told The Jerusalem Post in response to the report that "we have been operating for 30 years under these arrangements, and no one has ever found fault until now. Everything is transparent and nothing has changed. It seems that someone in the registrar's office, for political reasons, has decided to cause us harm. I hope the matter will be resolved quickly."
It is possible that the investigation of Peace Now by the registrar was sparked by a petition filed in November by Aryeh King, a member of the Moledet Party and head of the self-styled Office for Public Complaints Regarding East Jerusalem.
In his petition, King demanded that the High Court cancel petitions filed by Peace Now because the movement is not a legal entity. The petitions he referred to call for dismantling the illegal outposts of Migron, Hayovel and Haresha.
King wrote in the petition that "Peace Now is a brand name used by the public and the media. It is not now, and never was, a legal entity. As a result, it should never have been allowed to have its day in court. It should furthermore be clarified that distinct from Peace Now, there is a registered nonprofit organization called 'Sha'al Educational Enterprises.'"
King charged that in the petition, Peace Now identified itself as "Peace Now – Sha'al Educational Enterprises," an entity that does not exist. He said Peace Now used that name to cover up the fact that it did not have the right to petition the court.
In its response to King's petition, Peace Now said it had added its own name to that of Sha'al so that everyone would know who was behind the petitions regarding the illegal outposts, as the name Peace Now is universally recognized.
Peace Now's lawyer, Michael Sfard, also pointed out that the High Court had already rejected similar petitions filed by King in other cases involving Peace Now.
Contact Arieh King at kingshir@bezeqint.net
To Go To Top
DANES FINALLY GET IT; WILL THE REST OF US?
Posted by Judith Apter Klinghoffer, February 13, 2008.
Editor's Note: To see "Muslims March Over Cartoons of the Prophet" for the original story and the cartoons themselves," click here.
Sammenhold is the Danish word for solidarity. It has taken two years and a murder plot but the Danish mainstream media finally got it. Today 11 Danish papers reprinted the famous Mohammed cartoons as an act of defiant solidarity with the 73 year old Jyllands-Posten (JP) cartoonist. When the Islamist world exploded in organized rage against a series of Danish cartoons published months earlier, the many members of the Danish media failed to do what it is doing today. With relatively few exception, neither did the rest of the free media.
Consequently, Jihadists and their supporters learned that they may demand both official and self media censorship as well as attack, kidnap and kill reporters with impunity. Indeed, the more outrageous their demand, the more eager the MSM will be to do their bidding. What is their bidding? Aiding and abetting their war against the free world by holding it responsible for the Islamists acts of terror. If Theo Van Gogh is murdered in broad daylight, it is because he deserved it. No, I am not writing in jest.
In early September I attended an invitation only EU co-sponsored conference entitled "Religion and Democracy in Contemporary Europe" held at the Van Leer Institute in Israel. It was a third in a series organized by the EU in response to the kind of value clashes between democratic and Islamist values brought to the fore by the Mohammed cartoon imbroglio. Not surprisingly Fleming Rose was there too. The most revealing moment came during the question and answer period which followed the presentation of Harvard professor Jocelyne Césari. Her talk was entitled "Islam and Globalization: Is radicalism the only path?" She posted the pictures and discussed the choices of a number of radicals including Theo Van Gogh's murderer Mohammed Bouyeri.
A young Dutch woman (protege of Peter Van Der Veer of Utrecht University), raised her hand and demanded to know why Dr. Césari failed to post Theo Van Gogh's picture too or take time to explain the unsavory and provocative character of the victim. Some members of the audience expressed their approval by clapping and nodding. Dr. Césari cooly assured the young woman that she was aware of Van Gogh's background. She was much too savvy to be surprised by the young woman's insistence on the moral equivalence between the murdered and the murderer or by the implication that Van Gogh deserved his fate.
"No problem" was the conference central motive. Neither Amsterdam nor Europe, Peter Van Der Veer assured me, have an Islamist problem for the simple reason that they are so few. Those who worry believe they are dealing with an elephant when in reality they are dealing with a mere mouse. The only serious dissent came from previously optimistic Giles Kepel though only on the last day of the conference when he could no longer keep silent in the face of the "naive" feel good rhetoric which permeated the conference. Solidarity with the victims of Islamist extremism was no where to be found.
It appears that this has finally changed in Denmark:
An editorial in left-leaning Politiken called the murder plot "shocking and troubling."
"Their plans to kill Kurt Westergaard ... are not just an attack on Westergaard but an attack on our democratic culture," the editorial said.
"Regardless of whether Jyllands-Posten at the time used freedom of speech unwisely and with damaging consequences, the paper deserves unconditional solidarity when it is threatened with terror," it said.
"That is why Politiken today ... prints the drawing, even though at no time have we sympathized with Jyllands-Posten's provocation."
And
"Freedom of expression gives you the right to think, to speak and to draw what you like...no matter how many terrorist plots there are," conservative broadsheet Berlingske Tidende wrote in an editorial.
Berlingske Tidende had not previously printed the caricature despite the massive controversy that engulfed Denmark for months in 2006.
Is the Danish media act of solidarity a sign of a new trend or merely a singular gesture? Will the rest of the free media follow the Danish lead? Sometimes I think yes; then, no. Today I dare hope so. A Danish museum expressed it's wish to purchase the cartoons.
Contact Judith Apter Klinghoffer by email at jklinghoff@aol.com This appeared on
http://hnn.us/blogs/entries/47350.html
To Go To Top
IRAN'S ARCH-TERROR MASTER KILLED IN SYRIA
Posted by Kenneth Timmerman, February 13, 2008.
The man who master-minded a string of massive car-bombings against U.S. and Israeli targets on behalf of Iran's radical Islamic government reportedly was killed on Tuesday in a car-bomb attack in Damascus.
Imad Mugniyeh, a Lebanese Shiite who went to work for Iran's Revolutionary Guards Corps shortly after the 1982 Lebanon war, was 46.
"He's gone to the other side," a U.S. official with access to ongoing U.S. government reporting on the reported assassination told Newsmax.
Before the September 11 attacks, the FBI considered him the most wanted terrorist in the world, since he was responsible for hundreds of American deaths in repeated car-bomb attacks against the U.S. embassy in Beirut, against the U.S. Marines compound in Beirut, and elsewhere.
He was formally identified by U.S. intelligence for his personal involvement in the kidnapping and torture of CIA Beirut station chief William Buckley in 1984, the murder of USMC Colonel Rich Higgins, and the kidnapping of Associated Press reporter Terry Anderson.
Interpol issued an international arrest warrant for him last year for his involvement in the July 1994 bombing of the AMIA Jewish center in Buenos Aires, Argentina, that killed 86 people.
As I revealed in Countdown to Crisis: the Coming Nuclear Showdown with Iran, Mugniyeh also was identified in top-secret National Security Agency intercepts obtained by the 9/11 commission shortly before they released their final report in July 2004.
The intercepts identified Mugniyeh as traveling on board several Iran Air flights from Damascus to Tehran between October 2000 and February 2001 that carried eight to ten of the "muscle" hijackers who would later carry out the 9/11 attacks on America.
In the 9/11 commission report, Mugniyeh is merely identified as a "senior Hezbollah operative." But sources who reviewed the documents told me there was no ambiguity whatsoever that Mugniyeh was the person on board the planes, several of which made a quick stop-over in Beirut where some of the hijackers came on board.
A former Iranian intelligence officer, now living in exile in Germany, told me this morning that he recalled Mugniyeh's role in convoying the al Qaeda hijackers to Iran.
The former Iranian intelligence officer, who knew Mugniyeh personally when he was in Iran, says the Lebanese terrorist had been dispatched from Tehran to meet the hijackers, but never got off the plane.
"He was on the airplane as a security officer. I remember that," the former Iranian intelligence officer told me today.
Mugniyeh burst onto the international scene in 1985, when the FBI found his fingerprints in the rear toilet of TWA flight 847 that a group of Hezbollah operatives had hijacked to Beirut.
Mugniyeh and the his fellow hijackers are wanted by the FBI for their cold-blooded murder of U.S. Navy diver Robbie Stethem, who was traveling home from an assignment in Greece on board TWA 847.
The terrorists shot Stethem and dumped his body out on the tarmac, in front of television cameras.
After that attack, Mugniyeh never appeared in public again, and is said to have undergone multiple plastic surgery operations in Iran to significantly alter his appearance.
One of his former colleagues in Iran told me three years ago that he now looks like "Richard Gere with a potbelly."
The photograph that was released by Hezbollah's al-Manar television today when they announced his death bears little resemblance to the Hollywood actor. But the bearded man wearing glasses and army fatigues certainly has grown a pot belly.
For more than two decades, Mugniyeh ran Hezbollah's international terrorist and security operations.
According to a childhood friend I called this morning in Dearborn, Michigan, "everyone is crying" over his death.
"There is no doubt. That was Imad," he told me.
In Lebanon, the childhood friend said that Mugniyeh was known as "Haj Radwan. Nobody says 'Emad' in Lebanon."
Hezbollah suspects that Syria may have played a part in Mugniyeh's killing, Newsmax has learned from sources close to senior leaders in the terrorist organization.
"He was killed as he was going to meet Roustam Ghazali, the head of Syrian military intelligence in Beirut," a Newsmax source in close contact with the Hezbollah leadership told me this morning.
Ghazali is wanted by the international tribunal investigating the car-bombing assassination of Lebanese Prime Minister Rafic Hariri on Feb. 14, 2005. His office is located in a luxury high-rise in the Kfar Soussa area of Damascus, where Mugniyeh's car was blown up by an explosive charge.
Hezbollah plans to hold a massive public funeral for Mugniyeh tomorrow, which also is the anniversary of Hariri's death.
The anti-Syrian Cedars Revolution, also known as the March 14 movement, plans to hold a rival demonstration to commemorate Hariri's assassination at the same time.
Just yesterday, a key leader of the March 14 movement, Walid Jumblatt, warned Hezbollah and their backers in Syria and Iran that if they wanted war, "we are ready."
Jumblatt said that pro-government militias were prepared to disarm Hezbollah, if that became necessary.
Sources in Beirut tell Newsmax that two days before the car-bombing that killed Mugniyeh, an 8-man team of U.S. paramilitary officers landed in civilian clothing at the Beirut airport and was whisked away to the U.S. embassy compound in the hills overlooking a Christian suburb of Beirut.
"We obviously can't comment on that," a U.S. government official said.
Hezbollah sources warned that they would retaliate for Mugniyeh's killing. "Very soon, they we release information on who killed him," a source close to the Hezbollah leadership told me.
"And after that, watch out. This is a very very big loss for Hezbollah. They will strike back, and it could be anywhere in the world."
Contact Ken Timmerman at timmerman.road@verizon.net This article appeared in Newsmax.
To Go To Top
ASCENT TO HAR HABAYIT – AN INSPIRING EXPERIENCE
Posted by Binyamin Lemkin, February 13, 2008.
Today's ascent to Har HaBayit was truly inspiring. We were joined by an enthusiastic group of fellow Jews from Kiryat Arba who ascend every Wednesday and the ascent was accompanied by divrei Torah and uplifting words. It was wonderful among other things to meet a young Jew who moved to Israel from the Ukraine about a year and a half ago as a result of his return to Judaism, already speaks fluent Hebrew, and speaks of his deep feeling of connection to Har HaBayit. Baruch Hashem, the atmosphere was a very spiritual one, and the experience is far calmer than what might imagine.
Anybody interested in coming on the next 7th or 8th of Adar Bet for RBS's monthly ascent please contact me.
Binyamin Lemkin
Contact Binyamin Lemkin by email at lemkinrealty2@gmail.com
To Go To Top
THE CULTURE OF TYRANNY
Posted by Jonathan Spyer, February 13, 2008.
The ancient city of Damascus received another mark of recognition last week. Following in the wake of Liverpoolwhich was recognized as the European Capital of Culture, and Stavanger in Norway, which was named the non-EU European Capital of Culture, UNESCO last week designated Damascus as the Arab Capital of Culture for 2008.
In a speech celebrating this decision, Syrian President Bashar Assad chose to highlight a very specific element of his capital city's culture – namely, Damascus's self-appointed role as the center of Arab 'resistance.' "Damascus is the capital of resistance culture by symbolizing Arab culture" he declared, and went on to define 'resistance culture' as "the culture of freedom and defending freedom."
A closer look at what exactly President Assad means by 'resistance culture' might lead one to ask whether the type of activity designated by the term really deserves the acclaim and recognition of an august international body such as UNESCO.
UNESCO's Cultural Capitals Program was launched in the Arab world in1998. It aims to promote the cultural aspects of development and increased international cooperation.
The new Arab Capital of Culture has a unique approach to "international cooperation." Damascus serves as the headquarters of a long list of designated terrorist organizations, including Hamas, Palestinian Islamic Jihad, the Popular Front for the Liberation of Palestine, the Popular Front for the Liberation of Palestine-General Command (PFLP-GC), and an alphabet soup of smaller organizations similarly committed to the practice of violence against civilians. This particular approach to encouraging international cooperation brought the Assad regime to international recognition even prior to its latest accolade from UNESCO. Syria has successfully defended its position at the top of the USA's list of "countries supporting terrorism" since 1979.
Since the mid-1990s, Damascus has served as the operational headquarters of Hamas and Islamic Jihad, and as a nexus for the transfer of external funds to operatives of these organizations in the Gaza Strip and West Bank. Seized documents revealed a series of direct financial transactions from Syria to the two terrorist organizations. Syria, who was quick to recognize the Hamas Government in Gaza (despite the objection of the Palestinian Prime minister) also announced a public donation campaign to support it.
According to the State Department, Syria gives the Lebanese militia Hizballah "substantial amounts of financial, training, weapons, explosives, political, diplomatic, and organizational aid". Iranian arms bound for Hizballah regularly pass through Syria which effectively occupied and controlled neighboring Lebanon between 1990 and 2005, and which is currently engaged in attempting to regain control in Beirut.
Hizballah's July 2006 missile strikes on Israeli cities – another expression, presumably, of the "culture of resistance," prompted allegations that Syria and Iran were using the group to deflect international attention from other issues, such as Iran's contentious nuclear program.
Syria is also active in Iraq. David Satterfield, Co-ordinator for Iraq at the State Department, recently noted that the US had received 'no Syrian cooperation' in attempting to stem the flow of foreign fighters into Iraq. Rather, he continued, "Syria still allows foreign fighters and suicide bombers to pass across its territories into Iraq." A recent US media report estimated that 90% of foreign fighters entering Iraq to take part in insurgent activity come via Syria.
In Lebanon, Damascus is thought to be behind the wave of killings of anti-Syrian political figures which began with the assassination of former Prime Minister Rafiq al-Hariri in 2005. Syria is doing its utmost to prevent the emergence of a new president and a stable government in Lebanon. French Foreign Minister Bernard Kouchner last week told Arab reporters in Paris that "Syria wants to appoint the prime minister in Lebanon, the ministers, the distribution of ministries and the governmental plan of action through its allies in Beirut."
The new Capital of Culture and Resistance also, according to U.S. defense and intelligence reports, maintains an active chemical weapons program. Other reports suggest that Syria was clandestinely working on a nuclear program when these efforts were halted by a successful Israeli attack in September, 2007.
Thus, the 'culture of resistance' means acts of terror against civilians, the deliberate subversion of the governments of neighboring countries, the assassination of political opponents and the apparent attempt to stockpile weapons of mass destruction. One wonders if this is what UNESCO – which describes its own goal as 'to build peace in the minds of men' had in mind. The title of 'Arab capital of culture' is currently held by the capital of one of the most brutal and lawless regimes in the world. Arab culture – which has given so much of lasting beauty and value to humanity – surely deserves a better representative.
Dr. Jonathan Spyer is a senior research fellow at the Global Research in International Affairs Center at the Interdisciplinary Center, Herzliya Israel.
To Go To Top
BRITAIN'S ENCOUNTER WITH ISLAMIC LAW
Posted by Dr. Milt Fried, February 13, 2008.
This was written by Daniel Pipes and it appeared today in the Jerusalem Post
http://www.danielpipes.org/article/5462
Beneath the deceptively placid surface of everyday life, the British population is engaged in a momentous encounter with Islam. Three developments of the past week, each of them culminating years' long trends – and not just some odd occurrence – exemplify changes now underway.
Home Secretary Jacqui Smith describes terrorism as "anti-Islamic."
First, the UK government has decided that terrorism by Muslims in the name of Islam is actually unrelated to Islam, or is even anti-Islamic. This notion took root in 2006 when the Foreign Office, afraid that the term "war on terror" would inflame British Muslims, sought language that upholds "shared values as a means to counter terrorists." By early 2007, the European Union issued a classified handbook that banned jihad, Islamic, and fundamentalist in reference to terrorism, offering instead some "non-offensive" phrases. Last summer, Prime Minister Gordon Brown prohibited his ministers from using the word Muslim in connection with terrorism. In January, Home Secretary Jacqui Smith went further, actually describing terrorism as "anti-Islamic." And last week the Home Office completed the obfuscation by issuing a counter-terrorism phrasebook that instructs civil servants to refer only to violent extremism and criminal murderers, not Islamist extremism and jihadi-fundamentalists.
Second, and again culminating several years of evolution, the British government now recognizes polygamous marriages. It changed the rules in the "Tax Credits (Polygamous Marriages) Regulations 2003": previously, only one wife could inherit assets tax-free from a deceased husband; this legislation permits multiple wives to inherit tax-free, so long as the marriage had been contracted where polygamy is legal, as in Nigeria, Pakistan, or India. In a related matter, the Department for Work and Pensions began issuing extra payments to harems for such benefits as jobseeker allowances, housing subventions, and council tax relief. Last week came news that, after a year-long review, four government departments (Work and Pensions, Treasury, Revenue and Customs, Home Office) concluded that formal recognition of polygamy is "the best possible" option for Her Majesty's Government.
Third, the archbishop of Canterbury, Rowan Williams, endorsed applying portions of the Islamic law (the Shari'a) in Great Britain. Adopting its civil elements, he explained, "seems unavoidable" because not all British Muslims relate to the existing legal system and applying the Shari'a would help with their social cohesion. When Muslims can go to an Islamic civil court, they need not face "the stark alternatives of cultural loyalty or state loyalty." Continuing to insist on the "legal monopoly" of British common law rather than permit Shari'a, Williams warned, would bring on "a bit of a danger" for the country.
Archbishop of Canterbury Rowan Williams says that Islamic law in Great Britain "seems unavoidable."
Prime Minister Brown immediately slammed Williams' suggestion: Shari'a law, his office declared, "cannot be used as a justification for committing breaches of English law, nor can the principle of Shari'a law be used in a civilian court. ... the Prime Minister believes British law should apply in this country, based on British values." Criticism of Williams came additionally from all sides of the political spectrum – from Sayeeda Warsi, the Tory (Muslim) shadow minister for community cohesion and social action; Nick Clegg, leader of the Liberal Democrats; and Gerald Batten of the United Kingdom Independence Party. Secular and Christian groups opposed Williams So did Trevor Phillips, head of the equality commission. The Anglican church in Australia denounced his proposal, along with leading members of his own church, including his predecessor, Lord Carey. Melanie Phillips called his argument "quite extraordinarily muddled, absurd and wrong." The Sun newspaper editorialized that "It's easy to dismiss Archbishop of Canterbury Rowan Williams as a silly old goat. In fact he's a dangerous threat to our nation." It concluded acerbically that "The Archbishop of Canterbury is in the wrong church."
Although widely denounced (and in danger of losing his job), Williams may be right about the Shari'a being unavoidable, for it is already getting entrenched in the West. A Dutch justice minister announced that "if two-thirds of the Dutch population should want to introduce the Shari'a tomorrow, then the possibility should exist." A German judge referred to the Koran in a routine divorce case. A parallel Somali gar courts system already exists in Britain.
These developments suggest that British appeasement concerning the war on terror, the nature of the family, and the rule of law are part of a larger pattern. Even more than the security threat posed by Islamist violence, these trends are challenging and perhaps will change the very nature of Western life.
* Other items in category Dhimmitude
* Other items in category Islamic law (Shari'a)
* Other items in category Muslims in the United Kingdom
Contact Dr. Milt Fried by email at docmiltfried@mindspring.com
To Go To Top
NEW ANTI-ZIONISM AT THE NY TIMES; ARABS WON'T HELP U.S. FOR SACRIFICING ISRAEL
Posted by Richard H. Shulman, February 13, 2008.
NEW ANTI-ZIONISM AT THE NY TIMES
"Under international law, Israel is considered an occupying power in Gaza, even though it has removed its troops and settlers from the territory. Denying civilians access to the necessities of life is considered collective punishment and a violation of international law under both the Hague and Geneva Conventions, although the amounts of resources like electricity considered essential could be subject to dispute."
B'Tselem stated, "It doesn't really make a difference whether it' s cutting off the supply from Israel or bombing the power station." (Steven Erlanger & Helene Cooper, NY Times, 9/20, A12.) B'Tselem ignores the Jewish right to live.
Yes it does make a difference. Bombing a power station actively interferes with someone else's power. Withholding commercial supply, for which the Arabs often don't pay, is within Israel's right. It would be done in self-defense, so as not to succor and empower an enemy population at active war against Israel. It isn't fair to call "civilians" those people, who support terrorism, and who, when they see an Israeli, try to lynch him.
The enemy makes collective decisions and actions. If the prospective Israeli action were collective punishment, it would be warranted. But it isn't collective punishment. The Times is demanding that Israel help a people at war with it. That is not reasonable, but the Times is hopelessly anti-Zionist to be reasonable. Why doesn't it chide the Palestinian Arab Muslims for their bigoted imperialism?
The first paragraph I quoted is not attributed to any expert, therefore seems like objective background information. It is not objective. The reporters failed to acknowledge that experts disagree about whether Israel is an occupying power. The US government said it isn't. The Israeli government used to say it isn't, but fell under the spell of the Left, which is not objective but distorts facts to favor the Arabs. I have read the Conventions on the subject of occupation, along with the opinion of experts in international law, such as Douglas Feith and the late Dr. Paul Riebenfeld. They explained that the Conventions defined occupation as referring to sovereign countries taken over by foreign countries. The Territories, however, were not sovereign and are not foreign. They are the unallocated part of the Palestine Mandate for a Jewish national home. Israel, as Mandate heir, has the best claim to them.
SYRIA TO MONITOR OTHER COUNTRIES' NUCLEAR EFFORTS
"Syria was appointed deputy chairman of the UN's International Atomic Energy Agency's General Conference Monday." (IMRA, 9/19.) It seeks the bomb. People think the agency protects them, but it protects nuclear proliferators.
HOW BIG IS U.S. ARMY, REALLY?
Private US security companies guard supply convoys in Iraq and protect US diplomats, etc. The US has outsourced much of its military police duty to them. A photograph shows a guard holding a machine gun in a helicopter.
These security personnel are noted for aggressiveness. They have to be, where approaching Iraqis, appearing to be civilians, may attack them at any moment. Their aggressiveness, however, is not accountable to the US military, to which they are not attached, nor to the Iraqi government. Iraqis resent this. The US refuses to explain by what authority they are in Iraq and to what authority they are subject.
The matter came to a head, recently, when the guards shot some Iraqis in an incident they claimed was reasonable but Iraqis claim was wanton (Robert H. Reid, NY Sun, 9/19, p.6).
The Sun did not get the whole story. That may be due to both sides finding it embarrassing. Muslim Arabs tend to make up stories. On the other hand, unchecked power invites abuse and cover-up.
Ideally, the anomaly should be regularized, so everybody knows where they stand. There should be no legal hiatuses.
ARABS WON'T HELP U.S. FOR SACRIFICING ISRAEL
The Arab Gulf states informed the US that the proposed conference on Israel and the P.A. would not involve the Iraqi war. The Arabs hinted that they would not reward the US for making Israel take suicidal steps (IMRA, 9/19).
One of the explanations for US pressure on Israel to make suicidal concessions to the belligerent Palestinian Arabs was that the State Dept. (as Jamaes Baker proposed) hoped that in return, the Arabs would help the US in other Mideastern policies. That would be a cynical and foolish hope – definitely sacrificing a faithful and strong ally to jihad, for dubious and unreliable help elsewhere against jihad. But the Muslim Arabs don't reciprocate.
JEWISH LOBBY NONSENSE
If the Jews rule the world, then the rest of the world is stupid. Ridiculous! There are many other flaws in that notion of Jewish supremacy, really bigotry. One is that Hollywood Jews have yet to make a movie condemning Islamo-fascism and favoring the war in Iraq (Prof. Steven Plaut, 9/19). Another, is that all-powerful people wouldn't get mass-murdered, but the Jews do.
Richard Shulman is a veteran defender of Israel on several web-based forums. His comments and analyses appear often on Think-Israel. He provides cool information and right-on-target overviews. He distributes his essays by email. To subscribe, write him at richardshulman5@aol.com
To Go To Top
SHAS SAYS WILL QUIT COALITION IF PEACE TALKS CONTINUE AMID QASSAM FIRE
Posted by Bryna Berch, February 12, 2008.
It was supposed to be that Shas would resign if Jerusalem was on the table for discussion. Now the Shas leaders are suddenly deaf when Tzipi the Giveaway Hostess announces she's having secret talks with the enemy. Now they add more and more conditions before they bolt. And they dismiss what's going on as talk. Can you imagine! Rabbis not taking TALK seriously! Do they have to see a signed contract before they act. And what good will it do then?
Moreover, they've shown no concern that Israel may compromise Biblical Israel.
Every day Olmert stays in power means Israel isn't readying its population for war – which will come when the Arabs have compiled their weaponry and trained their men (some with American trainers).
It's true that they might lose some perks and income if they resign from the Gov't now. But on the other hand, there'll still be an Israel in 5 years. Their staying in the defeatist Olmert government while the Arabs build up strength is not good for Israel. And it is bad for them. If – G-d Forbid! – they contribute to Israel's defeat, then people – even their own constituents – will blame them retroactively.
This is from yesterday's YNET news It was written by Neta Sela.
Chairman Eli Yishai says haredi party will resign from Olmert's coalition if negotiations with Palestinians carried out while rocket fire from Gaza continues. Netanyahu to Shas: Do the right thing
Shas chairman Eli Yishai said Monday his party would resign from the coalition "if the current negotiations (with the Palestinians) progress beyond the current point while Israel continues to sustain Qassam rocket attacks".
Speaking to faction members, Yishai, who also serves as vice premier and minister of industry, trade, and labor, said violent occurrences in the West Bank would also prompt the haredi party to quit the Kadima-led government.
Following last week's suicide attack in Dimona, which left one Israeli dead and several others wounded, Yishai called for the immediate suspension of the ongoing peace talks with the Palestinian Authority.
'It's all talk at this point'
Shas has been reducing the government's freedom of movement in negotiations with the Palestinians and it seems that signals from Olmert's haredi coalition partner are becoming sterner and indicate that the political hoops are getting tighter. At first, Shas would not allow core issues to be discussed with the Palestinians. Later, the party's leaders clarified that no compromise would be made over Jerusalem.
The matter even came up in a conversation between Yishai and US Secretary of State Condoleezza Rice four months ago. "With us, a groom under the wedding canopy says 'if I forget thee O Jerusalem, let my right hand lose its cunning.' I am telling you unequivocally, there is nothing to speak about concerning Jerusalem. Jerusalem is not no the table for discussion," Yishai told Rice.
Opposition leader Benjamin Netanyahu also addressed the fragile coalition on Monday, telling Likud faction members that "in light of reports regarding the negotiations on Jerusalem, I feel obliged to turn to our friends in Shas and say: 'You share our concern over Jerusalem and (the state of Israel's) security, and I call on you to do the right thing – and that is to thwart these dangerous steps and resign from the government'."
A Shas official told Ynet that "currently there is no progress in the negotiations (with the Palestinians); it's all talk at this point. But, if (Foreign Minister) Tzipi Livni tells us that progress has been made on the core issues, meaning Jerusalem, the refugees and the permanent borders, while Qassams are still fired at Israel, then Shas will resign.
To Go To Top
INFLUENCE SHAS TO LEAVE THE GOV'T!!! IMPORTANT CONTACT INFORMATION
Posted by Lee Caplan, February 12, 2008.
The information here comes from several sources. All of them want to save Israel by making sure Olmert and Co. don't cut away Israel's heartland.
If you have not yet written to Shas, please do so.

If you have already written to Shas, please do so again!

Here are the simple steps:

1.) Open a second email window 2.) Copy and paste the following email addresses to the address line:
eyishay@knesset.gov.il, aatias@knesset.gov.il, eamsalem@knesset.gov.il, amncohen@knesset.gov.il, izchakec@knesset.gov.il, dazulay@knesset.gov.il, slomob@knesset.gov.il, ymargi@knesset.gov.il, amichaeli@knesset.gov.il, mnahari@knesset.gov.il, yvaknin@knesset.gov.il, nzeev@knesset.gov.il,

3.) Copy and paste the following to the Subject line: Israel is Discussing the Division of Jerusalem – Leave the Government Now!

4.) Type your name, city and state (in the U.S.) or name, city & country in the text of the message. Then send it.

5.) Forward this email to everyone on your list, and urge them to do the same.

Please Note: If you have already written to Shas, but have not received a thank you from me, please send me an email with your name, city & state/country, so I may add you to the growing list of pro-Israel activists.

THANK YOU SO MUCH!
Buddy Macy
Little Falls, NJ
973-785-0057

FaigeRayzel@aol.com wrote:
bs"d

Communication Minister Ariel Atias, the number two man in Shas, said Tuesday morning that he believes the Jerusalem Post report that secret talks have been taking place between the Israeli and Palestinian negotiating teams on the issue of Jerusalem. Shas Chairman Eli Yishai had said that if the Post story was true the party would leave the government. Now is the perfect time to ACT to influence SHAS!
http://www.jpost.com/servlet/Satellite?cid=1202657414830&pagename= JPost%2FJPArticle%2FShowFull
SHAS IN THE KNESSET
http://www.knesset.gov.il/faction/eng/FactionPageCurrent_eng.asp?PG=2
Tel: 02-675-3550
Fax 02-649-6543
Current Composition
Chairman Yakov Margi
Number of Seats 12
Shas Members of Knesset:
1. Chaim Amsellem Tel: 02-649-6457 02-675-3474 fax 02-649-6527 eamsalem@knesset.gov.il
2. Ariel