They neither know nor understand,
They go about in darkness.
-- Psalm 82:5
One of the ancient Hebrew documents found among the Dead Sea Scrolls tells of an epochal War of the Sons of Light and the Sons of Darkness.
The Children of Israel from ancient times to the present day have endured and survived many a war against them by other peoples' Sons of Darkness. Now, they are under assault by the darkest of their own sons, a war proclaimed such bland names as Peace Process, Roadmap, and Disengagement.
Oh, my people!
Your leaders are misleaders.
They have confused the course of your paths.
-- Isaiah 3:12
"No Jew has the right to yield the rights of the Jewish People in Israel. No Jew has the authority to do so. No Jewish body has the authority to do so. Not even the entire Jewish People alive today as the right to yield any part of Israel"
-- David Ben-Gurion
The decline in Israel's strength and standing during the last twelve years is not an achievement of the enemies bent on its destruction. It is brought about by its own Sons of Darkness who conceived and managed to impose the doctrine of surrender to those enemies, beginning with the lethal Oslo Accords and the refusal to rescind them after they were proven lethal. Now, encouraged by their own successes against their own people, they push on to the even more lethal Disengagement. [See further Issues Nos. 37, 39, 40, 45, 46, 49, 50, 51]
* * * * * * * * * * * *
Sharon and his inner-circle cronies invented Disengagement without even informing much less consulting those responsible for the nation's security and well-being. The IDF Chief-of-Staff first learned of it from a public news report. Israel's best interests were never a factor or even a consideration in concocting and forcing through this plan. The make-believe advantages turn out to be empty excuses.
1] There is scarcely a pretense that Disengagement will lead to peace, or even to a lower level of PLO hostility and terrorism. Mahmoud Abbas and his fellow Terror Chiefs make it clear that they regard Disengagement as a victory for terrorism, urge PLO journalists to "celebrate it", and openly plan to exploit the new scope given them for terrorist campaigns.
The Sharon regime's Ambassador to the United States was recently quoted as saying that after Disengagement is complete, then Israel will demand that the PLO dismantle its terrorist structure. Such a remark is stupidity beyond the call of duty.
2] Disengagement will not free Israel of a burden of Gaza. Even while it encourages and empowers the PLO/Hamas, Israel will still have to supply them with water, utility, and other services, augmented by ever more extravagent demands on their behalf from Condoleeza Rice. Sharon cannot even go on touting his plan as "independent" of the PLO, when Rice demands "coordination" with her protege.
3] Sharon in past alleged that Disengagement would bring Israel some relief from outside pressure for concessions, and even Bush-Rice Administration permission to keep some little bits of the Land of Israel. Instead, the show of Israeli weakness contributes to an administration policy that is revealed by its recent proclamations to be egregiously pro-PLO. [See Issue No. 53]
4] It is reported that Sharon and his cronies invented Disengagement to cover up the alleged corruption and criminal frauds of Sharon and his sons Gilad and Omri. If this is so, the scheme has failed. The Attorney General declined to use the mass of evidence of improprieties committed by Ariel and Gilad Sharon, but he has indicted Omri Sharon for crooked fund-raising and campaign misconduct.
News media and Osloid politicians openly state that they will turn against him once they have gotten the Disengagement for which they yearn. Shimon Peres and his party have promised to bring down the government if Disengagement is not quickly followed by the surrender of the rest of Judea and Samaria and Jerusalem. Former Prime Minister Ehud Barak demands that, in view of the Sharon family's naughty ways, Sharon should retire from public life -- as soon as he has carried through the Disengagement.
* * * * * * * * * * * *
Sharon and his henchpersons set in place all the support they expected to need. Members of the cabinet who were firm against Disengagement were fired to prevent them from voting on it. The Osloid-Defeatist Labor Party, that the electorate had massively rejected, was brought into the government. Shimon Peres, Prince of the Sons of Darkness, became Vice Prime Minister. [See Issue No. 49] Both the IDF Chief-of-Staff and the national Chief of Intelligence were ousted for insufficient enthusiasm for the Disengagement and their posts bestowed on more compliant replacements. A supportive Attorney-General, Minister of Defense, Minister of Internal Security, Minister of Justice, and Chief of Police were installed.
Most of the news media were already in place, eager to jettison any journalistic ethics that might get in the way of a plan that so perfectly matches their own anti-national and anti-religious agenda. They became instant temporary champions of a man they hate -- but only for as long as he useful to them.
One of their number exhorts the media to treat Sharon as tenderly as an etrog" until the Disengagement has been accomplished. An etrog is a citron used a symbol of the fruitfulness of the Land during the week-long harvest festival of Sukkot. Those who observe this festival happily choose their etrogs and carefully preserve them. The media's modern universalists are not notably respectful of such ancestral traditions, so there may be an implied smirk in this choice of simile, along with the implication that after Sukkot/Disengagement is over then so is the role of the etrog.
Organs of justice and the judiciary place the Arch-Disengager above the law. The Attorney General closes the file on Sharon's alleged serial corruptions. A senior police official explains why Sharon should be exempt from investigation: "It's unreasonable to topple a government over criminal cases . . . policy is not to delve into cases that might incriminate the Prime Minister, in order not to destabilize the regime".
The Supreme Court of Israel, notorious for assuming the right to impose its own enlightened morality on society, approves this unique immunity because "the indictment of a Prime Minister would lead, probably immediately, to changes in the government order in the country, which would be liable to have a dramatic influence on the policy."
Not one of the excuses for Disengagement is valid. Why, then, are Sharon and his henchpersons careening down a slide toward disaster to Israel, triumph to its enemies, dividing and endangering society and even compromising the IDF that stands guard over it?
Those who contrived the Oslo Accords did not themselves believe they would bring peace -- though they tricked others into believing it. What they did believe is that that throwing away the Promised Land after it was finally redeemed would break the Jewish heart and crush the Jewish spirit. After that, their country would be free of old-fashioned traditions and observances and out-dated standards of personal morality. Perhaps the world would allow them to keep a bit of rump state in which to strut their post-Judaic post-Zionist enlightened universalism. They have not yet achieved this goal, but they are still working at it.
Excerpts from "Scorched-earth Kulturkampf," by Caroline Glick, The Jerusalem Post, 11 July 2005:
"[. . . . ] In Haaretz's Friday editorial the rationale for the Left's support of Sharon's plan was laid bare: 'The disengagement of Israeli policy from its religious fuel is the real disengagement currently on the agenda. On the day after the disengagement, religious Zionism's status will be different . . . . The real question is not how many mortar shells will fall, or who will guard the Philadelphi route, or whether the Palestinians will dance on the roofs of Ganei Tal. The real question is who sets the national agenda.'

"Doron Rosenblum, one of the paper's chief columnists, spelled the message out even more bluntly on Sunday, fulminating, 'There is an enemy on the Right . . . . at least let him not complain about being treated like an enemy . . . . '

'Dan Margalit, the senior commentator at [the newspaper] Ma'ariv . . . . argued in favor of placing quotas on the number of religious Jews allowed to serve as officers in the IDF. Referring to religious Jews serving in the IDF as 'the dear brothers,' Margalit invoked the Latin expression for quotas for Jews restricting their right to study in European and American universities in the early 20th century - the infamous numerus clausus. He warned religious Israelis that if they refuse to carry out the expulsion of Jews from Gaza and northern Samaria, 'the reaction to their action is liable to be a numerus clausus, this time in Hebrew, Jews against Jews. Hair-raising, but there is no choice.'

"What we see here unfolding is a situation where the anti-religious Left, the primary supporters of Ariel Sharon's policy to forcibly expel 10,000 Jews from their homes and communities, has given the policy their support -- through its members' legal authority and public platforms -- not because they see any security benefit arising from the move. In fact, they support the plan despite its security dangers because they see it as a culminating battle in their cultural war against religious Zionism.

"[. . . .] There are multiple and weighty arguments against the withdrawal and expulsion plan. Some of them relate to the moral issue of expelling Jews from their homes and making areas of the Land of Israel - or any land for that matter - off-limits to all Jews. [. . . .] Aside from the moral questions, all Israelis who don't have a death wish are concerned with the security implications of handing land and strategic positions over to a junta of terrorists who have repeatedly stated their intention to use that land and those positions to advance their terror war against the State of Israel.

"Yet, to date, due to the negligence of the media and the courts, no government official -- from the prime minister on down -- has been called on to answer how Israel will be militarily better off without Gaza and northern Samaria. Indeed, no government spokesman from Sharon on down has been able to coherently explain how Israel will defend itself when Gaza and northern Samaria are under Hamas and Fatah control.

"The security consequences of the plan have been systematically ignored while the full brunt of media scrutiny has been placed on its religious opponents. They are reviled as zealots, criminals and extremists. Rabbis are threatened with firings and the closing of their yeshivot if they do not toe the government line. Gaza residents are accused of being money-grubbing and wasteful of government resources for forcing the IDF to expel them rather than leaving their homes quietly and meekly. Religious Jews are being intimidated with threats to keep them out of the army or prevent their promotion in the ranks, simply because it will be necessary to prevent what Margalit refers to as 'difficulties with future operations'.

"There are ample reasons to be concerned about and, indeed, oppose a plan that involves no security opportunities -- only expanding threats -- for Israel. But at the end of the day what is even more debilitating are the plan's implications for the future of Israel as a democracy.

"When the loudest voices favoring it are those espousing hatred and exclusion of religious Zionists, . . . it becomes absolutely clear that for the plan's strongest advocates, capitulation to terror is a means of carrying out their culture war against religious Jews.

"And just as security can be readily sacrificed, democracy and the rule of law become mere Pascal lambs on the altar of cultural supremacy -- ignored, reviled and happily trounced on the path to victory in the culture war these priests of enlightenment instigated against their brethren years and years ago."
An example that reveals the anti-religious factor in the campaign as reported by IsraelNationalNews.com, 20 July 2005:
"An Israel Broadcasting Authority crew traveling towards Kfar Maimon to cover the events surrounding the March to Gaza was stopped en route by police for a routine inspection.

"One crew member, an Orthodox male wearing a kippa [yarmulke] was instructed to step out of the vehicle. He was questioned as to the purpose of his presence, responding he is a member of the film crew. He displayed his Government Press Office press credentials, but police continued to suspect his motives for traveling to Kfar Maimon.

"Only following the intervention of co-workers, who explained he is a member of their regular crew, was he permitted to return to the vehicle and continue towards Kfar Maimon."
Comment: Sharon recently made a supposedly public address, at which all men wearing kippot (skull-caps of observant Jews) were denied entry.
* * * * * * * * * * * *
Among the closest of Sharon's cronies is Dov Weisglass, his personal attorney, his one-time government Bureau Chief, and his favored emissary to both the United States and the PLO. Weisglass is believed to be the counsellor who invented Disengagement as a jolly good way "to change the public agenda away from the media's focus on the investigation" of Sharon family corruptions.
Among Weisglass's lucrative legal clients have been Arafat's personal treasurer, who is also a buddy of Omri Sharon, and the gambling casino in ancient Jericho owned by the PLO and its Austrian partners. The profits from the casino ran up to $1,000,000 a day, as hyper-secular Israelis came to donate their losings to the PLO terror-fund and other interested parties.
Weissglass reportedly seeks to expand his casino-clientele via a beach-and- gambling resort to be build at Elei Sinai in Gaza, as soon as the present obstacles of Jewish homes, farms, and communities are cleared away.
Other parties to the Elei Sinai renewal project include:
1] Shmuel Flatto-Sharon in his native France was convicted of embezzlement of $60,000,000 and sentenced to five years in prison. He escaped to Israel, sought immunity from extradition to France by buying himself a seat in the Knesset, and then served a nine-month prison term for the vote-buying.
The twice-convicted felon comes to Elai Sinai in his silver Mercedes limousine. He is working for permits from the PLO to proceed with the gambling casino, and from the government Israel to let Israelis to lose more money there.
2] Cyril Kern, an old buddy of Sharon's and now a resident of South Africa, was an investor in the PLO's Jericho casino. His gift of $1,500,000 to the Sharon family and/or political campaign, is under investigation.
3] Martin Shlaff is an Austrian banker and financier, was an investor in the PLO's Jericho casino. He part in transferring funds to the Sharon family/campaign is under investigation.
4] Norbert Aleman, a business tycoon in Las Vegas, Nevada, the center for gambling casinos in the United States.
5] A Saudi Arabian multi-billionaire who is also interested in buying the state-of-the-art agricultural greenhouses after the Jews who built them are expelled.
The head of Sharon's Disengagement Coordinating Team is Eival Giladi. He is simultaneously the Chief Executive Office of the financial Portland Trust that does business with the PLO in Gaza. Giladi raised $500,000,000 to invest in PLO housing in Gaza after the Jewish housing has been razed.
The largest investor in the Portland Trust is Sir Ronald Cohen, a close associate of Chancellor of the Exchequer and Prime-Minister-in-Waiting Gordon Brown. The charter of the Portland Trust commits it "to advance the interests of both the British government and the European Union".
Comment: It is reported that Elei Sinai is slated to be the first Jewish community demolished.
So -- What are the benefits of Disengagement?
1] Jews alienated from their own tradition can vent their spite on the Jews who remain faithful.
2] Entrepreneurs of problematic ethics can pocket their profits.
3] The PLO/Hamas terrorists can rejoice at their victory over an Israel that was once uniquely staunch against terrorism.
* * * * * * * * * * * *
"When the people fear their government, there is tyranny.
When the government fears the people, there is liberty."
-- Thomas Jefferson
The Disengagers did not bother with securing support from an element of society they regard as insignificant: The people. When mere common citizens have the temerity to resist, the response is to deprive them of elementary civil rights.
-- Girls in their early teens are arrested merely for being present at an anti-Disengagement protest, and held in prison indefinitely -- sometimes in solitary confinement.

--A woman active in the protest movement wrote a letter to an official Disengager with uncomplimentary but not threatening comments, and has therefore been charged with the crime of "insulting a public official".

--The Attorney-General is "investigating" a rabbi for praying that Sharon retire to his farm.
Prime Minister Menahem Begin predicted that if Ariel Sharon came to power "The first time he doesn't get his way he'll put tanks around the Knesset". That perception of ruthless egomania was correct, though so far Sharon has not needed the tanks. He has never taken any meaningful action against the terrorist entity that slaughters Israelis, but he is fierce against Jews who defy his whims.
Jerusalem Sharon orders IDF to use force against Jews By Jerusalem Newswire Editorial Staff July 17th, 2005
"As disengagement gets underway Prime Minister Ariel Sharon Sunday ordered the IDF to use 'all force' necessary to prevent Israeli Jews from entering the Gaza Strip with the intention of thwarting his 'disengagement' plan. Ha'aretz reported that as IDF Chief of Staff Dan Halutz was briefing the cabinet on a weekend clash between security forces and Gaza settlers at the Kissufim Crossing, Sharon interrupted and demanded the army take all measures to put down the protesters.

"You must act with all severity. I instruct to use all force to prevent the entry of protesters [into Gaza] and to prevent assaults on IDF soldiers," Sharon was quoted as saying. [Comment: It is PLO terrorists, not loyal Jews, who plan assault on IDF soldiers.]

"Hundreds of Jewish settlers marched on Kissufim Crossing Saturday evening to protest the permanent closure of Gaza to all non-resident Israelis. [. . . .] During the melee, nine soldiers openly refused orders to fight their fellow Jews. The government and army vowed to deal with the soldiers harshly, and decided to disband their unit.

"Sharon blamed the right-wing activity against his policies for the failure to put a stop to ongoing terrorist artillery attacks against Jews in and around Gaza. . . . . Analysts, however, suggested Sharon's diplomatic considerations were preventing massive defensive action by IDF ground forces already massed on Gaza's northern border since last Friday."
There are mounting charges of brutality by agents of the government in the police and the prisons. Among those reported by IsraelNationalNews.com, 12 July 2005:
"The Knesset Law Committee today viewed an Arutz-7 film of police beating an anti-evacuation protestor, and it demanded an investigation. The film showed police severely beating Akiva Vitkin, who was trying to block traffic on June 29 in Ramat Gan, adjacent to Tel Aviv.
"One policeman motioned to his colleagues to help beat Vitkin, and they sat on him and stuck fingers in his nose and mouth, causing excessive bleeding and facial injuries. [. . . . ]"
19 July 2005:
"After 54 days in jail, the court has released Eliyahu Herbst because there is no incriminating evidence against him. He was released with no limitations at all.

"Herbst, father of 6 and grandfather of 2, was originally arrested in Arad during the first roadblockings, for 'standing in an illegal assembly and not dispersing'. The judge offered to release him on condition that he not take part in further illegal demonstrations, but he refused, saying, 'The evidence against me shows that I was only standing nearby - so that means that every time I walk in the street I can be accused of violating the conditions'.

"During his stay in jail, the police consistently abused him, physically and emotionally. Individuals from the Nahshon unit violently pushed and dragged him while bringing him, handcuffed, to jail. In the Maaseyahu prison, he was kept in solitary confinement for 20 days, with no reason given. He was also given other punishments, such as denial of visits and phone calls, with no explanation."
On the other side of the scale, enforcers of Disengagement are not immune from punishment.
Negev District Police Commander Niso Shacham was in charge of action against the civilian "protestors" peaceably assembled and forcibly detained within his jurisdiction.
A TV-news crew filmed and recorded his instructions to a subordinate on how to deal with the "protestors". His words are as brutal, vicious, and obscene as might be expected from a Cossack leading a pogram.
After the public release of his performance, Chief of Police Moshe Karadi investigated Shacham's professional demeanor and ruled that:
1. he will not in the future deal with "protestors"
2. a reprimand will be entered in his record
3. six days' pay will be docked from his salary.
* * * * * * * * * * * *
Citizens are denied the right to travel if the government does not like the itinerary. In cities around the Land, agents of the government tried to prevent citizens from assembling at Netivot [inside the "green line"] to protest the official sealing off entry to the Jewish towns of Gush Katif. Police stopped lawfully chartered buses, evicted the passengers, and even confiscated the licenses of the drivers.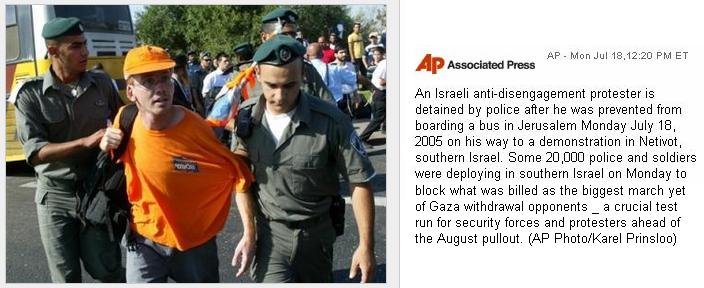 One of the evicted passengers was former Chief Rabbi Avraham Shapira, aged 80, so set off to walk to his distant destination.
The usually leftist Association for Civil Rights in Israel professed itself "unable to find any law providing a legal foundation for the police action against law-abiding citizens traveling in buses".
Sharon's plans for dealing with forthcoming defiance are revealed by ace investigative reporter David Bedein, Israel Resource Review, 17 July, 2005
"All this is written as a backdrop to the reality that the Israeli Army is amassing more than 40,000 troops and police near Gaza to forcibly remove Jews from their homes. The Israeli police force has purchased 500 horses from Germany to aid them in their task. Former Israeli intelligence official, Rony Shaked, now a senior correspondent for the daily newspaper, Yediot Aharonot, has written that the IDF now has specially trained dogs who can pull people out of their homes and on to the streets. And the IDF troops near Katif have been handed a document which explains under what circumstances will they be expected to open fire on protesters. The document concludes with an estimate that 300 residents and/or protesters will be killed in the process. Western media never report this stuff.

"Then again, what really is the likelihood of such failed ideas working when they are forced down Israel's throat and terrorism is rewarded" . . . . This quest for 'peace' is insane."
* * * * * * * * * * * *
To push through Disengagement, Sharon and his henchpersons had to wreck the political compact between people and government, on which the nation and its society stands.
"Democracy and Disengagement", by Evelyn Gordon, The Jerusalem Post, 20 July 2005:
"A friend asked me last weekend what disengagement opponents sought to accomplish by blocking roads, clashing with security personnel and urging soldiers to disobey orders. Don't they understand, she asked, that such actions merely alienate the public, and in a democracy, the key to success is winning over public opinion? I still do not know whether to laugh or cry over that question.

"The answer, of course, is that these protesters have no interest in public opinion, because they do not believe that democracy works. This is a generation that has been taught to scorn democracy - not by their rabbis, but by Ariel Sharon. And this may yet prove to be disengagement's most devastating legacy.

"A brief history of the plan suffices to show why many protesters today are disillusioned with democracy. It begins with the January 2003 elections, in which the central campaign issue was Labor's proposal for a unilateral withdrawal from Gaza, which Sharon adamantly opposed.

"There was no violence during this campaign; people on both sides canvassed for votes in approved democratic fashion. And the results were unequivocal: Sharon's Likud Party, running on an anti-withdrawal platform, won more than twice as many seats as Labor, giving Sharon the largest electoral victory in Israel's history.

"Then, in December 2003, Sharon suddenly adopted Labor's unilateral withdrawal platform - the very policy he was elected to block. He thereby single-handedly nullified the democratic victory won by pullout opponents 11 months earlier.

"Nevertheless, these activists did not lose faith in democracy. When Sharon announced a referendum of Likud members on his plan and pledged to abide by the results, thousands of pullout opponents, in exemplary democratic fashion, volunteered dozens of hours of their time to go house to house and persuade Likud members to oppose the plan. Once again, there was no violence. And once again, they won a stunning victory: Within weeks, polls showing a 60 percent majority in the Likud for disengagement became a 60% majority against it at the ballot box.

"[. . . . ] Thus in the only two electoral contests ever held on disengagement, pullout opponents won decisive victories through strictly democratic means. Yet the plan continues to sail toward implementation. So thousands of anti-disengagement activists have drawn the only possible conclusion: Democracy does not work - because no matter how many democratic contests you win, those in power will still do as they please unless forcibly prevented.

"The media and law-enforcement agencies, meanwhile, have exacerbated this disillusionment. The media did so by consistently vilifying even peaceful opposition to the pullout. For instance, it routinely describes Likud MKs who honored the referendum results by voting against disengagement as "rebels" - the implication being that it is illegitimate to prefer the voters' will to that of the prime minister.

"But how can one argue that democracy works if it is illegitimate for MKs to honor their voters' wishes? Similarly, Haaretz and The Jerusalem Post both declared last August that the Likud Convention acted illegitimately in vetoing Sharon's proposal to bring Labor into the government in order to secure a majority for disengagement. But how can democracy work if it is illegitimate for party organs to respect the will of party members, who explicitly rejected disengagement?

"Or consider Haaretz columnist Ari Shavit's comment on the referendum. Shavit is a centrist, not a radical leftist. Yet he wrote that 'the settlers' victory was 'unforgivable,' destroyed all 'justification for talking with them' and necessitated 'resolute' action against them. But how can democracy work if winning a democratic vote is 'unforgivable' and justifies treating the victors as pariahs?

"And the above, unfortunately, are only a few of literally hundreds of examples.

"The police, for their part, have periodically suppressed a cornerstone of democracy: peaceful protest. [. . . . ] [F]or instance, police prevented a bus full of settlers from traveling to Netanya in March to carry out a democratic campaign par excellence: personal visits to hundreds of residents to argue against disengagement. That news spread like wildfire among anti-disengagement activists. And how are such activists then supposed to believe in democracy?

"Equally problematic was the arrest and indictment of hundreds of young activists who blocked roads in recent weeks. Since blocking roads is illegal, this would seem unexceptionable. Yet these activists know full well that the legal establishment tolerates illegal road-blocking in support of other causes. In summer 2003, for instance, the Histadrut organized dozens of demonstrations nationwide in which its members blocked major roads to protest pension reform. Yet nobody arrested or indicted these demonstrators.

"And just this Tuesday, IMI workers blocked Jerusalem roads and stormed the Prime Minister's Office, injuring a policeman. Yet instead of being arrested, they were rewarded with a NIS 270 million government grant - which the Treasury had hitherto refused. So how are people supposed to respect democracy when laws that should apply equally to all are enforced with such blatant selectivity?

"The accumulation of evidence over the past two years has been overwhelming: Israel's power centers - the politicians, the media and the justice system - may pay lip service to democracy, but they have no qualms about riding roughshod over its most fundamental principles anytime the democratic process fails to produce the results they desire. [. . . . ]
Comment: Minister of Justice Madam Tzipi Livni classifies law-abiding opposition to government policies as "a threat to democracy".
* * * * * * * * * * * *
The color orange has become an emblem of defiance of the Sons of Darkness. This bit of brightness drives the Sons of Darkness to a kind of hysteria:
1] Girls were banned from praying at the Kotel [Temple wall] because they were wearing orange shirts.
2] A group of Buddhists visiting from India were not allowed to enter the Knesset building until they removed their traditional orange silk scarves.
3] An employee in a Knesset office was fired for dying his hair orange.
4] The Jerusalem Shopping Mall turns away customers wearing orange.
5] Automobiles with orange ribbons have been banned from parking lots.
* * * * * * * * * * * *
The IDF [Israel Defense Forces] have always shown matchless valor in defense of Israel and the Jewish people. Now it is being ordered to act against the Jewish people in an operation not in defense of the nation but in the service of a political plot.
Many soldiers have declared that they will not be so misused. This often means a prison sentence or dismissal from service -- thereby depriving Israel of its finest defenders. The elite Golani Brigade and Givati Brigade have been exempted from Disengagement duty, for fear of mass refusal to obey.
A ceremonial jump at completion of parachute training was cut short when men floating downward to their Land waved orange ribbons.
This is "A Tme to Speak -- Messages About Israel", Issue No. 55.
"A Time To Speak" appears once a month, and each issue is on a theme that relates to Israel and the Middle East past and present, including history, background, current events, analysis and comment. All issues appear on its website: http://www.israel.net/timetospeak. A complimentary subscription to the e-mail edition is available by request to: speak@actcom.co.il.
To Go To Top