ISRAEL'S NEWEST TRADING PARTNERS
by John Reed
CONTRAST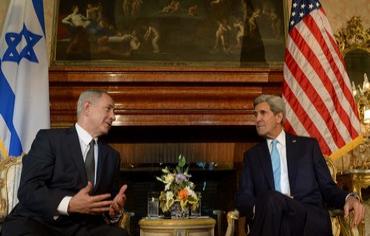 Netanyahu and Kerry meet in Rome, October 23, 2013 (Photo: Avi Ohayon, GPO )
AND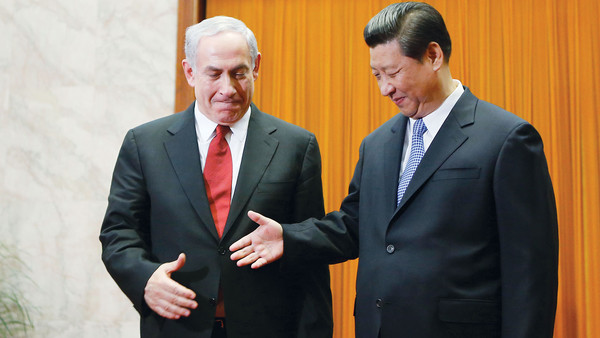 Put it there. Benjamin Netanyahu and Xi Jinping, the Chinese President. Mr. Netanyahu wants to increase trade with China.
In the last week of November, Israel was locked in a tense, politically charged set of negotiations with EU diplomats over a €1.5bn package of loans from Brussels. The talks were bound to be difficult: the Europeans had already stipulated that the money would go only to organisations that did not do business in Jewish settlements on occupied Arab land.
To some Israelis, the EU's position — designed to make a point about the borders between Israel and a future Palestinian state — raised fears that the country was sliding towards the economic isolation South Africa felt in the final years of apartheid.
Benjamin Netanyahu, Israel's prime minister, called an emergency cabinet meeting to find a way of breaking the stalemate and renew the terms for the loan programme, known as Horizon 2020. Within days, an agreement was reached: the EU would provide the money, but none of it would benefit Israeli settlements in the West Bank, East Jerusalem or the Golan Heights.
While this acrimonious negotiation was playing out, Israel was pursuing another initiative. It received far less attention but offered a sign of how the nation sees its future place in the world: President Shimon Peres[1] was off to Mexico City, where the atmosphere was far less contentious.
There he was greeted by President Enrique Peña Nieto[2] and an honour guard at the Palacio Nacional. With him was an 80-strong delegation representing some of Israel's most promising and sought-after industries, from high-tech irrigation and cybersecurity to drones.
The Mexican trip was part of a broad strategic push by Israel into emerging markets, where it hopes there will be more interest in its technology than the conflict over its borders. As Israel's political relations fray with the EU — and some question its relationship with the US — Mr Netanyahu's government is seeking to diversify its economic relations by strengthening ties with faster-growing countries.
The Israeli delegation was met by Carlos Slim,[3] the telecoms baron and world's richest man, who led a group of Mexican chief executives eager to learn from and do business with their counterparts.
"We like to have our finger on the pulse of everything regarding new technologies, and I know that in this Israel is a world leader," Mr Slim said in a speech at his Museo Soumaya art museum, adding that he hoped to invest more in Israel. Mr Slim's America Movil was an investor in a recent $60m financing round for Mobli, a promising Israeli start-up mobile photo and video-sharing platform.
In targeting emerging economies, Israeli officials say they are going after the same high-growth markets most other countries are pursuing — but acknowledge that there is also a political component to the shift in strategy.
"The lesson we learnt from the recent experience negotiating with the EU over Horizon 2020 was that Israel cannot put all of its eggs in one basket," says Naftali Bennett, Israel's economy minister and head of the rightwing, pro-settler Jewish Home party. "We need to scatter them."
Another government official, reflecting on a recent visit by Chinese politicians to Israel, put matters more bluntly: "They don't care about the [Palestinian] issue," the official said. "They want to talk about three things: Israeli technology, Israeli technology and Israeli technology."
Israel's economic pivot to the east and south is a welcome development for the majority of Israelis who reject Europe's growing drive to isolate their country economically over its Palestinian policies.
But Israel's shift could — if it succeeds — be bad news for the international "Boycott, Divestment, Sanctions" movement, which favours a full economic boycott of Israel to press it to make peace.
It comes as the BDS movement takes heart from recent decisions by European companies such as Vitens, the Dutch water company, and Veolia, the French infrastructure group, to curtail business in the West Bank after facing pressure from campaigners. Last month the American Studies Association,[4] a US academic group, made a controversial decision to boycott Israeli universities, which Israelis worry could presage similar moves.
While the EU has promised "unprecedented" economic aid to Israel and the Palestinians if they make peace, it has shown increasing willingness to brandish the economic stick, too. Apart from the new Horizon 2020 guidelines, Brussels is also considering adopting rules that require labelling of fruit, vegetables and other goods produced in settlements that are sold in the EU.
Yair Lapid, the finance minister, and Tzipi Livni, Israel's chief negotiator in the talks with the Palestinians, are among the moderate members of Mr Netanyahu's government who have warned that their country could face sanctions of the kind seen in apartheid-era South Africa if it fails to negotiate peace.
However, defence minister Moshe Ya'alon, a leading rightwinger in the ruling Likud party and a sceptic of the peace talks, said he preferred "EU boycotts over rockets on Tel Aviv". His comments reflected a steelier view within government that Israel is ready to weather economic isolation.
Mr Bennett, a former businessman who co-founded and sold a successful software company before entering politics, is a principal architect of Israel's push into new markets. Among leftwing Israelis, he is an object of scorn for his categorical rejection of a Palestinian state. He once compared Israel's ability to live with the conflict to a man he knew who was able to adjust to life with a piece of shrapnel in his rear end.
While remarks such as these have made headlines, Mr Bennett has — more quietly — led economic delegations to China and India. His ministry is closing Israeli trade missions in Sweden and Finland and opening missions in China, India and Brazil.
On the sidelines of the World Trade Organisation summit in Bali last month, Mr Bennett met his Russian counterpart Aleksey Ulyukayev, and the two men agreed to begin talks on a new free-trade agreement. Russia and Israel already trade $2bn a year worth of diamonds.
While in Bali, Mr Bennett and his colleagues also met other trade delegations and held talks on future FTAs with "a number of surprising countries", he said afterwards, the names of which he did not reveal.
Israel's foreign ministry has also welcomed delegations from countries in Latin America and elsewhere interested in the policies and regulations that make the Jewish state one of the leading centres of innovation. "There is a major effort in the ministry of foreign affairs to 'brand' Israel as a start-up nation," says Irit Ben-Abba, deputy director-general of the ministry's economic affairs division.
. . .
Israel's economic shift comes at a time when its geopolitical bearings are in a broader state of flux.
Alongside the friction with the EU, Israelis have in recent months also questioned their country's reliance on the US, their closest ally and another main trading partner, because of differences over the nuclear negotiations with Iran.
Avigdor Lieberman, foreign minister, said in a recent speech that Israel's link with the US was "waning" and the country needed to shift from a "unidirectional" foreign policy to one of seeking better relations with a more diverse range of countries.
The same tensions over Iran have aligned Israel more closely with Saudi Arabia and other Gulf states, with which Israel does not have diplomatic relations but has long done business through back channels. After his visit to Bali, Mr Bennett noted that he had given a speech to 157 trade ministers — including those from Arab and Muslim states — and "we didn't notice anyone walk out".
Israeli and European officials say that the EU, which accounts for about a third of Israel's imports and a quarter of exports, will remain an essential trading partner for the country for now.
However, as a precarious peace process continues, Israel is hedging its bets and realigning itself in the world.
Last Monday, as John Kerry, the US secretary of state, was heading to the region, Palestinian negotiator Saeb Erekat warned that Israel's government had "foiled the talks" because of its continued expansion of settlements and controversial draft legislation to annex the Jordan Valley.
That same day, Mr Netanyahu convened a meeting in his Jerusalem office of a new committee on advancing economic ties with China.
With four ministers in the room, the prime minister was briefed on the arrival of new Chinese investors in Israel and plans to open a consulate in Chengdu. In 2014 the two countries will hold joint working groups on agriculture, water, energy, clean technology and high technology in Israel and China.
"Our goal is to consistently increase trade with China, year after year," Mr Netanyahu said afterwards. "This is one of the main horizons for ensuring the growth of the Israeli economy."
Footnotes
[1] http://www.ft.com/topics/people/Shimon_Peres
[2] http://www.ft.com/topics/people/Enrique_Pe%C3%B1a_Nieto
[3] http://www.ft.com/cms/s/2/172d8ab6-8b47-11e2-8fcf-00144feabdc0.html
[4] http://www.ft.com/cms/s/0/bbe1e96a-68ac-11e3-bb3e-00144feabdc0.html

---
John Reed is a staff writer for Financial Times. He is currently temporarily in Jerusalem and did something surprising among those pontificating from Jerusalem, versed only in English -- he actually took a course in Hebrew. This article appeared January 3, 2013 in Financial Times and is archived at
http://www.ft.com/intl/cms/s/0/045dca8a-6725-11e3-a5f9-00144feabdc0.html#axzz2r5qXLXgk.
Note: the photo of Netanyahu and Kerry in Rome are from Caroline Glick's November 4, 2013 article on the importance of European trade (http://www.jpost.com/Opinion/Columnists/Its-time-to-reassess-Israels-strategic-assumptions-330602).