EGYPT'S COPTIC CHRISTIANS FACE UNPRECEDENTED REPRISALS FROM THE MUSLIM BROTHERHOOD
by Daria Solovieva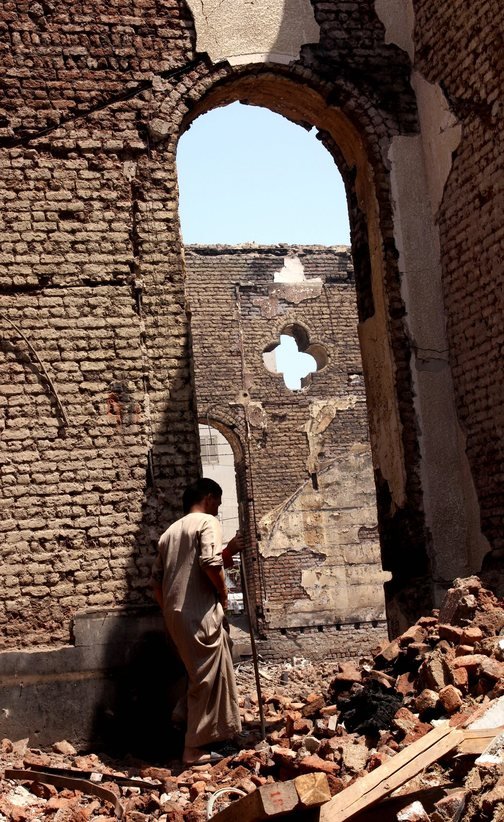 The Evangelical Church of Malawi was ransacked, looted and burned when supporters of ousted Egyptian President Mohammed Morsi took out their anger at Coptic Christians. (Associated Press)
CAIRO — Islamist mobs have torched schools and businesses owned by Christians, looted churches and even paraded captive nuns through the streets of a city south of Cairo in a display of rage unseen in Egypt's recent history.
The campaign of killing and arson is retaliation for the tiny Christian community's support of the military coup that ousted President Mohammed Morsi and his Muslim Brotherhood government.
The Muslim Brotherhood were the ones who called for aggression [against Christians]. They are responsible," said the Rev. Khalil Fawzi, a pastor at Kasr El Dubarrah Evangelical Church, the largest evangelical congregation in the Middle East. "Either they are in control or they burn Egypt."
Since the military removed Mr. Morsi seven weeks ago, his supporters have burned at least 44 churches and ransacked more than 20 other Christian institutions throughout Egypt.
Most of the attacks were in regions south of Cairo. In the capital, police and neighborhood watch groups protected many churches and Christian-owned shops.
At least six Christians and one Muslim working at a Christian-owned shop have been killed since Mr. Morsi was removed July 3, human rights activists said. Nearly 900 people in all have died in clashes between security forces and Morsi supporters.
Coptic Christians make up about 9 percent of Egypt's population of 85 million, and other Christian denominations about 1 percent. The vast majority of Egyptians are Sunni Muslims.
Mob Assaults Nuns
The most shocking assault against Christians occurred at a Roman Catholic school in the Bani Suef province south of Cairo when Islamists captured three nuns and several school employees. The extremists "paraded us like prisoners of war," said Sister Manal, the school principal.
After six hours of abuse, they escaped from the mob after a Muslim woman who taught at the school sheltered them in her home.
In another attack in Beni Suef, a volunteer for the Coptic Orphans international adoption agency was hospitalized after more than a dozen people assaulted him as he was trying to rescue his sister and nephew. The organization, which has been active in Egypt since 1998, called the rise in violence against Copts "unprecedented."
Islamists have been assaulting Coptic Christians since the 2011 revolution that overthrew the autocratic Hosni Mubarak, but the attacks have intensified since the ouster of Mr. Morsi, the country's first democratically elected leader.
Coptic Pope Tawadros II stood beside Egypt's leading Sunni imam, Sheik Ahmed El Tayeb, and Gen. Abdel-Fattah el-Sissi as the military leader announced the overthrow and detention of Mr. Morsi. Millions of protesters demanded Mr. Morsi's removal in June after he imposed increasingly harsh Islamic laws and failed to revive a crippled economy.
Egypt's Coptic Church last week said it backed the military's move against "armed violent groups and black terrorism."
The Muslim Brotherhood and other Islamist groups have denounced Christians at public events, over social media and on pro-Morsi TV channels. However, the Muslim Brotherhood and the radical Islamist group Gamaa Islameya have denied responsibility for the attacks.
"Although some Coptic leaders may have supported or even participated in the July 3 coup, for one reason or another, no such attacks can be justifiable," Muslim Brotherhood spokesman Murad Ali said.
"Ongoing acts of vandalism are aimed at damaging our reputation, demonizing our peaceful revolution and finding justification for the July 3 coup commanders and collaborators to continue their acts of repression and violence."
Still, the Facebook page of the Muslim Brotherhood's local branch in the Cairo suburb of Helwan accuses the Coptic Church of siding with the military and warned, "For every action there is a reaction."
Mr. Fawzi, the evangelical pastor, suspects the Islamists are trying to goad Christians into a violent response.
"They hoped the Christians will retaliate by killing and a civil war would start," he said. "I praise Christians for their patriotic attitude."
Police failed to help
Human rights advocates criticize the Egyptian police and military for failing to protect Christians.
"The police have never come to protect the churches or to respond after the attacks," said Ishak Ibrahim, a researcher who is tracking the attacks on the Christian community for the Egyptian Initiative for Personal Rights, a Cairo-based nonprofit. "Also, no firetrucks have been sent."
"Egyptian security officials bear responsibility for their failure to protect churches and Christian communities against predictable reprisal attacks," said Joe Storck, the Middle East and North Africa director at Human Rights Watch.
Gen. el-Sissi told state TV that he ordered the armed forces to repair all damaged churches in "recognition of the historical and national role played by our Coptic brothers."
The military, which controls up to a third of Egypt's economy, manages businesses in the construction industry and handles construction of its own buildings and roads.
Even before the outbreak of violence that followed the dispersal of the pro-Morsi sit-ins last week, the Coptic community was under increasing attack, Mr. Ibrahim said.
"Various Islamist groups, including the Brotherhood, have been calling for the attacks on Christians and churches," he said, "although no one knows who is actually doing the specific attacks."
Coptic Christians have expressed strong support for Gen. el-Sissi's crackdown on the Brotherhood and the arrests of many of its leaders.
"I'm proud of what the army is doing and what Sissi is doing," said Mariam Farrag, a shopkeeper in Coptic Cairo, a part of the capital with some of the world's oldest Christian relics and sites.
"Things will be great again," she said as she smiled and restocked her shop.
---
EDITOR'S NOTE:
These are some of the comments to the original publication.
IndependentExtremist
McLame, Graham, Obummer, and Rand Paul (who I used to like) are now completely silent.
Who from our esteemed media and fearless rulers is speaking out???
If one Mosque was burned down, the whole world would be in an uproar, yet here you have 50 churches burnt!! 50
50 churches burnt
zemer
Yes, but those mosques are usually burned or blown up by other Muslims. The U.S. spends millions of dollars rebuilding mosques in other countries if our weapons damage them. http://frontpagemag.com/2012/frank-crimi/obama-rebuilds-mosques-while-churches-burn/
joverman50
That is something I'd really like to have explained to me, that they burn & blow up each others mosques, kill each other during their holy month. Aren't we the infidels? Aren't we the ones to be converted or killed? You just never see the Baptists out for the Methodists.
Gum Boocho
What did the coptic "Christians" do to the Islamists
joverman50
No one has to "do" anything to them. All one has to do is not agree with them, not be one of them. Any other religion is wrong, any other idea is wrong & any "wrong" thing must be destroyed. Plain & simple.
---
Daria Solovieva is a writer for the Washington Times, where this article appeared August 20, 2013. It is archived at
http://www.washingtontimes.com/news/2013/aug/20/egypts-coptic-christians-face- unprecedented-repris/?page=all.
See also: Killing Coptic Christians and Copts Killed in Luxor.