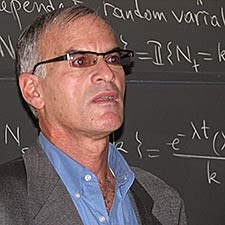 Left: Norman Finkelstein
Former academic Norman Finkelstein, who now teaches fourteen-week classes at the Brooklyn Public Library,[1] recently spoke on a "Black and Palestinian Solidarity" panel at Princeton University[2] that was co-sponsored by the Department of Near Eastern Studies.
Displaying his well-known propensity for engaging in blood libels and other forms of anti-Semitism, Finkelstein made a number of reprehensible statements. He labeled Israelis "biped bloodhounds drinking the blood of one million [Palestinian] children"; likened Israelis to slave-owners and then repeated the phrase "shoot them dead"; refused to condemn terrorist organizations Hezbollah and Hamas, because, he claimed, "they're fighting for their basic rights"; and called a student in the audience who had served in the IDF a "concentration camp guard."
As that student, Jacob Katz, later remarked about Finkelstein, "I don't care that he's Jewish. He's anti-Semitic. That's just a fact."
None of this was out of character for Finkelstein, yet panel organizer and student Leopoldo Solis, who disregarded warnings beforehand about the former academic's history of anti-Semitism, would only say that his "behavior derailed the conversation and distracted from our main goal. We do not condone how these words changed the conversation to a less-productive space."
A less-productive space? Weasel words. The real question is, what's Princeton's Near Eastern Studies Department's excuse?
Update: The Daily Princetonian, whose coverage we linked to for this blog, has published a response[3] from Norman Finkelstein and added an editor's note to its original article[4] pointing out that the "piece has been edited to better reflect the context and content of the panel as a whole."
Neither alter CW's perspective on Finkelstein's comments, particularly his response, in which he cites the questionable work[5] of Harvard University professor and Hamas apologist[6] Sara Roy to repea[7]t the blood libel that Israel intentionally poisons Gazan children via the water supply. Moreover, Finkelstein doubles down on his contention that audience member and IDF veteran Jacob Katz, who asked him a question after the talk, is "one of the guards along the perimeter fence of this concentration camp [Gaza] caging in one million children."
Update II: The blog Israellycool[8] has linked to a video[9] of the exchange between Finkelstein and Katz so that the public can experience the former's loathsome behavior for itself. Don't say we didn't warn you.
Update III: Members of the Alliance of Jewish Progressives, another of the panel co-sponsors, has published a statement[10] in the Daily Princetonian condemning Finkelstein's invocation of "the well-known anti-Semitic trope of blood libel" and distancing themselves from the event, which, they allege, "was perverted by Finkelstein's genuinely anti-Semitic and offensive remark."
We'll be waiting with bated breath for Princeton's Near Eastern Studies Department to do the same . . .
Update (10/20): Princeton sophomore Esther Levy pens "A Response to Anti-Semitism"[11] at the Daily Princetonian. Levy dismisses Finkelstein's own op-ed response as "cushioning anti-Semitic claims within other anti-Semitic claims" and asks her fellow students that were present at this talk, "Why did you snicker? Why did you clap? Why did you sit idly by as Finkelstein said harmful and hurtful anti-Semitic things, targeting the Jewish students at the panel and Judaism at large? Why didn't you care?"
Footnotes
[1] https://www.bklynlibrary.org/calendar/majority-versus-minority-central-library-balcony-20191022
[2] http://www.dailyprincetonian.com/article/2019/10/finkelstein-anti-semitic-remarks
[3] http://www.dailyprincetonian.com/article/2019/10/a-response-from-norman-finkelstein-gs-87
[4] http://www.dailyprincetonian.com/article/2019/10/finkelstein-anti-semitic-remarks
[5] https://cameraoncampus.org/blog/harvards-sara-roy-all-hamas-needs-is-love/
[6] https://www.meforum.org/campus-watch/16439/collaborators-in-the-war-against-the-jews-sara-roy
[7] https://www.meforum.org/campus-watch/26173/norman-finkelstein-accuses-israel-of-poisoning
[8] https://www.israellycool.com/2019/10/13/watch-norman-finkelstein-in-antisemitic-outburst/
[9] https://youtu.be/jocnL6zFB6I
[10] http://www.dailyprincetonian.com/article/2019/10/a-condemnation-of-finkelsteins-conduct-from-members-of-ajp
[11] http://www.dailyprincetonian.com/article/2019/10/a-response-to-antisemitism

---
Cinnamon Stillwell analyzes Middle East studies academia in West Coast colleges and universities for Campus Watch. A San Francisco Bay Area native and graduate of San Francisco State University, she is a columnist, blogger, and social media analyst. She can be reached at stillwell@meforum.org.
This article was published October 15, 2019 by Middle East Forum's Campus Watch and is archived at
https://www.meforum.org/campus-watch/59555/princeton-near-eastern-studies-dept-co-sponsors/.
It is archived at Think-Israel at
http://www.think-israel.org/stillwell.normanfinkelstein.html