SOROS'S SMEAR SCRIPTS: WELCOME TO THE VAST, MEGA-FINANCED LEFTIST ASTROTURF CAMPAIGN AGAINST PRESIDENT TRUMP
by Matthew Vadum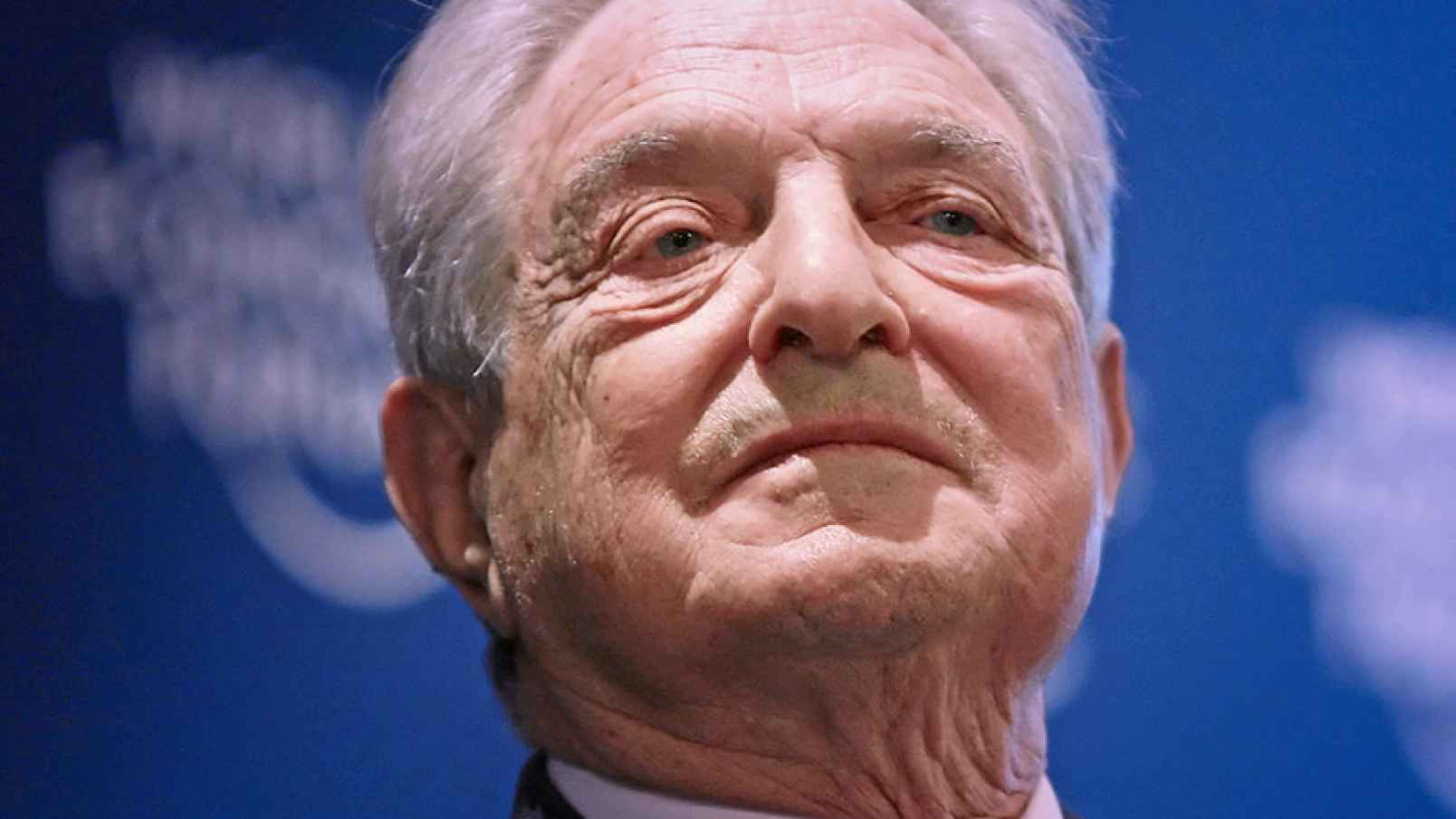 George Soros
A radical group linked to rogue billionaire George Soros has been providing scripts containing anti-Trump talking points for constituents to read aloud during congressional town hall meetings.
One of the scripts distributed by the Revolutionary Love Project encourages town hall participants meeting with their member of Congress to accuse the Trump administration of – wait for it – "xenophobia, racism, and Islamophobia." Constituents are urged to use those precise words to "forcefully condemn" President Trump's immigration and border security initiatives, Aaron Klein reports[1] at Breitbart News.
Information about the scripts came as leaked audio[2] from anti-Trump activists associated with the group Indivisible surfaced. Their target was a town hall hosted by Sen. Bill Cassidy (R-La.). They planned to deploy an "inside team" to occupy as many seats as possible and an "outside team" to "give [the media] the coverage they want." Activists were urged to "dress like conservatives" and avoid "any signifier that you're a liberal" so they could dominate the meeting.
"Game plan number one is to fill as many seats as we can, right? If it's all of us in there and the poor people of Breaux Bridge are sitting behind us, well then tough luck for them," James Proctor of Indivisible reportedly said.
"If we can arrange it so he doesn't hear one sympathetic question–great. That only magnifies our impact," he added.
This is a standard, old-time organizing technique used by followers of Rules for Radicals author Saul Alinsky.
It has another name in politics: astroturfing.
Meanwhile, the Revolutionary Love Project states on its website that its supporters "resist all policies, actions, and rhetoric that put people in harm's way," and "fight for justice through the ethic of love -- love for others, our opponents, and ourselves." This language is reminiscent of communist revolutionary Ernesto "Che" Guevara's famous statement that "the true revolutionary is guided by a great feeling of love."
Among the leftists who have signed the group's "declaration" promising "to rise up in Revolutionary Love" are Van Jones, the Rev. Dr. William Barber, Melissa Harris-Perry, Jane Fonda, former Philadelphia mayor Michael Nutter (D), Black Lives Matter co-founder Opal Tometi, Linda Sarsour, and Rabbi Sharon Kleinbaum.
The script, which is titled, "#NoBanNoWallNoRaids Talking Points for Congressional Townhalls," may be viewed here[3].
As Klein notes,
The anti-Trump script for activists is meant to aid a project driven by the George Soros-funded MoveOn.org group declaring the week of February 18-26 – the first congressional recess of the 115th Congress – to be "Resistance Recess."
The project called on activists to show up at "elected officials' events, town halls, and other public appearances to make it clear to those who represent us in Congress, as well as to the media, that tolerance of the Trump Administration's hurtful policies is intolerable, that indifference or idleness is not acceptable, that complacency is politically toxic."
A mass email sent by the Revolutionary Love Project asked supporters to repeat the script's talking points to "voice your concern" during town hall meetings.
Klein provides an excerpt of the script:
Stage 1: Who You Are. My name is ______ and I'm a resident of _______. Add a description of your connection to the community.
Stage 2: Your Concerns. I am particularly concerned about the Administration's efforts to target and criminalize immigrants, refugees and people entering our country from Muslim-majority countries. I want you as a representative of our district to understand the impact of Trump's executive orders and to take action.
At the end of the script, Avideh Moussavian of the National Immigration Law Center and Deepa Iyer of the Center for Social Inclusion are listed as contacts. According to the Foundation Search database both groups are funded by Soros's philanthropic organs.
The National Immigration Law Center has taken in $4.6 million from Soros since 2004, while the Center for Social Inclusion has received $475,000 since 2012.
The Center for Social Inclusion teaches Democrat members of Congress how to lie about and smear[4] their adversaries.
Then-trainer Maya Wiley, who worked for Soros's philanthropies and as counsel to New York Mayor Bill de Blasio, instructed lawmakers in using "the issue of race to defend government programs." Rhetoric used by conservatives and free-market enthusiasts is consciously or unconsciously racially coded, she taught, and needed to be overcome with anger.
"It's emotional connection, not rational connection that we need," she said. For example, Wiley offered that former House Speaker Newt Gingrich calling Barack Obama a "food stamp president," cannot be "a race-neutral statement, even if Newt Gingrich did not intend racism." In other words, all criticism of the leftist 44th president by definition has to be rooted in racism.
Moussavian acknowledged to Breitbart that his group "contributed" to the script "in response to overwhelming concern and fear stemming from the January 27th executive order that sought to ban the entry of refugees and Muslims and in response to mounting questions from community members about how to express these concerns to policy makers."
In reality Executive Order 13769, which has been enjoined by the courts, temporarily banned visitors from seven terrorism-plagued Muslim countries while shoddy security screening processes could be reconsidered, and did not exclude Muslims as such from the United States. The president is expected to issue a new, more narrowly tailored executive order, or perhaps multiple executive orders, in coming days.
The National Immigration Law Center is a party to one of the lawsuits filed to block EO 13769.
Asawin Suebsaeng wrote[5] a month ago in the Daily Beast that professional community organizers began putting together the Trump-resistance operation on Nov. 9, the day after the election.
From the moment Trump defeated Hillary Clinton in the general election, they've been anticipating and mapping out their battle plans for Trump's orders on deportations, bans, and detention.
So when you heard about a large crowd at an airport in the past few days yelling catchy slogans like "F--K TRUMP, F--K PENCE, THIS COUNTRY'S BUILT ON IMMIGRANTS," it was no "spontaneous" outpouring of support. It was the result of a lot of unseen work and man hours.
Groups like Make the Road New York, which has received $1 million from Soros since 2001, generated a 15,000-strong anti-Trump protest in Manhattan the Sunday after the election, he reports. Their message to the president-elect was, "We will not let you tear our families apart."
After Trump signed the executive order the Left dishonestly calls a "Muslim ban," Make the Road's director of civic engagement and research, Daniel Altschuler, went to work arranging demonstrations at a New York airport.
"This is [a] man who actually won on a campaign of hate and xenophobia and sexism … We knew we had to respond rapidly," Altschuler said. "Folks on our organizing team and communications team were poised to respond rapidly because of what we do … We went out to the airport immediately on Saturday. I was en route to the airport around 11:30 a.m.… We were on the phone with other groups, saying, 'Bring your people to JFK, bring your friends to JFK.'"
Suebsaeng lists other groups involved in protesting Trump, like the New York Immigration Coalition, which has received $550,000 in Soros grants since 1999, and Asian Americans Advancing Justice, which received $1.2 million in Soros grants since 2012.
New York Communities for Change has also been involved in resisting the Trump administration, including the actions at JFK Airport.
There was "a domino effect of rapid mobilization," said Renata Pumarol, NYCC's communications director. "And going forward, we have our plans in place to resist Trump … and pressuring corporate Dems to resist every appointment, every aspect of Trump's agenda."
NYCC is, of course, a direct successor group to the now-defunct and disgraced Association of Community Organizations for Reform Now (ACORN), which Soros funded. Until fairly recently, NYCC had office space in ACORN's old headquarters in Brooklyn.
President Trump called out his predecessor for meddling this week. Accusing Obama of being "behind" the town hall protests and maybe the leaks coming out of the White House, too. A New York Times[6] article from yesterday stated that in the dying days of the Obama administration officials "spread information" about the alleged Russian tampering in the election and supposed ties between that country and Trump associates "across the government."
Obama's huge, well-funded agitation outfit, Organizing for Action,[7] has been on the front lines attacking Trump in order to defend the Obama administration's awful legacy. Both Organizing for Action and Soros-funded MoveOn have been leading the way in packing town hall meetings with unruly protesters.
Obama has rented a $5.3 million, 8,200-square-foot, walled mansion in Washington's Embassy Row that he is using to command his community organizing cadres in the war against President Trump. Obama's alter ego, Valerie Jarrett, has reportedly moved into the house[8] to help out. Jarrett also resided in the White House when Obama was president.
Former Attorney General Eric Holder said this week that the former president will soon return to the national spotlight. "It's coming. He's coming," the nearly-impeached former cabinet member said. "And he's ready to roll."
Indeed he is.
Footnotes
[1] http://www.breitbart.com/big-government/2017/02/28/soros-groups-provide-word-word-anti-trump-script-protesters-use-lawmakers/
[2] http://www.breitbart.com/big-government/2017/02/27/leaked-audio-anti-trump-town-hall-disruption/
[3] https://drive.google.com/file/d/0B_RnC_QLuPm2TGtFNDhfWU1KZ1VEckhRT3lmVEkzUm0wZWVz/view
[4] http://www.frontpagemag.com/fpm/131871/soros-funded-alinsky-smear-machine-invades-matthew-vadum
[5] http://www.thedailybeast.com/articles/2017/02/02/these-are-the-groups-behind-those-spontaneous-anti-trump-ban-protests.html
[6] https://www.nytimes.com/2017/03/01/us/politics/obama-trump-russia-election-hacking.html?_r=0
[7] http://www.frontpagemag.com/fpm/265808/obamas-shadow-presidency-matthew-vadum
[8] http://www.dailymail.co.uk/news/article-4271412/Obama-confidante-Valerie-Jarrett-moves-Kaloroma-home.html

---
Editor's Addendum
Using information from Discover the Networks, Dr. Rich Swier has compiled a list of 187 organizations created to attack America that George Soros is funding directly plus another 7 indirect affiliates. (February 7, 2017, click here.)
These are some groups, some supposedly Jewish, that also target Israel:
American Friends Service Committee: This group views the United States as the principal cause of human suffering around the world. As such, it favors America's unilateral disarmament, the dissolution of American borders, amnesty for illegal aliens, the abolition of the death penalty, and the repeal of the Patriot Act.
Amnesty International: This organization directs a grossly disproportionate share of its criticism for human rights violations at the United States and Israel.
Arab American Institute Foundation: The Arab American Institute denounces the purportedly widespread civil liberties violations directed against Arab Americans in the post-9/11 period, and characterizes Israel as a brutal oppressor of the Palestinian people.
Gisha: Center for the Legal Protection of Freedom of Movement: This anti-Israel organization seeks to help Palestinians "exercise their right to freedom of movement."
Global Exchange: Established in 1988 by pro-Castro radical Medea Benjamin, this group consistently condemns America's foreign policy, business practices, and domestic life. Following the 9/11 terrorist attacks, Global Exchange advised Americans to examine "the root causes of resentment against the United States in the Arab world — from our dependence on Middle Eastern oil to our biased policy towards Israel."
Human Rights Watch: This group directs a disproportionate share of its criticism at the United States and Israel. It opposes the death penalty in all cases, and supports open borders and amnesty for illegal aliens.
I'lam: This anti-Israel NGO seeks "to develop and empower the Arab media and to give voice to Palestinian issues."
Institute for Public Accuracy: This anti-American, anti-capitalist, anti-Israel organization sponsored actor Sean Penn's celebrated visit to Baghdad in 2002. It also sponsored visits to Iraq by Democratic Congressmen Nick Rahall and former Democrat Senator James Abourezk
International Crisis Group: One of this organization's leading figures is its Mideast Director, Robert Malley, who was President Bill Clinton's Special Assistant for Arab-Israeli Affairs. His analysis of the Mideast conflict is markedly pro-Palestinian.
J Street: This anti-Israel group warns that Israel's choice to take military action to stop Hamas' terrorist attacks "will prove counter-productive and only deepen the cycle of violence in the region"
Jewish Funds for Justice: This organization views government intervention and taxpayer funding as crucial components of enlightened social policy. It seeks to redistribute wealth from Jewish donors to low-income communities "to combat the root causes of domestic economic and social injustice." By JFJ's reckoning, chief among those root causes are the inherently negative by-products of capitalism – most notably racism and "gross economic inequality."
Machsom Watch: This organization describes itself as "a movement of Israeli women, peace activists from all sectors of Israeli society, who oppose the Israeli occupation and the denial of Palestinians' rights to move freely in their land."
Mercy Corps: Vis a vis the Arab-Israeli conflict, Mercy Corps places all blame for Palestinian poverty and suffering directly on Israel.
New Israel Fund: This organization gives support to NGOs that regularly produce reports accusing Israel of human-rights violations and religious persecution.
Physicians for Human Rights: This group is selectively and disproportionately critical of the United States and Israel in its condemnations of human rights violations.
World Organization Against Torture: This coalition works closely with groups that condemn Israeli security measures against Palestinian terrorism.
---
Matthew Vadum, senior vice president at the investigative think tank Capital Research Center, is an award-winning investigative reporter and author of the book, "Subversion Inc.: How Obama's ACORN Red Shirts Are Still Terrorizing and Ripping Off American Taxpayers." This article appeared in Front Page Magazine March 2, 2017 and is archived at
http://www.frontpagemag.com/fpm/265980/soross-smear-scripts-matthew-vadum