NEW STUDY FINDS MUSLIMS & LEFTISTS RESPONSIBLE FOR VAST MAJORITY OF ANTI-SEMITIC HATE CRIME
by Paul Joseph Watson, August 25, 2017
Figures bust myth that "right-wingers" are the biggest hate crime threat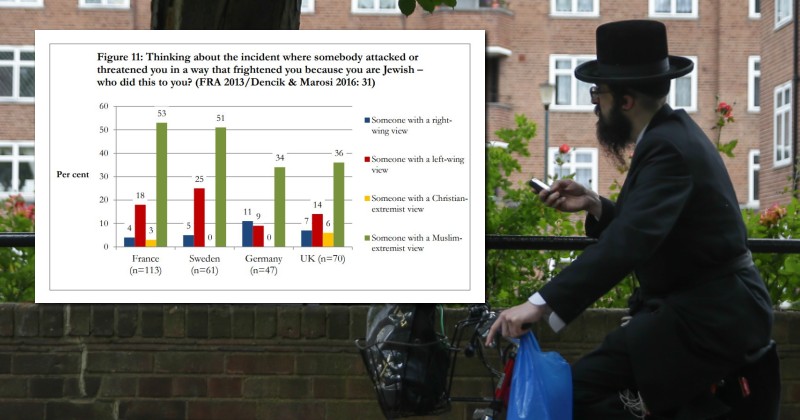 New Study Finds Muslims & Leftists Responsible For Vast Majority of Anti-Semitic Hate Crime
A major new study has found that left-wingers and Muslims are responsible for the overwhelming majority of anti-Semitic hate crime in several different European countries.
The study, Antisemitic Violence in Europe, 2005-2015, was conducted by Johannes Due Enstad of the Oslo-based Center for Studies of the Holocaust and the University of Oslo and was joint published by both institutions.[1]
When asked the question, "Thinking about the incident where somebody attacked or threatened you in a way that frightened you because you are Jewish — who did this to you?", respondents overwhelmingly said that the perpetrators were Muslim or left-wingers.
In France, 53% of the cases were perpetrated by Muslims, 18% by left-wingers and just 4% by right-wingers.
In Sweden, respondents said 51% of the hate crimes were perpetrated by Muslims, 25% by left-wingers and 5% by right-wingers.
In the UK, 36% of anti-Semitic incidents were perpetrated by Muslims, 14% by left-wingers and 7% by right-wingers.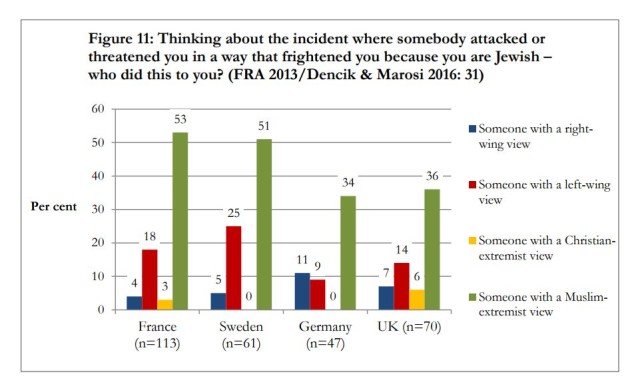 Only in Germany did respondents cite more right wing attacks (11%) compared to left-wing attacks (9%), although the clear majority of hate crimes (34%) were reported to have been committed by Muslims.
"Right-wing extremists, who are often associated with antisemitism, in fact constitute a clear minority of perpetrators, concludes Enstad. "Respondents in all four countries most often perceived the perpetrator(s) to be "someone with a Muslim extremist view".
"It is also worth noting that in France, Sweden and the UK (but not in Germany) the perpetrator was perceived to be left-wing," he adds.
The study also reveals that almost 50% of Jews in France have considered leaving the country because they fear for their safety.
Enstad notes that the one country that stands out in which Jews feel the most comfortable in displaying their identity is Russia, which is the only one of the six countries in which the majority of perpetrators of anti-Semitic violence are not Muslims.
New York Times bestselling author Bruce Bawer responded to the study by noting how authorities in Germany and Sweden have attempted to hide clear statistics in order to shield Muslims from blame.
"If the Western media were interested in the facts, Enstad's report would receive wide circulation and explode a few myths. I would not hold my breath," he writes.
END NOTE
[1] Johannes Due Enstad, Department of Literature, Area Studies and European Languages, University of Oslo Center for Research on Extremism (C-REX), University of Oslo, "Antisemitic Violence in Europe, 2005-2015: Exposure and Perpetrators in France, UK, Germany, Sweden, Norway, Denmark and Russia", Oslo, June 2017
(http://www.hlsenteret.no/publikasjoner/digitale-hefter/antisemittisk-vold-i-europa_engelsk_endelig-versjon.pdf).
SUMMARY, ENSTAD REPORT:

How often do incidents of antisemitic violence occur in contemporary Europe, and what trends are showing? How exposed are Jewish populations in different countries? Who commits these crimes? We need to answer such questions as precisely as possible in order to effectively combat and prevent antisemitism in general and violent antisemitism in particular, but we lack the knowledge to do so because systematic studies of the subject are few and far between. As a step towards filling this research gap, the current report presents some tentative findings about violent antisemitism in a sample of European countries and proposes directions for further research.

Combining incident data based on police reporting with a 2012 survey on antisemitism carried out by the European Union's Fundamental Rights Agency (FRA), this report tentatively compares the levels of antisemitic violence in different countries. The seven-country sample contains comparable data for France, UK, Germany and Sweden only. Among these countries, Jews' exposure to antisemitic violence appears to have been highest in France, lower in Sweden and Germany, an d lowest in the United Kingdom.

Figures for Norway, Denmark and Russia are not directly comparable because of differing data sources. However, Russia cle arly stands out with a very low number of incidents considering Russia's relatively large Jewish population. Russia is also the only case in which there is little to indicate that Jews avoid displaying their identity in public.

Available data on perpetrators suggest that individuals of Muslim background stand out among perpetrators of antisemitic violence in Western Europe, but not in Russia, where right-wing extremist offenders dominate. Attitude surveys corroborate this picture in so far as antisemitic attitudes are far more widespread among Muslims than among the general population in Western Europe.

The findings presented here are tentative. More and better data as well as more research are needed in order to form a more accurate picture of the nature and causes of antisemitic violence, a prerequisite for determining relevant countermeasures.
---
Paul Joseph Watson is the editor at large of Infowars.com and Prison Planet.com. This article appeared August 25, 2017 on InfoWars and is archived at
https://www.infowars.com/new-study-finds-muslims-leftists-responsible-for-vast-majority-of-anti-semitic-hate-crime/.
It is archived at Think-Israel at
http://www.think-israel.org/watson.hatecrimesagainstjews.html