EXPLOITED BY THE ENEMY
by David M. Weinberg, April 21, 2017
Two Gazan women were caught smuggling explosives into Israel for Hamas on Wednesday. The sisters hid the material in medical supplies as they headed to Jerusalem for cancer treatment.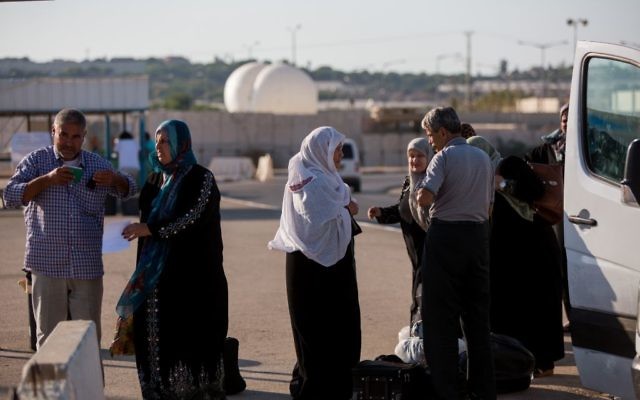 Illustrative photo of Palestinians at the Erez Crossing between Gaza and Israel on September 3, 2015. (Yonatan Sindel/Flash90)
Last month, Deputy Defense Minister Eli Ben-Dahan revealed that Hamas was using Gazan cancer patients to smuggle money and gold into Israel to finance terror operations.
Everyone remembers Wafa Samir Ibrahim al-Biss, the 21-year-old woman from Gaza who, in 2005, was caught with 10 kilograms of explosives in her underwear, en route to blow up Soroka Medical Center in Beersheba, where she was being treated for burns. She admitted to being recruited by the Fatah military wing Al-Aqsa Martyrs Brigades. She admitted that she had wanted to target as many Israeli children in the hospital as possible.

EDITOR'S NOTE: This is a video featuring Wafa Samir Ibrahim al-Biss, who in 2005 tried to massacre the hospital staff that was reconstructing her face, which had been damaged in a kitchen accident. I remember one of the surgeons talking about it at the time. He was completely shocked and couldn't understand such behavior. In time, we've learned that her attitude is typical among a large segment of Arab society. Not all want be 'suicide bombers' but many approve of killing Jews at any cost
Despite the security risk, Israel allows tens of thousands of Palestinians to leave the Gaza Strip every year for medical treatment in Israel (and in the West Bank and Jordan).
I know this firsthand. For a decade, I served as a public affairs and development officer at the Sheba Medical Center at Tel Hashomer, the largest hospital in Israel. At any given time, a quarter of all patients in that institution's Edmond and Lily Safra Children's Hospital are Arabs from Gaza.
Treating these children from enemy Hamastan is a complex humanitarian commitment that stems from compassion ingrained in Jewish history and tradition.
The doctors and administrators at Sheba (and other Israeli hospitals who offer similar care to Palestinians from the West Bank, to Syrian refugees, and, quietly, to Arabs from across the Middle East) are very proud of their efforts.
But it hurts when wicked forces exploit this professionalism and good will for nefarious purposes and when they abuse our humanitarian generosity for terror.
I was an eyewitness to the following sordid tale: Several years ago, an 8-year-old Palestinian child was ill with a rare form of cancer and was clearly going to die without a bone marrow transplant. Sheba, where he was being treated, worked hard to obtain permission to enter Gaza and test the child's relatives. The doctors found an 18-year-old brother who was an almost perfect bone marrow match. The problem was that Israeli authorities didn't want to grant him entry into Israel for the operation, because he was a Hamas activist with ties to known terrorist operatives.
A number of doctors at the hospital successfully petitioned the Defense Ministry to grant special dispensation to allow him into Israel to save his little brother's life.
The older brother arrived late one Friday afternoon. The doctors began the delicate procedure. They had a 24-hour window to suppress the child's immune system, harvest the bone marrow from the donor brother, and transplant.
But at midnight on Friday, when it was time for the donor brother to do his part, he was nowhere to be found. Disappeared! The doctors were beside themselves. A nurse said she had seen two Shin Bet security agents come and take him away. This was a death sentence for the sick child.
What do you do in the middle of the night? The hospital director called the Prime Minister's Office (which oversees the security services), demanding to know where the donor was.
Within two hours, a senior security official came on the line and admitted that the Shin Bet had taken him away. You see, the Shin Bet had taken precautions and eavesdropped on his cell phone conversations, and had heard this young Palestinian terrorist giving instructions to his Hamas handlers in Gaza on how to get past the security at Sheba Medical Center and blow the place up.
The end of the story is that, despite this outrage, the hospital director asked that the young terrorist be returned to the hospital for a few hours to save the child's life. The Shin Bet brought him back at 4 a.m. in leg irons, and the doctors indeed managed to save his young brother's life. The 18-year-old terrorist was then whisked away again.
NEEDLESS TO SAY, THIS STORY MAKES THE BLOOD BOIL. It stings to be taken advantage of by radical Palestinians; to act with humanity and compassion, while our enemies act with inhumanity and cruelty.
While we are isolated and demonized, the demons are actually those who would blow up an Israeli hospital that goes out of its way to treat Palestinians, and even Hamas family members. The story breeds Israeli indignation, rightfully and righteously so.
It also adds to our chagrin about being unappreciated by the world. Had I had told this story to a senior foreign journalist -- something that wasn't possible at the time -- like The New York Times' correspondent in Israel, do you think the paper would have run the story? Do you think the paper would have made such a story -- sympathetic to Israel and severely unflattering to Palestinians -- a front-page feature? Not likely.
I can say from years of experience as a professional spokesman for Israeli medical, academic, defense and diplomatic institutions just how difficult it is to get a story into a newspaper that doesn't fit the conventional, politically correct line about Israel being the villain and the Palestinians the victim.
A direct line runs between this bias and the op-ed by Palestinian "leader and parliamentarian" Marwan Barghouti published in The New York Times this week. That paper never would have run an op-ed by a convicted Taliban or al-Qaida terrorist sitting in Guantanamo Bay, and certainly not without correctly labeling him as a convicted mass murderer. So why didn't The New York Times brand Barghouti in this way? Because doing so would be severely unflattering to the Palestinian national movement, and by inference too sympathetic to Israel.
---
David M. Weinberg (www.davidmweinberg.com) is director of public affairs at the Begin-Sadat Center for Strategic Studies. He lectures widely in Israel, the U.S. and Canada to Jewish and non-Jewish audiences. He speaks on international politics and Middle East strategic affairs, Israeli diplomacy and defense strategy, intelligence matters and more. This article appeared April 21, 2017 in Israel Hayom and is archived at
http://www.israelhayom.com/opinions/exploited-by-the-enemy/.
At Think-Israel, it is archived as
http://www.think-israel.org/weinberg.cancervictimsmuggling.html